INKCARCERATION Festival Announces Band Performance Times


By Larry Petro, News Monkey
Tuesday, June 28, 2022 @ 10:53 AM


| | | |
| --- | --- | --- |
| | | July 15-17 Festival At Historic Ohio State Reformatory In Mansfield, OH |
The music performance times have been announced for the nearly sold out Inkcarceration Music & Tattoo Festival, which returns for its fourth year Friday, July 15, Saturday, July 16 and Sunday, July 17 on the historic grounds of The Ohio State Reformatory in Mansfield, Ohio (made famous by the movie The Shawshank Redemption). In addition, the brand new Inkcarceration app is now available at www.inkcarceration.com/mobileapp and offers the most up-to-date info on the festival.

Inkcarceration will feature a massive lineup with some of the biggest names and brightest new stars in rock and metal, including headliners KORN, BREAKING BENJAMIN, EVANESCENCE, and DISTURBED, as well as performances from Papa Roach, Falling In Reverse, Lamb Of God, Three Days Grace, Seether and many more. The weekend will feature official host SiriusXM's Jose "Metal Ambassador" Mangin, who will provide exclusive backstage interviews, fan interaction and more.

The festival is expected to sell out in advance, but a very limited number of weekend and single day general admission passes are still available at www.Inkcarceration.com.

The music performance times for Inkcarceration are as follows (subject to change) and can be found online at www.Inkcarceration.com/schedule:

Friday, July 15
Space Zebra Stage
9:30 PM - KORN
7:00 PM - Three Days Grace
5:15 PM - Daughtry
3:50 PM - Code Orange
2:35 PM - From Ashes To New
1:25 PM - Born Of Osiris
12:15 PM - Oxymorrons
Inked Mag Stage
8:00 PM - Papa Roac
6:00 PM - I Prevail
4:30 PM - Sleeping With Sirens
3:10 PM - Lacuna Coil
2:00 PM - DED
12:50 PM - Spoken
11:45 AM - As You Were
CB Entertainment Stage
4:00 PM - Paul Bartolome
3:15 PM - Fate Destroyed
2:30 PM - Impending Lies
1:45 PM - Pray For Sleep
1:00 PM - Zakk Cash
12:15 PM - Plainview
11:30 AM - Sourblood (Battle Of The Bands Winner)
Saturday, July 16
Space Zebra Stage
9:30 PM - Breaking Benjamin
7:00 PM - Falling In Reverse
5:15 PM - Theory of a Deadman
3:50 PM - Spiritbox
2:35 PM - Ayron Jones
1:25 PM - Aeir
12:15 PM - Widow7
Inked Mag Stage
8:00 PM - Evanescence
6:00 PM - Black Label Society
4:30 PM - Avatar
3:10 PM - Saint Asonia
2:00 PM - Volumes
12:50 PM - If I Die First
11:45 AM - Siiickbrain
CB Entertainment Stage
4:00 PM - Paralandra
3:15 PM - All's Fair
2:30 PM - Erasing Never
1:45 PM - Nail Bite
1:00 PM - Farewell To Fear
12:15 PM - Nearly Spent
11:30 AM - Sir Cadian (Battle Of The Bands Winner)
Sunday, July 17
Space Zebra Stage
9:30 PM - Disturbed
7:00 PM - Seether
5:15 PM - Nothing More
3:50 PM - 10 Years
2:35 PM - Sick Puppies
1:25 PM - Butcher Babies
Inked Mag Stage
8:00 PM - Lamb Of God
6:00 PM - Black Veil Brides
4:30 PM - Jelly Roll
3:10 PM - John 5
2:00 PM - Veil Of Maya
12:50 PM - Gemini Syndrome
12:15 PM - Fire From The Gods
11:45 AM - The Violent
CB Entertainment Stage
4:00 PM - Inimical Drive
3:15 PM - Dreamwalker
2:30 PM - Alukah
1:45 PM - Ignescent
1:00 PM - WoR
12:15 PM - DarkHorse Saloon
11:30 AM - Among The Stars
Doors open at 11:00 AM each day.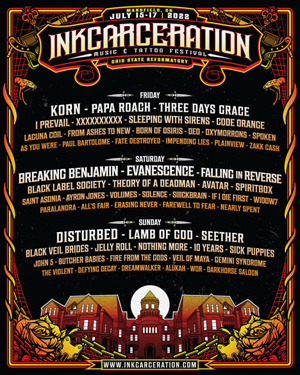 In addition to enjoying the diverse music lineup, fans will be able to book appointments with more than 60 tattoo artists, and receive complimentary tours of the famous Ohio State Reformatory prison. Onsite, there will also be gourmet food, a wide selection of beverages, camping and the return of the award-winning Haunted House attraction Escape From Blood Prison (https://www.bloodprison.com), plus fan-favorite festival activations.
New in 2022, Inkcarceration campers will be able to enjoy live music, drinks and late-night eats Thursday, July 14 through Saturday July 16 in a brand-new indoor-outdoor camp lounge and stage. The Thursday night pre-party will be held from 8:00 PM – 11:00 PM with Rock Capitol Live Band Karaoke and a special performance by INIMICAL DRIVE along with a special showing of hit movie The Shawshank Redemption (filmed at the Ohio State Reformatory). Friday and Saturday night campground experiences will be held from 11:30 PM - 1:45 AM with performances by Paul Bartolome, City Of The Weak, 5 Fifteen, Our Sorrows, Purge The Heretics, and Alex Embler.
The Ohio State Reformatory's historic building and grounds provide a perfect setting for Inkcarceration. The massive, awe-inspiring locale featuring beautiful Romanesque architecture is recognized as not only one of the most haunted reformatories in the country, but also as the filming location for multiple Hollywood films. The Reformatory has a long, documented history of paranormal activity and is a premier location for authentic paranormal enthusiasts.
During Inkcarceration, The Ohio State Reformatory (www.mrps.org) will be open for free self-guided tours for festival attendees from 11:00 AM – 6:00 PM daily. Visitors are invited to walk through history and witness relics from prisons gone by at the Corrections Museum for the entire state of Ohio. Visit the filming locations made famous by the most highly rated movie of all time, The Shawshank Redemption. See the "hole" where Andy spent time in solitary confinement, stand on the yellow line where the "new fish" stood, gaze through the sewage tunnel that Andy crawled through to get to freedom and peer through the hole in the wall just as Warden Norton did when he discovered it in Andy's cell. Explore the living quarters where the Warden, Assistant Warden, and Chaplain raised their families in the same facility that housed up to 3,400 of Ohio's criminals.
Inkcarceration will also feature a special engagement of Escape From Blood Prison Haunted House, the only haunted hellscape in a real prison, and a yearly Halloween event held at the former prison. Blood Prison at Inkcarceration will be open from Noon – 5:00 PM daily. Visitors to Blood Prison can tour The Warden's Widow's living quarters and the basement of this very haunted prison. Tickets to both attractions will be available for $15 (cash only).
Fans from around the world can also tune in to "That Space Zebra Show" hosted on DWPresents Twitch channel (https://www.twitch.tv/dwpresents) throughout the Inkcarceration weekend for an immersive backstage experience every day of the festival, featuring artist interviews and exclusive, behind-the-scenes action. The backstage experience will be hosted by cast members from "That Space Zebra Show" and "The Power Hour." Exact performances and stream times will be announced the week of the festival.
Musically Fed will be in attendance at Inkcarceration. Since 2016, the Phoenix-based non-profit has mobilized the music industry in the fight against hunger by working with artists, promoters, management, and venues to donate unused backstage meals to community organizations that feed veterans, the homeless, and the food insecure nationwide. To date, they have repurposed almost 400,000 meals. At this year's Inkcarceration festival, they'll be rescuing unused artist and staff catering, as well as dressing room excess, to provide much-needed meals to area nonprofits.
Says Musically Fed founder, Maria Brunner, "We are grateful and excited to be in partnership with Danny Wimmer Presents and Inkcarceration to support their sustainability efforts and help address food insecurity in the community."
Musically Fed identifies the opportunities, procures the resources, and coordinates all aspects of food handling, transport, and distribution, making it easy for promoters and performers to leave each city they visit with a lasting positive impact. When COVID shut down the live music and event economy in 2020, Musically Fed pivoted its mission to creating drive-thru distribution events in eight major cities that provided more than 150,000 meals for struggling gig workers and their families. Learn more at www.musicallyfed.org.
Inkcarceration 2022 partners include TickPick, Anheuser-Busch, Monaco Cocktails, U.S. Army, Bulleit, Middle West Spirits, Ohio Lottery, RV Wholesalers, Vapor Station, Revolver, Inked Mag, Mortus Viventi, Hellflower Soap Co., The Pretty Cult, Rock Me Up, Silver City Mugs, Slrrrp Shots, Blackcraft, RonzWorld, Acathla Apparel, Galaxy Glass, Plank Eyewear, The Collective Coven, Queen Bee, and Parlor Root Beer.
Inkcarceration thanks its non-profit partners FXCK Cancer, Musically Fed, Save22, Take Me Home and To Write Love on Her Arms.
Now returning for its fourth year after launching in 2018, Inkcarceration nearly tripled its inaugural year's attendance in 2019, drawing 45,000 fans from nearly all 50 states, and welcomed a record-breaking sold-out crowd of 75,000 in 2021 after changing the layout of the event to allow for greater capacity. Inkcarceration has been awarded Mansfield's Tourism Award of Excellence, and has been recognized by the United States House of Representatives, Ohio Senate, State of Ohio Representatives and Congressional Proclamation.
Inkcarceration is co-produced by Danny Wimmer Presents, one of the largest independent producers of destination music festivals in America, and Daniel Janssen, one of the founders and General Manager of Inkcarceration Festival.
The COVID-19 policies for Inkcarceration will not require attendees to be masked, vaccinated or tested to attend Inkcarceration. However, festival organizers do encourage fans to stay safe and will have increased sanitization stations throughout the festival. Find more details here: https://inkcarceration.com/healthandsafety/

Please log in to view RANTS