CAVALERA In Los Angeles With Photos!


By Francisco Zamudio, Metal X Candy 2.0
Sunday, July 3, 2022 @ 9:01 AM


| | | |
| --- | --- | --- |
| | | With HEALING MAGIC And CEPHALIC CARNAGE At The Belsaco |
All Photos By Diego Gonzales Pictures
I can't recall this much anticipation for any upcoming show in a long time. With the Los Angeles date of the CAVALERA Brothers tour being sold out months in advance, in many ways I was pleasantly surprised. When I heard about this one coming right before it was announced in addition to who Max and Igorr would bring with them on-tour, as a longtime fan of Max and Igorr's early career, my "O-face" was so obvious and made it hard to contain. Daniel Gonzalez (of POSSESSED and GRUESOME) would be on guitar and would show that he was made for this. The bill for the night consisted of Max's son, Igor and his band dubbed HEALING MAGIC and also Colorado Technical Death Trip CEPHALIC CARNAGE. The 2 did well in warming up the crowd who crammed in early to one of the oldest theaters in Los Angeles, with beautiful architecture if I do say so myself. Along with The Regent and The Orpheum, The Belasco is part of Downtown L.A.'s historically beautiful theaters.
Relatively (no pun intended) unknown HEALING MAGIC was only a 2-piece band with Igor on vocals and guitar and drummer Johnny Valles. Let's face it, it's no easy task to open up for what would be an eventful night. But the 2 brought it and brought it hard with a lot of energy. Regardless of whether people knew who they were or not, they were heavy hitting and a really riff-driven band. A little sludge, a little groove but held a good stance to open up the nite.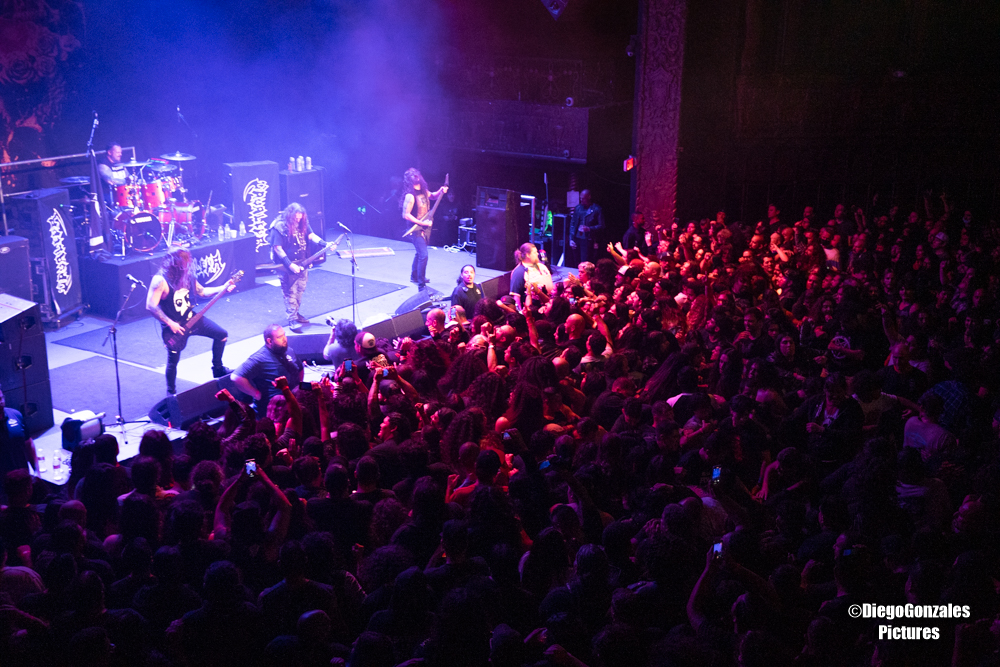 CEPHALIC CARNAGE seemed like a band that not many, or that's too say that not enough people were aware of it seemed. In a time where technical bands are favored, these guys from Colorado have been causing their endless cycle of violence since the early 90's. Since then, this is probably only my 2nd time catching them as they rarely make an L.A. appearance, from what I recall. Pulling drums duties form CC was Danny Walker, another sick drummer who's played with many great bands and CEPHALIC throughout the years on a live level. They showed the crowd their zany, stoner driven hap-hazard, technical prowess and were full of energy. The crowd although providing some cheer and support for them were saving their energy for CAVALERA. It didn't sway CEPHALIC CARNAGE who kept it going with their (high)ly intense music. Im stoked that they played the cuts I'm most familiar with like "Lucid Interval", "Dying Will Be The Death Of Me", and the aforementioned "Endless Cycle Of Violence". It's great seeing another old school band going strong for 30 years.
With practically the same blistering speed and intensity that the original band was doling out back in the day – Max and Iggor along with Mike and Dan brought that energy to Los Angeles on this nite. A first of many (as Max has clearly hinted in my recent interview with him), the retelling of Beneath The Remains and Arise albums of which still have an impact today as much as they did then. In that order, CAVALERA first went through the groundbreaking album from 1989. Their set covered nearly every song except for an abbreviated version of "Lobotomy" and skipped "Hungry", only to close it out with the album's finale, "Primative Future". There was no pause in sight between albums as the intro to Arise soon played through the house speakers. Then just as the opening number, the crowd went just as loco if not more for Arise. This portion of the set only included about 4 and-a-half songs. Other Arise cuts included were "Dead Embryonic Cells", "Desperate Cry", "Subtraction", and another abbreviated take, this time on "Altered State" that included a "War Pigs" medley mix into "Territory", followed by their then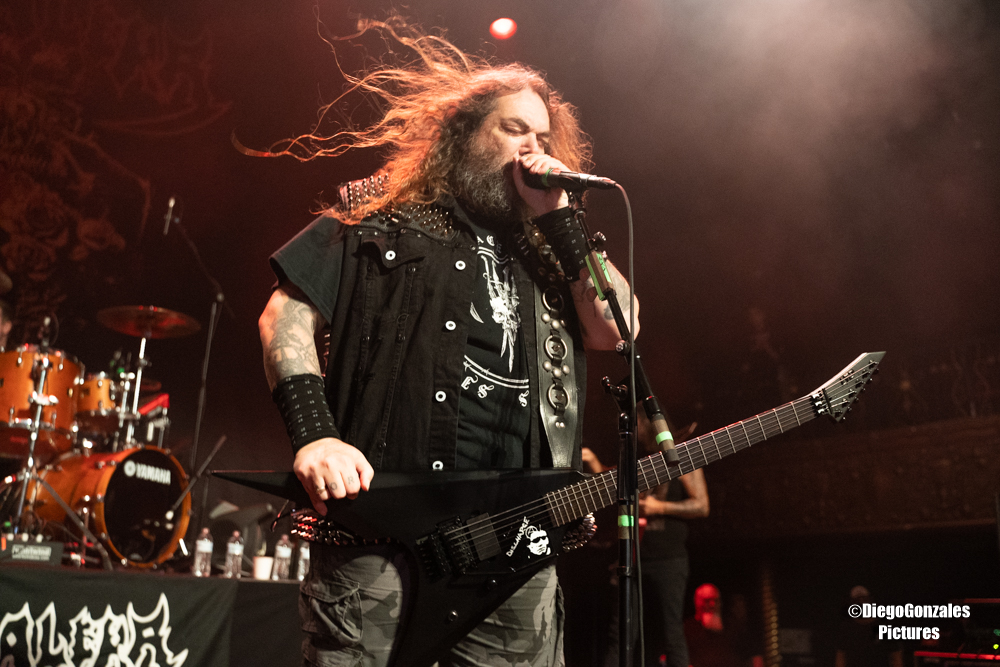 largely popular cover of MOTORHEAD's "Orgasmatron". After a brief tease of "Angel Of Death", they took us back to 1987's Schizophrenia with "Troops Of Doom" and "Escape To The Void" before closing out the eventful night with a short repeat of "Arise" and "BTR" again to bring the amazing show to a climax.
What Igorr and Max are doing is bringing back the nostalgia (I know, that dreaded word, right… haha) that many rockers felt when they first heard these amazing albums or albums prior, that served as a gateway to Thrash and Death Metal and Groove Metal and eventually, Nu-Metal. An energy that was so therapeutic and spiritual and most certainly a release, that many ghosts of the past came out to witness this historical event.
Check out some more photos from the show!
All Photos By Diego Gonzales Pictures

Please log in to view RANTS