THUNDERMOTHER Black And Gold


By Andrew Depedro, Ottawa Corespondent
Friday, August 19, 2022 @ 8:52 AM


| | | |
| --- | --- | --- |
| | | |
THUNDERMOTHER
Black And Gold
AFM Records




Putting some color into the otherwise grey area of modern rock 'n roll since their inception in 2009 and with four studio albums to their credit, Swedish metal maidens THUNDERMOTHER have proved their outstanding artistic potential many times over. With their upcoming new release titled Black And Gold ready to rock heaven down, these exceptionally talented musicians channel their extraordinary qualities even more purposefully and look set to be a real landmark in their fledgling career. Considering that the band's original lineup had quit on founder/guitarist Filippa Nässil five years earlier following the release of their sophomore effort Road Fever, THUNDERMOTHER's second lightning strike at glory is one to celebrate with their fifth studio effort without taking anything for granted, especially with a global pandemic that had nearly cooked their touring plans entirely on the heels of the release of their 2020 disc Heat Wave. Fortunately, long before then, Filippa had broken in an entirely new THUNDERMOTHER lineup consisting of Guernica Mancini (vocals), Emlee Johansson (drums) and Mona Lindgren (bass). Extensive European tours supporting bands such as WASP, MICHAEL MONROE and DANKO JONES quickly followed, culminating in an appearance at the legendary Wacken Festival as their AC/DC-styled hard rock battle cry "We Fight For Rock 'N Roll" put the quartet on the map. And with greater expectations further pursued with Black And Gold, the band made some new adjustments with their sound. "We cut full demo versions of a total of twenty song concepts and played them to friends and colleagues so that we could choose the twelve strongest tracks based on their evaluation" enthuses the guitarist.

Among those tracks that passed the entire round of cuts would be "Wasted", "Loud And Free" and opening track "A Light In The Sky", all unabashedly anthemic party rock numbers and featuring some of Guernica's strongest vocals and Filippa's electric-sounding riffs solidifying a strong harmonious relationship. The first single "Watch Out" also belongs to that same category and supported by a video courtesy of Stockholm's Virtual Star Studios and shot in front of one of Europe's largest green screens. The title track, boasting no more than four multi-instrumental contributions from Filippa – "I play rhythm, solo and slide guitar and on top of that, a talk box, like BON JOVI use it. No idea how I'm supposed to get all four components under one hat live on stage!" she laughs – is definitely one of THUNDERMOTHER's most experimental-sounding numbers, its catchy rhythm, and, indeed, that equally catchy famous talk box sound rockin' it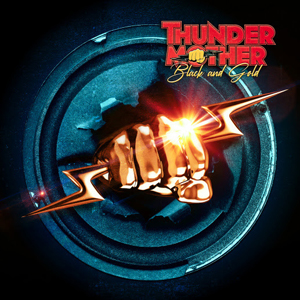 Frampton Comes Alive style. And then there's the slow-sounding ballady number "Hot Mess" which Filippa describes, tongue-in-cheek, as a "blend of ARETHA FRANKLIN and AEROSMITH", admitting that the band had surprised themselves with this number. Closing out the album is the powerful ballad "Borrowed Time" which has singer Guernica Mancini tell of that brief, adrenaline-fuelled moment of happiness immediately after a show before the band travels on to the next venue on the nightliner, pretty much exhausted. Pretty much THUNDERMOTHER's own lyrical take on "Turn The Page" but without the saxophone solo and the Hells Angels references.
Produced, mixed and mastered in Stockholm at the Baggpipe Studios and at Copenhagen's Medley Studio by Søren Andersen from Denmark, who also operated the mixing desk on Heat Wave (which made number 6 in the German charts, among others), Black And Gold, according to Filippa, aims to "only include songs that will appeal to any rock music fan, and ultimately even to my mother". It also showcases how far THUNDERMOTHER, having survived a radically stormy lineup change, needs no parental guidance after more than enough worldwide acceptance and dominance.
5.0 Out Of 5.0
https://www.thundermother.com/
https://www.facebook.com/thundermother/
https://twitter.com/thundermother
https://www.instagram.com/thundermother/

Please log in to view RANTS



STEEL PANTHER, BLACK STONE CHERRY In Ottawa, Canada

SWORD III

FOREIGNER In Tampa, FL With Photos!

U.D.O. The Legacy

TUBEFREEKS Unhinged

WEDNESDAY 13 Horrifier

DEVIN TOWNSEND Lightwork

MOTIONLESS IN WHITE, ICE NINE KILLS, BLACK VEIL BRIDES, ATREYU In Houston, TX With Photos!

JOE SATRIANI In Boston, MA With Photos!

VARIOUS ARTISTS Bound For Hell: On The Sunset Strip

DIAMOND HEAD Lightning To The Nations - The White Album, 2022 Reissue

ANUBIS EP Collection

JOE LYNN TURNER Belly of The Beast

DEAD CROSS II

MONSTER MAGNET Test Patterns Vol. 1

W.A.S.P., MICHAEL SCHENKER GROUP, ARMORED SAINT In Houston, TX With Photos!

RAVEN, RIOT ACT In Ottawa, Canada

INVICTUS Unstoppable

W.A.S.P., ARMORED SAINT In Anaheim, CA With Photos!

IRON MAIDEN, WITHIN TEMPTATION In Tampa, FL With Photos!

HELIOS Touch The Sun

LEE AARON Elevate

THERION Leviathan II

DARKTHRONE Astral Fortress

NESTOR Kids In A Ghost Town

TOBIAS SAMMET'S AVANTASIA A Paranormal Evening With The Moonflower Society

IRON MAIDEN, WITHIN TEMPTATION Live In Ottawa, Canada

AVATARIUM Death, Where Is Your Sting

INCURSION Blinding Force