FALLUJAH Empyrean


By Peter Atkinson, Contributor
Sunday, September 11, 2022 @ 10:22 AM


| | | |
| --- | --- | --- |
| | | |
FALLUJAH
Empyrean
Nuclear Blast Records




Bay Area tech-deathsters FALLUJAH did just about everything but change its name for 2019's Undying Light, an album marked by key lineup changes (following the departures of founding vocalist/programmer Alex Hofmann and second guitarist Brian James), a somewhat drastic sonic shift and a search for direction brought on by the tumult. And though the band retained the name, the logo and cover art scheme were changed up quite dramatically, either as a visible cue that things were going to be different - or, perhaps, as a pre-emptive "mulligan" in case the experiment failed and the band opted to steer things back in the direction of its earlier releases in its wake.

It was a probably wise decision, regardless, as Undying Light – which played down the technical and dramatic accents of the atmospheric death metal the band had spent over a decade crafting - landed like the proverbial turd in the punch bowl to many. Then COVID came along later to quash most opportunities the band might have had to prove things otherwise on the live front. In the end, it would seem that FALLUJAH has indeed taken a mulligan with its fifth full-length Empyrean, an effort that goes out of its way to bring the familiar sound of the first three albums to the forefront once again - and put some distance between it and its predecessor.

The former logo and stunning cover artwork from Peter Mohrbacher have returned for all to see with Empyrean while Undying Light vocalist Antonio Palermo is gone, as is touring guitarist Nico Santora and longtime bassist Rob Morey. The core lineup of founding guitarist Scott Carstairs and longtime drummer Andrew Baird are joined by a formidable new supporting cast in ace bassist Evan Brewer (ex ANIMOSITY/ENTHEOS/THE FACELESS) and iron-lunged ARCHAEOLOGIST frontman Kyle Schaefer to help wipe the slate clean, so to speak, with Empyrean.

The impact and intent is obvious from the start with "The Bitter Taste of Clarity", whose title seems ironic or confessional – perhaps a bit of both. Anyway, the blast beats, thumping bass lines and surging riffs that open the song signal a return of the intensity that was generally lacking – at least at the outset - on Undying Light, especially when Schaefer joins in with his full-throated roar. "Radiant Ascension" follows with more tech-death dexterity, maintaining the energy level while boosting the athleticism, which then carries over to "Embrace Oblivion".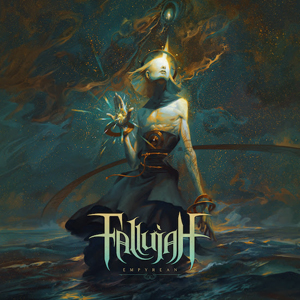 Indeed, there is no shortage of velocity or aggression on Empyrean, with only "Into the Eventide", "Eden's Lament" and the instrumental "Celestial Resonance" slowing things for prolonged stretches. But the band employ shape-shifting dynamics, jarring mood swings and serene melodies flavored by Schaefer's clean vocals and the furtive accompaniment of Tori Letzler and CHIASMA's Katie Thompson on a handful of tracks, and artsy/proggy flourishes in much greater abundance to temper and flavor the relative frenzy. No one can complain about a lack of technicality here.
In Brewer, FALLUJAH has found the perfect sparring partner for Baird, and their mix of fluidity, bounce and drive gives the rhythmic end the agility and heft the material here demands. And it provides a suitably turbulent foundation for Carstairs' guitaring that whipsaws from brutal churn and flailing trems to ethereal sweeps and flighty, sometimes jazzy leads to build texture while delivering plenty of punch.
If there's one thing to complain about on Empyrean it's that in the band's zeal to re-establish the technicality, contrast and progressive frills of its earlier work, it didn't leave a whole lot in room for hooks or catchiness. Instead, it relies mostly on the clean chorus/vocal breaks for that, which starts to feel a bit stock. Also, the album stumbles a bit by packaging the two longest songs back-to-back at the end – "Celestial Resonance", which is punctuated by a stutter-step chug that recalls MESHUGGAH's "Bleed", and the longer, but otherwise spunkier, even thrashy closer "Artifacts" that concludes with 90 seconds of ambient nothinginess. So I guess there is actually a couple things to complain about.
Still, with FALLUJAH aiming for a return to form, Empyrean is mission accomplished. It makes for a far more logical follow-up with 2016's Dreamless - and makes it easier to forget the already forgettable Undying Light. So win, win.
3.5 Out Of 5.0

Please log in to view RANTS