SKID ROW
The Gang's All Here
earMUSIC
www.skidrow.com




There are some SKID ROW 'fans' that refuse to accept the following; Sebastian Bach is not coming back, the first album SKID ROW put out post-Bach, Thickskin, was better than any solo effort he's put out since his departure, and the current version of SKID ROW is worth investing in.

The Gang's All Here is the 7th full-length studio album by the New Jersey Hard Rock quintet that still features members that appeared on SKID ROW's legendary self-titled debut in 1989; Snake Sabo (guitar), Scotti Hill (guitar), and Rachel Bolan (bass). New to the fold is vocalist Erik Grönwall, formerly of Swedish Melodic Hard Rock heavyweights H.E.A.T. Drummer Rob Hammersmith has been with the group since 2010.

SKID ROW kicks you right in the teeth with the scorching opener "Hell or High Water". Erik Grönwall delivers throaty vocals with power and conviction. Rachael Bolan's chunky bass licks run roughshod on "The Gang's All Here". The track serves as the band's call-to-arms and is sure to be a live sing-a-long favorite.

SKID ROW have a message for all of their haters on "Not Dead Yet", and I suppose this could also be a note to Grönwall's old band H.E.A.T. as well. There's plenty of angst and energy here. Snake Sabo and Scotti Hill rev up their guitars on "Time Bomb". The track is a little darker, but builds to a melodic crescendo with a catchy chorus.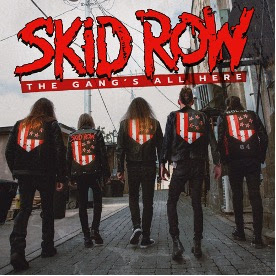 "Resurrected" is a great mix of American Hard Rock and Swedish Melodic Rock, loaded with over-the-top choruses, meaty riffs, and multi-part harmonies. It's great to hear some good old school shredding throughout "Nowhere Fast". Grönwall's range is on full display on the blues driven song "When the Lights Come On".
The pounding drums of Rob Hammersmith take center stage on "Tear It Down". The song has a lot of fighting energy to it. Nine songs in, and SKID ROW are finally getting to a ballad. But it's not really a ballad. Things start off on the slow side, as Grönwall laments soulfully. However, as the passion and emotion grows, so does the vitality. SKID ROW closes things out with the same vigor and bombast they started the album with on "World On Fire".
The Gang's All Here never lets up from beginning to end. Even the ballad has some punch to it. Lyrically the album is an autobiography of where the members of SKID ROW have been, where they are, and where they are heading. They could play this album in its entirety live and I doubt anyone would leave for the concessions.
SKID ROW's 1989 self-titled debut is one of the greatest Hard Rock records of all-time. It can be argued that SKID ROW has tried many times over in chasing that same high, without quite getting there. Well, that argument has now been settled. The Gang's All Here is SKID ROW's finest moment and leaves all their previous efforts in the dust.
5.0 Out Of 5.0
(When you're done with this album, check out H.E.A.T. II with Erik Grönwall on vocals, it's also a 5.0)