THERION
Leviathan II
Nuclear Blast




The latest opus from operatic symphonic metallers THERION is aptly titled Leviathan II and is a bit of a departure from their previous work. It is masterminded by band leader Christofer Johnsson and gives you what you would expect from a THERION album. His trilogy began with Leviathan and now we are gifted with part two of three works.

"Aeon Of Maat" leads off and it immediately grabs you with high sopranos and melodic metal riffs that are a signature sound for the band. "Litany Of The Fallen" chimes in on the second act and is much the same as the album opener. It's not bad, but it didn't hit me as hard as the opener.

I have followed the band since the beginning and I can say that the current and official lineup is strong. Featuring guitarist and vocalist Johnsson, drummer Sami Karppinen, bassist Nalle "Grizzly" Påhlsson, vocalist Thomas Vikström, guitarist Christian Vidal and vocalist Lori Lewis, THERION has a rich sound and this lineup really works well. However, I must say that there are some live incarnations of the band that I enjoyed that included Kimberly Goss and Snowy Shaw.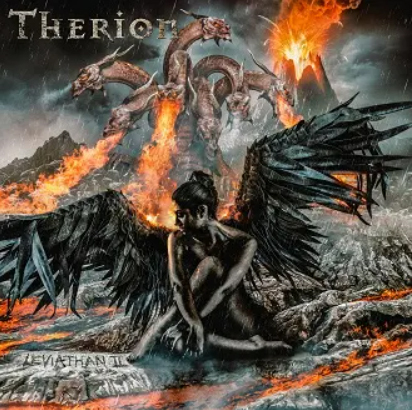 "Alchemy Of The Soul" is a strong, symphonic tune and has an ethereal feel to it while "Lunar Coloured Fields" blends in and leads up to my favorite off the album, "Lucifuge Rofocale". This song is straightforward metal. It is upbeat and has a mysterious feel to it. It sounds like what you expect from THERION but doesn't appear until mid-album.
"Marijin Min Nar" and "Hades And Elysium" are not bad but they do lack something and I am not sure what it is. It is sort of like there is a bit of a lag but it very quickly corrects itself with "Midnight Star". Fast paced and heavy, you are immediately hit with a raging soprano and chorale style vocals in the background. I like this one.
"Cavern Cold As Ice" is a good song. I don't really have anything to compare it to, but it is light and airy and employs what sounds like woodwind instruments, while Lori comes in strong with the female lead vocal. "Codex Gigas" was the song chosen for a pre-release video and it is a worthy offering from the band. It will appeal to a vast audience and is quintessential THERION.
"Pazuzu" is the final song on the album and it is substantial yet creepy. It takes its name from demonology and esoteric occult culture. It is slow and a heavy with full bodied vocals and a segue to the making of the third album in this trilogy. I am interested in how this ends.
Leviathan and Leviathan II are substantial and well done, so I shall wait for part three with anticipation.
4.0 Out Of 5.0