DEAD CROSS
II
Ipecac Recordings




It's not often that an album can legitimately be considered "life affirming". Usually that's just PR hyperbole to do with some supposed deeper meaning to the lyrical content. Or something like that. But there is certainly a real deal feel to that sentiment in the second album from the hybrid supergroup DEAD CROSS.

For guitarist Michael Crain (RETOX), who was diagnosed with cancer in late 2019, the creative process and recording sessions provided a catalyst for soldiering through his treatment and ultimate recovery. And though COVID effectively shut things down for a long stretch, getting back to it helped frontman Mike Patton emerge from his shell after developing agoraphobia during the pandemic isolation period, which forced both FAITH NO MORE and MR. BUNGLE to cancel planned touring commitments.

While the album is more defiant and surly than triumphant, it serves the same purpose in the end, giving both Crain and Patton a change to purge and vent after their considerable physical and mental traumas. They and the rest of the band – ex-SLAYER drummer and frequent Patton co-conspirator Dave Lombardo and RETOX/ex-THE LOCUST bassist Justin Pearson - certainly come out swinging and don't mince words with II, despite its uninspired title.

But the inspirational energy was obviously better spent elsewhere. DEAD CROSS doles out a feisty mish-mash of hardcore, thrash, grind and noise-rock that at times recalls the chaotic clamor of early MR. BUNGLE – since revisited on the re-recorded The Raging Wrath of The Easter Bunny Demo in 2020 – without getting quite so wacky. It sometimes does get close, given Patton's often mischievous nature – which I hope is an encouraging sign in his regard – but the delivery here is more compact and concentrated.

Buoyed by Ross Robinson's typically stark, gritty production, II is rough-and-tumble outing from the get-go that feels loose, jammy and natural thanks to Crain's freewheeling riffs and Lombardo and Pearson's riotous rhythms. "Love Without Love" opens things by countering Patton's eerie spoken word passages with propulsive breaks, sing-and-screech back and forth and a revved up, almost blast-beaty finish, which sets the tone for much of what's to come.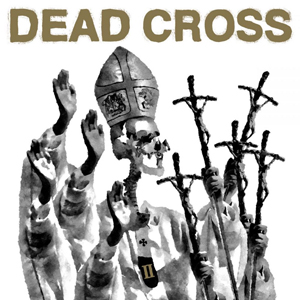 While "Animal Espionage" has a new wave, almost surf-rock vibe with its shrill sheen of guitar and catchy hooks - recalling TOMAHAWK, yet another of Patton's myriad projects - the blitzkrieg "Night Club Canary", "Reign Of Error" and "Strong And Wrong" are straight up hardcore bludgeon, punctuated by Crain's feedbacky wails. "Heart Reformer" leans more toward grindcore with its even more furious pace and Pearson's shrieking backing vocals, which are prominent throughout, echoing those of Mitch Harris on so many NAPALM DEATH tunes.
The chunky, distinctly metallic "Christian Missile Crisis" gives Pearson an opportunity to take the lead, and he's a bit less screechy, shouting lines like "All out of ammo? Act as a dildo, write your manifesto" with gusto. Patton's lyrics here deliver clever barbs with absurdist humor, as on "Reign Of Error" - "Who is our problem? We are the problem. We're plant-based crooks at the back of the bus. We are a factory of turds, noxious gases, empty words" – and the tag-team approach with Pearson gives them some added bite.
"Imposter Syndrome" wraps things up by essentially encompasses the sonic breadth DEAD CROSS explores over the prior eight tracks as it seamlessly morphs from roiling grind to keening alt-rock to crossover thrash and back. It is also probably the most overt reference to some of what Patton struggled with during his breakdown - and given his well-earned reputation as one of metal/rock's most dynamic and versatile singers, illustrates just how serious those issues were.
The spunky, acerbic II, truly is a testament the healing power of music, even if it's not couched as such. Instead of wallowing in collective despair, kick their demons in the ass here, and in the process do the same to everyone else.

4.0 Out Of 5.0