DIAMOND HEAD Lightning To The Nations - The White Album, 2022 Reissue


By Rob McNees, Vinyl Aficionado
Wednesday, November 9, 2022 @ 8:03 AM


| | | |
| --- | --- | --- |
| | | |
DIAMOND HEAD
Lightning To The Nations - The White Album, 2022 Reissue
Silver Lining Music




My initial introduction to DIAMOND HEAD was a tad different than most people's and I'll tell you why. From the UK magazines (Kerrang, Metal Forces & Sounds) I could stumble across here in Texas, one of the major bands of the NWOBHM, (which was exploding full-force at the time I might add) was DIAMOND HEAD, alongside IRON MAIDEN, SAXON & DEF LEPPARD (when they were Metal, not the insipid pop-rock group they would eventually become). The first DH track I ever heard was "Don't You Ever Leave" on the brilliant The Friday Rock Show compilation put together by the BBC Radio 1 in 1981, one of my early tastes of what the NWoBHM was all about. Also on the comp were XERO, BLACK AXE, DEMON and SWEET SAVAGE among others. And of all the great tracks on there, the DIAMOND HEAD didn't exactly blow me out of the water to be honest. But no matter I shrugged, it's just 1 track. When 1982 hit, DH released their first full length album, Living On...Borrowed Time. With a gatefold cover and art by the amazing Rodney Matthews, I was excited about the prospect of finally hearing what all the fuss was about. On the inside cover however, some young lads dressed very UN-heavy made me less than enthused about the project. When the needle hit those grooves, it confirmed what my eyes had seen. Songs like "Call Me", "Borrowed Time" and the track from The Friday Rock Show just didn't have that ass-kicking aggression of my other English Heroes. It did have "Am I Evil?" on there though, and "To Heaven From Hell" so all was not completely lost. It did, however, make me wonder for more than a decade what wasn't I getting that everyone else did?

It wasn't until the early 90's came, and everyone started selling their beloved Vinyl, and I really got into collecting and buying it that I was soon to have my mind severely blown. I had become best friends with Rodney Dunsmore, the lead vocalist of Corpus Christi, Texas Thrash band DEVASTATION, and with many trips to his new home in San Antonio, Texas, he had turned me on to a garage full of bands that I had only either read about or had never heard of period. And of course he was helping me with my ever growing Vinyl addiction. Since DEVASTATION was a major player in Thrash at the time, he was able to tour the world and bring home stacks of Wax. In one of his European trips, he came across a pristine copy of DIAMOND HEAD's The White Album. It was called that as it was an album sold at DIAMOND HEAD gigs, with no labels or cover, just a white album in a white sleeve. The only writing on it at all was autographs by the band members themselves. Released in 1980 it was initially limited to 1000 copies, so to have one was a major score, but to have 2!! Seeing as we were very close (still are I'm happy to report) he offered me his 1st copy. As I had painfully explained earlier, I wasn't the biggest DH fan and really wasn't that enthused about this offer. After much questioning of my sanity, he asked the most important question: "Have you even HEARD this??" Of course I answered no. It was then that my eyes were opened to the power and the glory of DIAMOND HEAD!! It was a revelation of EPIC proportions!

Starting out with "Lightning To The Nations", even though this song was on my LOBT album, this was a much beefier, heavier version. But then the next track, "The Prince" kicked in, and holy hell, WHERE did this come from and WHY was I just now hearing it? One of the early high octane tracks that would help create what would become Thrash a few years later, this was a powerful punch to my non-believing face! With Sean Harris' howling vocals, drummer Duncan Scott pounding the skins, Colin Kimberley's steady bass thumping, and of course Brian Tatler riffing madly on guitar, this was a sonic force to be reckoned with! "Sucking My Love" next just confirmed what I had been reading in my youth. THIS was it! Over 9 minutes of riffing, with Sean doing a pretty good Robert Plant along with Brian's nimble soloing, this is an epic tour-de-force of everything the NWOBHM had to offer. And that was just Side 1!! Side 2 starts off with "Am I Evil?", and a much much heavier version than I had heard before. Give METALLICA credit. If you're gonna cover a song, pick one that's a 100% ass-kicker from start to finish! And this track has that in spades!! "Sweet And Innocent" is next and a solid track , but it's hard to follow such an iconic track. But a memorable melody and chorus will have it buzzing around in your mind long after you've heard it. Up next, "It's Electric" is a pummeling track with the start-stop riff that so many bands have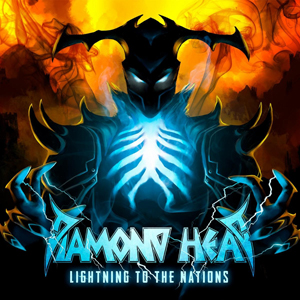 ripped off...er..borrowed. A classic banger indeed! The album ends with "Helpless" and is the perfect example of the old adage 'Last but certainly not least'. A balls-out screamer, this track brings it all home why DIAMOND HEAD was on the forefront of the NWOBHM movement. Subsequent albums saw the band experiment with other sounds which brought their demise, but that's another story for another day. I would add that any self-confessed Metalhead that wants to see where METALLICA, MEGADETH and others got their influences from, look no further than this album. It still stands as tall today as it did in 1980.
BUT...that's not all my friends. If you can find the DELUXE edition, there's even MORE DH history to delve into! Never before heard versions (LOST ORIGINAL MIXES) of all the tracks save for "It's Electric" and "Helpless". That in itself is worth the price of admission! But wait, there's More!! Additional bonus tracks from the early DIAMOND HEAD discography! "Shoot Out The Lights" off the Four Cuts EP, "Streets of Gold" off the "Sweet & Innocent" single, "Play It Loud" off the "Waited Too Long" single" and finally the whole Diamond Lights EP, save for "It's Electric" which is already here in its original form.
You might be thinking "Didn't they just release this back in 2020"? Not exactly. That version of Lightning To The Nations, which was also the name of the rerelease of The White Album by DIAMOND HEAD later, and the name of the European release of said album, was a rerecording of the iconic album by the CURRENT version of DH that you will see touring the world. This version is of the ORIGINAL band. Hope that clears up any confusion.
And yes, my Vinyl familia, both single and Triple Vinyl versions will be available. Choose your poison.
4.8 Out Of 5.0 skulls

Please log in to view RANTS