DEVIN TOWNSEND Lightwork


By Peter Atkinson, Contributor
Sunday, November 13, 2022 @ 10:11 AM


| | | |
| --- | --- | --- |
| | | |
DEVIN TOWNSEND
Lightwork
Inside Out Music/Century Media




There's some truth and some irony to the title of the latest effort from DEVIN TOWNSEND. As one of the busiest and most diverse artists in heavy music, Townsend has never been one to shun hard work nor ambitious ventures - indeed he has a Broadway-style musical The Moth coming down the pike. But since issuing Empath in 2019, which ran the gamut of heaviness from Aaron Copland-like Appalachian pomp and whimsy to rampaging death metal with NICKELBACK's Chad Kroeger providing uber-brutal backing vocals, Townsend's mood certainly seems to have mellowed.

Last December saw the release of The Puzzle and its companion Snuggles. The prog-pop/ambient/multimedia project largely eschewed metal despite its army of contributors and was more in line with Townsend's Ghost, Ki, or Casualties of Cool divergences. But while Lightwork offers a bit more heft, if only in moderation, it still has a pretty chill, "light" vibe to it overall, especially at the end.

Like The Puzzle, it also features a companion piece, in this case Nightwork, with B-sides, demos and such that did not come with the promo but, again, speaks to Townsend's prolific nature which rivals that of horror writer Stephen King who is always working on a several, often quite different things all at once. That said, Lightwork is in essence a pop album, albeit an unconventional one drawn through the filter of Townsend's unorthodox imagination. But it is pleasant, catchy and largely non-threatening, with nary of trace of the bombast or utter lunacy of STRAPPING YOUNG LAD or Townsend's Ziltoid The Omniscient/Z2 or Deconstruction efforts.

"Moonpeople" opens things with an electronic throb that builds to the sort of stirring, anthemic swells that have become a Townsend staple, but without taking things over the top, as he so often did in the past. The title track offers a rousing start before Townsend dials things back with ballad-like verses that then build again to grand choruses redolent with lush harmonies and keyboards and just enough guitar to provide a modicum of punch.

Many of the tunes here follow a similar set up, with contrasting elements played against one another, but never to the extreme – at least where the heaviness is concerned. And that restraint is one of the great frustrations with Lightwork. Unlike the aforementioned Ghost or Ki or Casualties of Cool, which maintain their relative calm throughout, Lightwork keeps approaching the edge of intensity, but just never takes a step over the line. And emphatic bursts of calamitous metal, or just some genuine heaviness, would have been welcome here.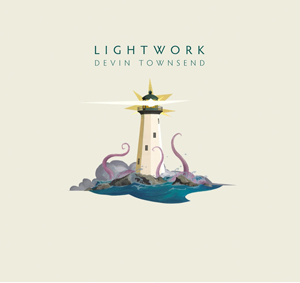 "Heartbreaker" is perhaps the most turbulent track, with its layers of chirpy synths, but gets to a simmer and stays there for all of its seven minutes. "Dimensions" gets off to a propulsive start, but even with Townsend's screamier vocals, a Zappa-like guitar foray from Steve Vai, and beefy, pulsing rhythms, it only emerges from a largely electronic haze at the very end with a brief, SYL-like flourish.
"Celestial Signals" on the other hand delivers the sort amped-up hard rock flair that was so prominent on Addicted or Epicloud without mucking about or mellowing out, which is then exactly how things play out on the meandering "Heavy Burden" that follows.
The cloying folksiness of "Vacation" echoes Jimmy Buffet of all people with its "Let's go on vacation today, marooned here on Castaway Cay" wishful thinking before things take an even further new agey turn on the epic B>Children Of God" that closes the album out with essentially a 10-minute meditation and "free your mind" preachiness. It is the very antithesis of "Oh My Fucking God" that Townsend unleashed with SYL way back in 1997.
At 56-some minutes, Lightwork is also too long and might have been more satisfying, or at least less frustrating, at 40 or so minutes. The album certainly has its moments, and a few truly terrific songs that demonstrate Townsend's knack for crafting catchiness without the usual contrivances. But without any of the "something extra" for which he has shown equal aplomb time and again to provide some "yang" to the rest of the album's "yin" it ultimately feels lacking. And waiting nearly an hour for something that never comes will test just about anyone's patience.
2.5 Out Of 5.0

Please log in to view RANTS