TWISTED SISTER To Be Inducted Into METAL HALL OF FAME


By Larry Petro, News Monkey
Wednesday, November 30, 2022 @ 10:21 AM


| | | |
| --- | --- | --- |
| | | Event Takes Place January 26, 2023, At The Canyon Club, Agoura Hills, CA |
ROCAVAKA - The Vaka Thats Rocks! is proud to present: The 6th Annual Metal Hall of Fame Charity Gala, where Rock Legends TWISTED SISTER will be Inducted into the 2023 Metal Hall of Fame. The event will take place January 26, 2023, at the Canyon Club, Agoura Hills, CA.

The classic TWISTED SISTER lineup of Dee Snider, Jay Jay French, Eddie Ojeda, Mark Mendoza, and late drummer, A.J Pero, will be Inducted into the 2023 Metal Hall of Fame. at the Annual Metal Hall of Fame Charity Gala "The Most Important Night in Hard Rock and Heavy Metal."

Together, these musicians recorded TWISTED SISTER's first four albums. Their first two albums Under the Blade, and You Can't Stop Rock 'n' Roll, developed huge underground popularity for the band. This led TWISTED SISTER to achieve mainstream success with their third album Stay Hungry and the hit single "We're Not Gonna Take It". Over the last 30 years, both "We're Not Gonna Take It", along with TWISTED SISTER's other classic anthem, "I Wanna Rock" are not only consider to be two of the most influential videos in the history of Heavy Metal / MTV, but these two anthems are also the most licensed anthems in the history of heavy metal! After a 12 year hiatus, TWISTED SISTER returned to support a major fundraiser for 9/11 Police and Fireman which led to an extraordinary resurgence on the European festival circuit. In 2006, TWISTED SISTER had an unexpected international hit on their release of A Twisted Christmas, which continues to sell every holiday season.

"The 2023 Metal Hall of Fame Charity Gala is going to be an amazing event as always," says Metal Hall of Fame President/CEO Pat Gesualdo. "There will be numerous Legendary Hard Rock and Heavy Metal artist Inductions, and many exciting surprises and performances!!"

"TWISTED SISTER is honored to be recognized by the Metal Hall of Fame and have our names alongside many of our peers," says Jay Jay French.

*** A special Rocavaka Meet & Greet with DEE SNIDER, Rocavaka's brand ambassador, will take place after the Induction Ceremony where limited edition Dee Snider numbered Rocavaka bottles will be made available for purchase and signing.

Additional Hard Rock and Heavy Metal Icon Inductees, performances, All-Star jams, and other surprises for the 2023 Metal Hall of Fame Charity Gala will be announced over the next few weeks!!!

Tickets:
35.00 Advance / 45.00 at the Door
Pre-Order Here:
www.metalhalloffame.org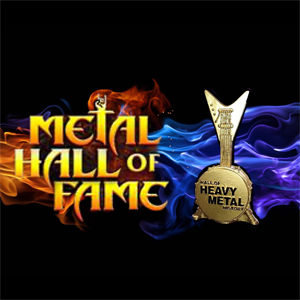 Proceeds from the Annual Metal Hall of Fame Charity Gala go to the non-profit organization D.A.D. (Drums and Disabilities). D.A.D. brings free music programs and therapy services to help special needs children and wounded veterans in various health facilities and community centers.
The Metal Hall of Fame is a non-profit organization that enshrines forever, those Iconic musicians, artists, music industry executives who are responsible for making Hard Rock and Heavy Metal music what it is today. Their contribution to the genre is invaluable, and they keep inspiring fans throughout the world, from generation to generation.
The Metal Hall of Fame Annual Celebrity Gala has included many historical hard rock and heavy metal moments. For example, our idea to join with Sharon and Ozzy Osbourne to have former Ozzy drummer Lee Kerslake accept his Platinum Record Awards for Blizzard of Ozz and Diary of A Madman, after 38 years.
Having METALLICA Induct Megaforce Records founders Jon and Marsha Zazula. Inducting JUDAS PRIEST at Wacken Open Air. Inducting members of KISS, IRON MAIDEN, and TRIUMPH among others for our 5 Year Anniversary Bash. Having Don Airey's surprise Induction for BLACK SABBATH co-founding member Bill Ward, (especially after not seeing each other since recording BLACK SABBATH's 1978 Never Say Day album). Inducting ANTHRAX at Heavy Montreal. Having Kathy and Kelle Rhoads Induct their brother Randy Rhoads. Having SLAYER's Kerry King's surprise Induction for Brian Slagel and Metal Blade Record's 35th Anniversary. Having Steve Vai, Joe Satriani, Geoff Tate, Chris Poland, and Bjorn Englen perform in the most historic metal performance of all time. Having Paul Stanley Induct Doc McGhee. Having Brian May of QUEEN Induct Joe Satriani. These are just some of the Legendary memories that we are honored to have shared with Hard Rock and Heavy Metal fans throughout the world.
For more information, please contact 973-263-0420, or [email protected]

Please log in to view RANTS