EXHUMED To The Dead


By Francisco Zamudio, Metal X Candy 2.0
Friday, January 6, 2023 @ 2:32 PM


| | | |
| --- | --- | --- |
| | | |
EXHUMED
To The Dead
Relapse Records




California's underrepresented Metal scene is loaded with history and acclaim. In a mecca of talent that goes way beyond simply Thrash Metal, the truly great bands that stand out and are worth mentioning over the abundance of bands, not only because of their good music but have stood the test of time. When it comes to California Death Metal, there are actually a lot of great examples in our large underground world that I'm proud of. Here's where I drop some knowledge on you on one of the greats from the (W/B)est coast in that of Gore Grind aficionados EXHUMED who have returned with To The Dead. Another Relapse Records release, it's only their 8th album to date since their inception in the early 90's and their acclaimed full-length debut Gore Metal in 1998.

Approaching a more "brutal" style to their "grind" m.o., it hasn't negatively affected their overall sound. The brief hints of any sort of melodic side (such as in Anatomy Is Destiny) is nowhere to be heard as many felt didn't fit the band's sound overall. EXHUMED are more interested in strengthening the name Ross Sewage and Matt Harvey helped keep intact. Ever since adding Mike Hamilton (of California Death Metal greatness DEEDS OF FLESH), who has been in the group for 11 years since Necrocancy, it only help brutalize their style that much more.

To The Dead is also a celebration of how far EXHUMED has come in 30 years. In recognition of their history, they deemed it fitting to bring back several of their past members to help with the songwriting on their new album. As Matt explains, "We've expanded the writing team on the record… to celebrate the band's history… an excellent testament to the surprising longevity of Gore Fucking Metal!" A proper way to highlight a milestone given the last few years and the turmoil that's resulted, consequently also helped reunite and unify many and in doing so, To The Dead includes former members. So you get influences from different eras of EXHUMED with the assistance of Matt Widener who appeared on the Horrific Expulsion of Gore demo, Leon del Muerte who appeared on 2011's No Guts, No Glory. Also helping to make this historical record, from the Anatomy Is Destiny lineup, Mike Beams and Bud Burke who between the 2 previously appeared on their debut and Slaughtercult, and the other from Necrocracy and Death Revenge, respectively.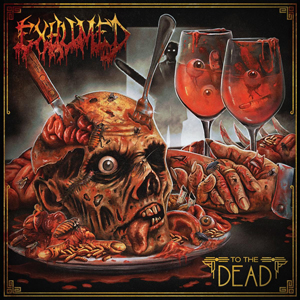 It takes a healthy appetite for the macabre and a well-versed mind that is experienced in horror to continually put out material that rots well with age. With that Gore-Metal pioneers EXHUMED have released one of the most well rounded albums to date in that of To The Dead that is sure to rip your throat out and let the blood flow with its amazing production. Having gone more brutal on this album with so many elements at play, or musicians as it were, unleashed is some of their best material which is shocking because they've put out quite a consistent flow of good music. The pummeling is persistent on every track. Small minor moments when solos are added in the melodic parts give a small break from the pounding. As a diehard Brutal Death Metal fan, I love this side of them while still able to stay rooted and maintain that gore-grind essence. "Rank And Defiled" stands out as a track that contains many of the groove elements that break up the consistent grinding riffs, if only just to set us back up for more chainsaw mutilation. For the most part, all of the tracks on To The Dead are blunt force grindage that reflects many of the members, current and past, talented influence in the song-writing on past albums. This relentlessly brutal onslaught by EXHUMED only demonstrates that, just like blood into wine, gets tastier with age.
4.5 Out Of 5.0

Please log in to view RANTS


ROBIN MCAULEY Alive

CRADLE OF FILTH, DEVILDRIVER In Santa Ana With Photos!

KAMELOT The Awakening

ALTER BRIDGE, MAMMOTH WVH In Houston, TX With Photos!

ACID KING Beyond Vision

STEEL PANTHER On The Prowl

NIGHT DEMON Outsider

YNGWIE MALMSTEEN In Ottawa, Canada

THEORY OF A DEADMAN, SKILLET, SAINT ASONIA In Houston, TX With Photos!

OFFICER X Hell Is Coming

PERIPHERY Periphery V: Djent Is Not A Genre

INSOMNIUM Anno 1696

STEEL PANTHER, CROBOT, TRAGEDY In Houston, TX With Photos!

BABYLON A.D. Live Lightning

ROTTING CHRIST, CARACH ANGREN, UADA, GAEREA In Houston, TX With Photos!

MOTÖRHEAD Bad Magic: Seriously Bad Magic

TRAGEDY I Am Woman

ROXANNE Stereo Typical