KATATONIA Sky Void Of Stars


By Peter Atkinson, Contributor
Saturday, January 21, 2023 @ 8:38 AM


| | | |
| --- | --- | --- |
| | | |
KATATONIA
Sky Void Of Stars
Napalm Records




On the surface, the 12th album from Sweden's KATATONIA would seem to epitomize the melancholia and gloom that have long been staples of the band's repertoire. Its title alone, Sky Void Of Stars, signifies nothingness, darkness absolute. And though frontman/songwriter Jonas Renkse's contemplative lyrics often speak in abstractions – or sometimes random numbers, in the case of "Birds" here - a track listing featuring the likes of "Austerity" and "Impermanence", "Drab Moon" and "No Beacon To Illuminate Our Fall", or "Opaline" and "Sclera" similarly connotes lack and loss or variations on the themes of absence of light or color.

But dig a little deeper, and you'll see that Renske's intent seems less to mope and moan and more to achieve some manner of catharsis, or at least lash out a bit. The songs are not so much forlorn and mournful as they are, in some instances, scornful, angry, even vindictive. Take, for instance, the opener "Austerity": "I hear things aren't well / Since you sold me out / I remember you clear / Your rituals of doubt / With city lights from 1988 / Sprinkled like dust / On your window pane."

Or "Atrium": "I'm fading from your sky / The shutdown is complete / You turned away despite my loving / In a room, Marriott, New York / Checking in to be held by you / Then checking out / Direction is shuffled back to nil." Seems Renske can really hold a grudge.

Yet despite its depressive countenance and tense thematic undercurrent, Sky Void Of Stars is quite the opposite of KATATONIA's last album, City Burials, from spring 2020, and its generally somber, and at times rather restrained, air. Indeed, Void could almost be described as buoyant by KATATONIA's standards, once the music gets factored in, displaying the kind of steady simmer the band often holds in check in favor sporadic bursts.

The grand melodies and resounding, infectious choruses that have long been regular features remain – and are perhaps bigger and catchier than ever. But there's a spunkiness, understated though it may be, that carries through the album, giving it an unexpected lift, especially when working in contrast to the broodiness that is never too far away.

"Austerity" kicks things off with anthemic flair, but it's the nifty, shuffling beat from drummer Daniel Moilanen that gives the lush, surging hooks and choral swells some uncharacteristic swing, a scheme that repeats elsewhere, especially when paired with Niklas Sandin's spry bass lines. The martial pace and bouncing rhythm of "Colossal Shade" recalls METALLICA's "Sad But True", while "Author" and "Atrium" ratchet up the crunch to match the heft of Moilanen's beats.

"Birds" is a propulsive, straight-forward hard rocker, but "No Beacon To Illuminate Our Fall" offers a tantalizing, if brief, surprise when its funk-meets-gloom back and forth gives way to a super-heavy, turbulent crescendo mid-song that lasts but a few measures. It's a startling fit that dissipates as quickly as it erupts, and leaves one expecting a repeat that sadly never comes, yielding instead to Roger Öjersson's supple lead work.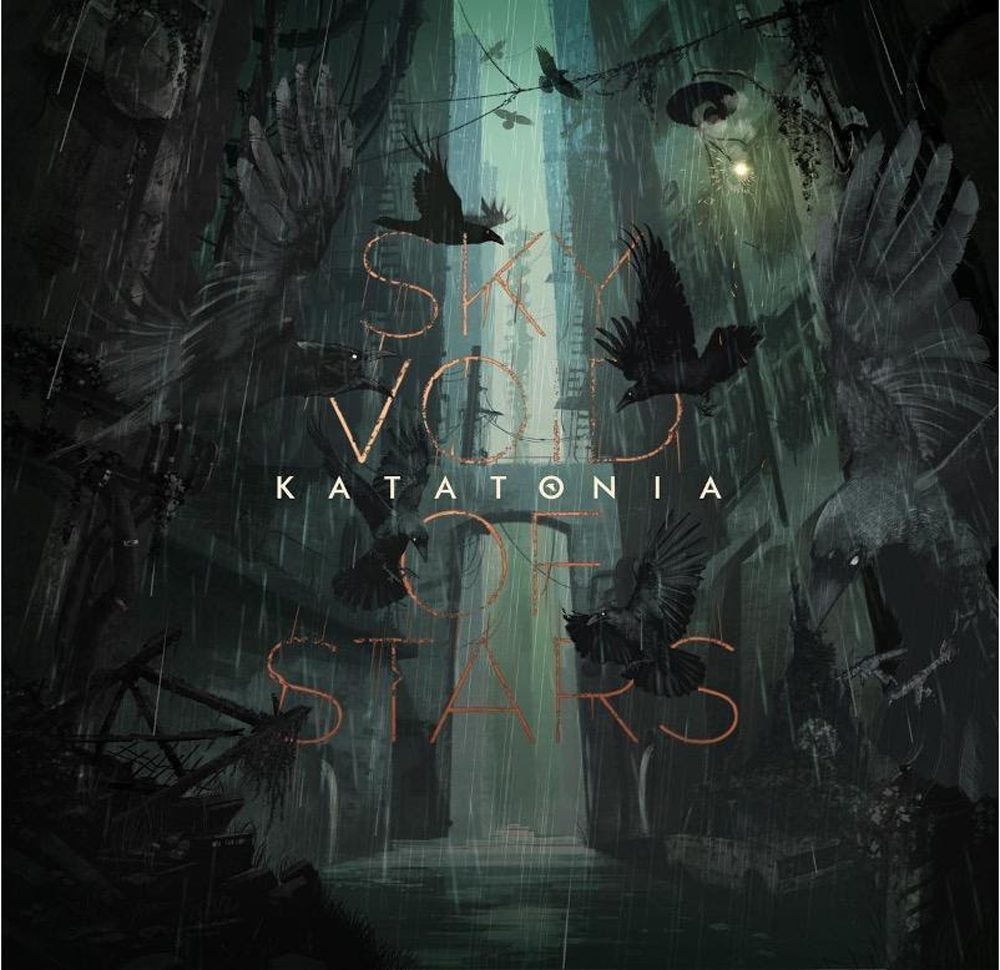 The quieter moments here never approach the sparseness of City Burials' haunting "Lacquer" or the wispy grimness of "Vanisher" and its "Hey, we're dead now ..." chorus. Though "Drab Moon" is measured and mournful at the outset, it builds slowly off Nyström's keyboard textures to an emphatic finish. The throbbing electronics, slithering rhythms and ethereal guitar washes of "Opaline", on the other hand, make for an unusual jazz/disco/pop rock hybrid that ends up sounding great almost in spite of itself. Same goes for the almost torch song-like "Sclera".
"Impermanence" takes the form of a for-real power ballad, of all things, with Renke trading vocals with SOEN's Joel Ekelöf. And though it steers clear of outright cheese, it is the only remotely "stock" track here, offering little that any seasoned hard rock fan wouldn't have flicked their Bic to, so the speak, many times already.
But it represents the only ordinary moments in a rather extraordinary effort by a veteran band that only seems to keep getting better with age. KATATONIA has managed to evolve steadily, if sometimes subtly, over the course of 30 years, rarely making changes that are too radical – barring the Dethroned & Uncrowned/Sanctitude unplugged stretch from 2013-2015 – but making changes nonetheless. Sky Void Of Stars takes what has always made the band great – Renske's grim but poignant poetry, the deft melding of melody and muscle, progressive flourishes, etc. - and anchors it with livelier rhythms to add character and deliver some extra wallop. It makes for another triumph in what has become a long line of them.
4.5 Out Of 5.0

Please log in to view RANTS