ACID KING Release "Mind's Eye" Single


By Larry Petro, News Monkey
Thursday, March 9, 2023 @ 11:29 AM


| | | |
| --- | --- | --- |
| | | New Album Beyond Vison Arrives March 24th |
Photo Credit: Kevork Demirjian
  ACID KING, the pioneering, San Francisco-based heavy rock outfit, debut a second track from their forthcoming album, Beyond Vision (March 24, Blues Funeral Recordings), with today's release of "Mind's Eye". Check it out BELOW.
Lori Josephs said of the track: "The journey has begun but you don't know where it's going to lead," a nod to the otherworldly inspiration for the seven-song album.
"Beyond Vision is based on the journey of life," Lori says. "Jason [Landrian] and I were having these heavy pandemic conversations at the practice space for two years, talking about all the stuff you go through being in bands, touring, your relationships in life, all that stuff. You think this trip is supposed to go one way, but it goes in very different ways that you can never imagine."
It's not just life on Earth she's talking about. Beyond Vision contemplates life on Mars, life on the moon, and death in the furthest reaches of space. Kubrick's 2001: A Space Odyssey was a key influence. Then there was the mesmerizing 2019 documentary Apollo 11. "I was hugely inspired by that documentary," Lori enthuses. "I absolutely love the soundtrack Matt Morton did for that. I've probably listened to it a million times. I really loved the journey it took me on, even without the movie. It just made me ponder life."
ACID KING have also announced several European performances, as well as a pair of U.S. dates:
June 3 San Francisco, CA Great American Music Hall
August 4 Innsbruck, AT Poolbar Festival
August 10 Moledo, PT Sonic Blast
August 11 Kortrijk, BE Alcatraz Festival
August 12 Marienthal, DE Hoflärm Open Air
August 25 Wörrstadt, DE NOAF
September 8 - 10 Sao Paolo, Brazil Setembro Negro Festival
September 23 Austin, TX Ripplefest
Beyond Vision was recorded to two-inch tape courtesy of Dead & Company at Sharkbite Studios in Oakland, Calif.. Lori worked hand in hand with BLACK COBRA guitarist/vocalist Landrian on Beyond Vision, with the pair sharing writing and production credits. The band is rounded out by Bryce Shelton (bass/synthesizer) and Jason Willer (drums).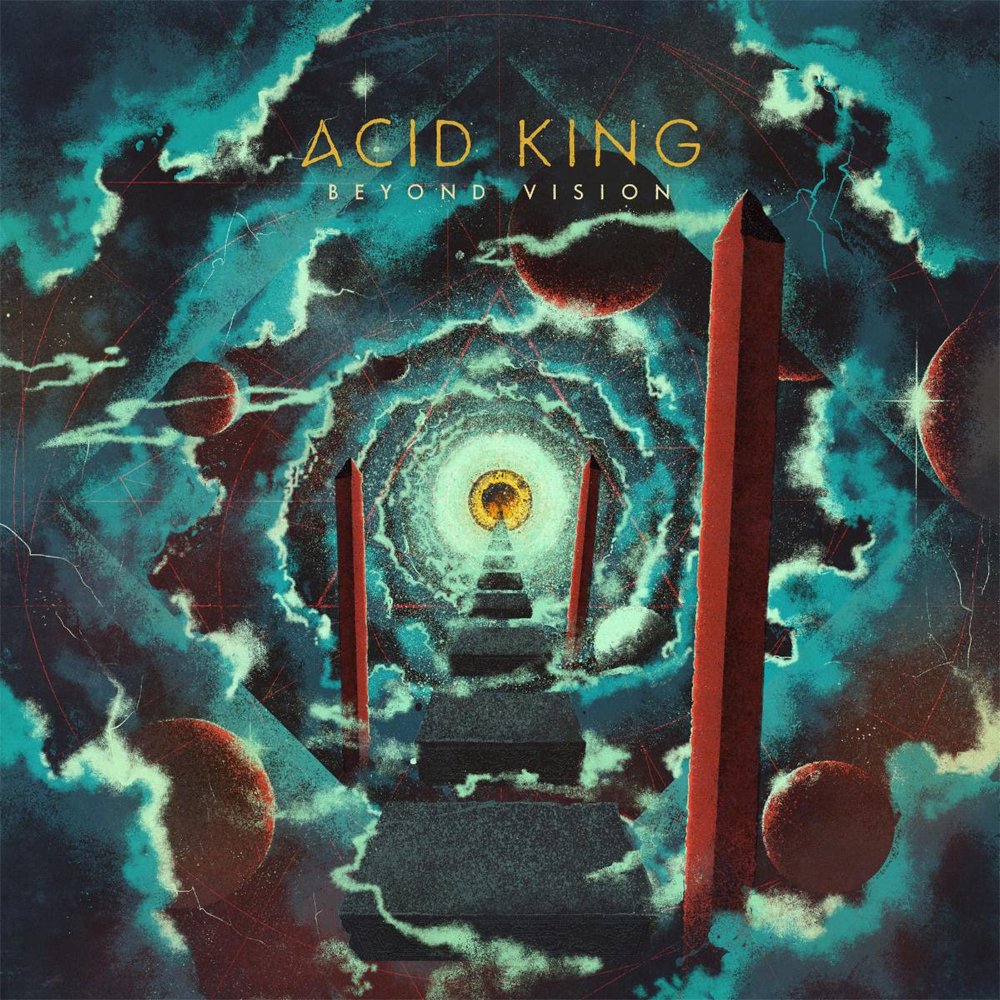 Album pre-orders are available now (bluesfuneral.com) and Bandcamp, with Beyond Vision available on a variety of limited-edition formats including multiple vinyl and cassette variants along with CD and digital/streaming. The band previously released the duo single of "Destination Psych/Beyond Vision".
Beyond Vision album cover artwork by Maarten Donders
Beyond Vision track list:
"One Light Second Away"
"Mind's Eye"
"90 Seconds"
"Electro Magnetic"
"Destination Psych"
"Beyond Vision"
"Color Trails"
Adopting the nickname of notorious teenage slayer Ricky Kasso, ACID KING came screaming out of San Francisco in 1993 with a sound that fused heavy '70s proto-metal with the kind of bleary, slow-rolling dirge power being harnessed by their contemporaries in SLEEP and ELECTRIC WIZARD. The band's 1993 debut 10" was followed two years later by their full-length debut Zoroaster. ACID KING's acclaimed 1999 album Busse Woods solidified their reputation amongst a generation of riff worshipers, and heavy rock enthusiasts. SCID KING, founded by and helmed by vocalist/guitar player Lori S., have released four full-length studio albums: Zoroaster (1995), Busse Woods (1999), Acid King III (2005), and Middle of Nowhere, Center of Everywhere (2015), as well as a collection of EPs and split releases.

Please log in to view RANTS