INSOMNIUM Anno 1696


By Peter Atkinson, Contributor
Saturday, March 11, 2023 @ 9:52 AM


| | | |
| --- | --- | --- |
| | | |
INSOMNIUM
Anno 1696
Century Media Records




The end of the 17th century was an especially grim time for Northern Europe. Famine, disease, witch hunts and superstition ran rampant – one often fueling the other - and the specter of death lurked around every corner. And it is here, in this darkest of eras, that Finland's INSOMNIUM – never a stranger to things dark - has set that stage for its ninth album, the haunting, cinematic and wildly divergent conceptual work Anno 1696.

Built around a short story conceived by bassist/frontman Niilo Sevänen – with a nod to Finnish author Aino Kallas' werewolf novel Sudenmorsian, or The Wolf's Bride, from the 1920s-Anno 1696 takes the band's signature melodic death metal/doom death sound and opens the aperture a bit to elements that have made more fleeting appearances in the past, contrasting it with dark folk/gothic flourishes, primal black metal ferocity and almost symphonic grandiosity. Add to it the complexity of some of the material, and the constantly shifting moods – from somber to frantic and everywhere in between – as the band navigates the twists and turns of the storyline, and you've got a compelling, often stunning piece of work.

Right off the bat, it's evident that a wild ride is in the offing. The delicate acoustic guitars and hushed narration that introduce "1696" soon give way to Sevänen's full-throated roar and a furious black metal charge driven by Markus Hirvonen's galloping drums, which is then interspersed by the graceful sweep of the choruses. The martial trudge of "White Christ" follows with a more steady, direct approach, anchored by Sevänen and Hirvonen's swaggering rhythm. ROTTING CHRIST frontman Sakis Tolis makes an apt guest appearance here, making an already sinister song that much more ominous.

This is then countered by the complexity and gothic majesty of "Godforsaken", which is punctuated by the ethereal vocal accompaniment of AURI's Johanna Kurkela. At eight-plus minutes, and with tempo changes and mood swings galore, "Godforsaken" is the album's most involved, epic number. Guitarists Jani Liimatainen and Markus Vanhala lend their clean vocals to contrast Sevänen's rasp while sling-shotting back and forth between death metal tumult, melodic grandiosity and folksy minimalism with their guitar work, making for quite a workout for them and third guitarist Ville Friman, but the results are sensational.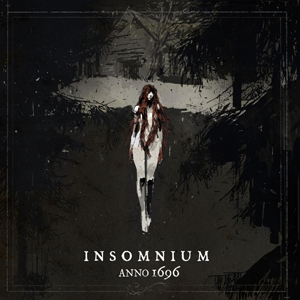 "Lillian" is themelodic death metal centerpiece of Anno 1696, withabracing pace and gnashing riffs throughout that build to towering choruses and would make for relative radio friendliness were it not for Sevänen's lupine snarl. And that is by no means a complaint, as his emphatic vocals have been central to the power and purpose of INSOMNIUM's delivery from day one, raising it above beyond mere melancholy. And while it can certainly peel the paint on more ferocious tracks like "Starless Paths", his voice also easily captures the drama of the more richly melodic "The Witch Hunter" – with an assist from Liimatainenand Vanhala's sporadic cleans.
After the relative calm of "The Unrest", a shorter, mostly acoustic number with more pronounced keyboards and clean vocals – Sevänen speaks in whispers here - Anno 1696 delivers a thundering finale with "The Rapids", which harks back to the blackened ferocity of the opener. Eventually, anyway. Once the piano strains of its beginning fade, it takes the band a moment to truly uncoil. But it then does so with abrupt authority, ridinga stampede of drums and three-headed fusillade of riffs the rest of the way.
Deluxe editions of Anno 1696 include the three-track EP Songs of The Dusk that further fleshes out Sevänen's story – a director's cut, if you will. But at eight songs and 50 minutes of music, the album, as it is here, seems just about perfect. There is a palpable flow, as the songs follow a natural narrative progression and ebb and flow almost effortlessly, despite the dramatic peaks and valleys, and a suitably dramatic conclusion. I'm sure the extra songs are great but will leave them for another day.
4.5 Out Of 5.0

Please log in to view RANTS