Live Photo By Larry Petro/Petrofyed Photography (not taken in Ottawa)
Magic!
Loss!
Fury!
And careless usage of social media that would make Elon Musk blush?
It had finally come to this moment in time in the most dystopian-sounding form of reviewing live shows and certainly a first for me during my 20+ years reviewing concerts for KNAC: The phone ban. Not as extreme as every episode of Better Call Saul when Jimmy McGill's older brother Chuck is diagnosed with an adverse allergy to electricity and can't have any electronic device around him, resulting in the temporary confiscation of one's phone and Blackberry during a meeting - a process known as "grounding oneself" - but neither the Brass Monkey nor myself or the rest of the sold-out crowd wanted to make headline news by sabotaging the long-awaited comeback of one of the most prolific guitarists of the last 40 years by taking a selfie or 20 during their set and prompting them to threaten to walk off the stage in protest; this was literally what ARMORED SAINT's "End Of The Attention Span" was written about.
And meanwhile, the opening slot for a local band to claim to open the show remained uncovered…
….until that slot was eventually taken quickly by local hard rockers ROCKIN' ENGINE, known for their thrash/hard rock hybrid that has netted them several accolades in opening for WARRIOR SOUL, DEATH ANGEL and ROSS THE BOSS among a host of other acts in between. They were honestly the last band I'd expected to be opening such a prestigious event at the last minute, but they thrived as well as they thrashed during their 40+ minute set. Opening with "Carnival Of Evil" complete with a megaphone intro, frontman/guitarist Steve O Leff and his bandmates including the similarly-named guitarist Ste VyLeff, drummer Joel Bilodeau and bassist JP "The Beast" Buzzard covered a spectrum of their catalogue, ranging from their earlier material such as "Psychopath", "Hiding In Darkness", "I Sold My Soul To The Devil" and closing number "Let It Burn" to newer numbers such as the ROB ZOMBIE-sounding "Monsters Under Your Bed". They've come a significantly long way since their last opening set for ROSS THE BOSS I'd seen them at 3 years ago with a website of their own and the finishing touches on their debut album B>Altered By Evil becoming imminent, so, hopefully, the ENGINE is ready to leave the confines of the showroom following their impressionable performance that night.
https://linktr.ee/rockinengine
https://www.facebook.com/rockinengineofficial/
https://twitter.com/Rockin_Engine
https://www.instagram.com/rockinengine/
He started out playing violin at age five before taking up the guitar at age 9 after hearing DEEP PURPLE's Concerto For Group And Orchestra for the first time.
He's become more of a blues aficionado as of late.
He plays rather than practices.
And his greatest composition is "the next one".
This was how headliner YNGWIE MALMSTEEN best summed up himself during the Q&A portion of his performance that night - his first show in Ottawa in well over 30 years. And due to a last-minute ban imposed on photos and videos throughout his performance after footage from his Montreal concert the night before allegedly showing a few incorrect notes being played on "Black Star" uploaded onto YouTube caught the Swedish virtuoso's attention, you now have the answer to the question as to why this review will have no accompanying photo or video footage.
Fortunately, no such drama repeated itself at the night's concert as Yngwie opened with his scorching opus "Rising Force" to a flashy backdrop of customized Marshall amps. His performance was everything that was heavily anticipated about his live shows: Fiery, focused, proficient yet flexible, and definitely larger than life.
And, yes, he did indeed play 15 seconds of the solo to "Far Beyond The Sun" with his teeth.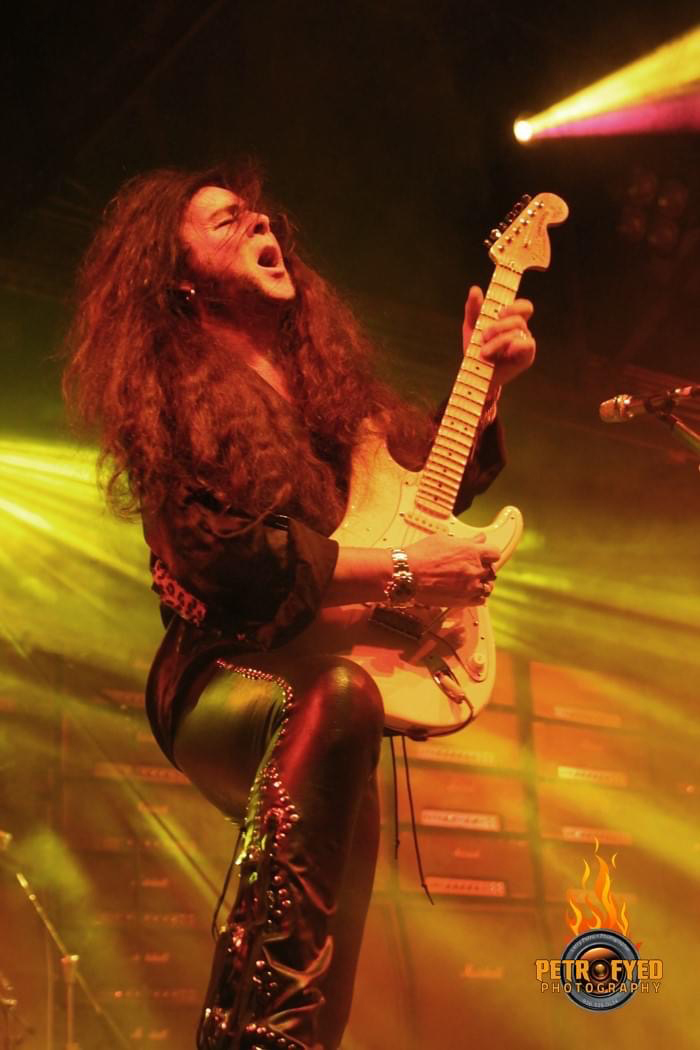 With that said, one of Yngwie's more recent albums Blue Lightning (2019) showed a significant pivot from his neoclassical metal leanings with a foray into standard blues as he delved into a quick medley of "Sun's Up, Top's Down" coupled with 2016's "Top Down, Foot Down", its main standard riff conducting the direction of both songs throughout. He explained in his Q&A session afterwards that he'd been asked to record a blues album after over 30 years of his "standard, pentatonic, play a 12-bar thing" style. It certainly helped him to effortlessly revert back and forth between both genres as he soared through "Soldier" before returning to his neoclassical leanings by paying homage to the classical work of Johann Sebastian Bach with "Baroque And Roll". Closing out his set with improvised and flawless versions of his best-known compositions such as "Far Beyond The Sun" and "Black Star" with a slight hint of the outro to "You Don't Remember, I'll Never Forget" tucked in somewhere for good measure, YNGWIE MALMSTEEN left an impressionable crowd fatigued and overwhelmed but also satisfied that the first visit back to Ottawa in three decades by the legendary Swedish axeman had seen a greater appreciation of his work and the fury that inspired 40+ years and 23 studio albums behind it.
Thanks once more to Skotti, Dennis and the rest of the staff at the Brass Monkey for being a rising force in making this concert happen.
https://www.yngwiemalmsteen.com/
https://www.facebook.com/officialyngwiemalmsteen/
https://www.instagram.com/yngwiemalmsteen_official/
Setlist:
"Rising Force"
"Sun's Up, Top's Down"/"Top Down, Foot Down"/"No Rest For The Wicked"
"Soldier"
"Into Valhalla"/"Baroque And Roll"
"You Don't Remember, I'll Never Forget"
"Far Beyond The Sun"
"Black Star"