CRADLE OF FILTH, DEVILDRIVER In Santa Ana With Photos!


By Francisco Zamudio, Metal X Candy 2.0
Wednesday, March 22, 2023 @ 9:03 AM


All Photos By Thomas Delgado (@BatForceTom)
Piercing the 'orange curtain' isn't a task I take lightly but that journey to Orange County is only done when it's well worth it and a sold out like this one was well worth it. The co-headlined tour of CRADLE OF FILTH and DEVILDRIVER dubbed the Double Trouble Live Tour, with support by ONI from Canada and BLACK SATELLITE from New York, hit Santa Ana's Observatory. Last time I saw CoF was nearly exactly 4 years ago to the day, up the street at the House Of Blues of Anaheim. Along with a bewitching meeting making it an even more memorable nite, it was my first time ever that I can recall seeing CRADLE.
Now I have said and argued it a million times in various conversations about what an "image" means, should represent and when it's called for in certain occasions. That said, ONI had absolutely none of that. The ScrEmo-Core band is the exact reflection of many local bands I see and hear that don't bring enough focus on their look and are too focused on their sound, of which I will say they did have it down and dialed in but were WAY too loud for an opening act. Djenty, metal-core, clean vocals - it was certainly a band with that commercial sound to be aimed at various markets and demographics. Plainly put, as much as their music was good for a certain niche, they could use a total makeover. Then again, that would lump them in with all the rest of the bands with the same sound with that emo/goth-image. Despite no stage presence, the crowd surprisingly was quite receptive to them.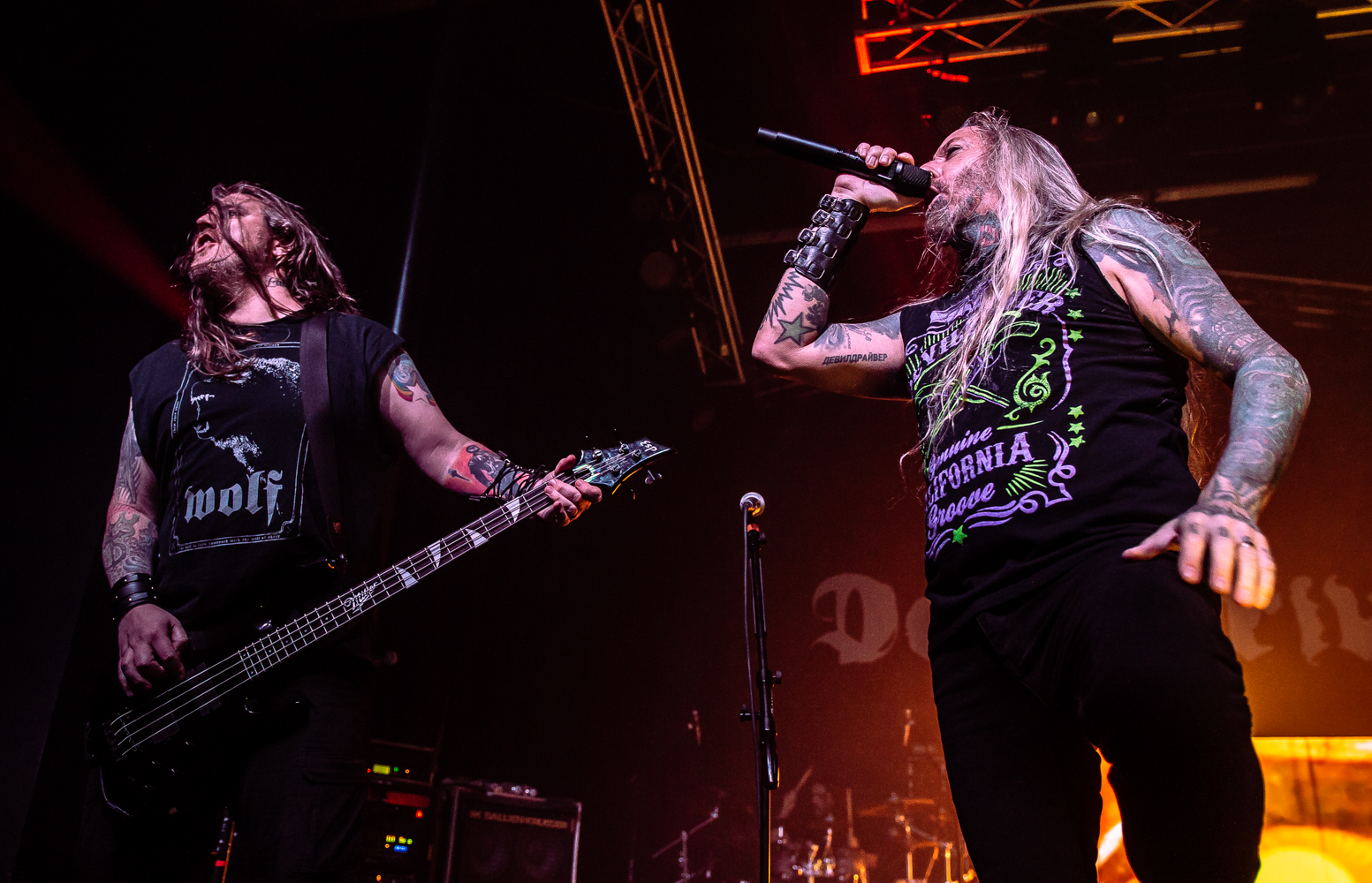 Now to me, BLACK SATELLITE turned it up and I found it more entertaining. Standing out from the band is Frontwoman Larissa Vale's great vocal presence, and look at that, rocking an old vintage condenser microphones that Elvis and Dez Fafara used to use, I can say without a doubt that she has a future in Metal but can't really commit to say that this band she's in with guitarist Kyle Hawken will hold much water in the long run. Here's a band that had that not-quite-goth look and a sound that didn't stand out. I swear I would have believed you if you told me they were some MI band from Los Angeles. Their sound did have more consistency than the band before them. I was surprised the crowd wasn't more into BLACK SATELLITE than the opener. Also, I think they could have done better than to close with a RAMMSTEIN cover.
DEVILDRIVER and CoF had an interesting setup to the rear of the stage positioning the drummer on stage-right (or for you in the crowd, to your left) and with a digital screen I'd say about 10' x 10' behind the rest of the band. Because of this, it made it hard to get a good view of the drummer. On these screens throughout both of their sets, they displayed various entertaining horror and occult cinematics along with clips from their respective music videos. Now Dez has always been an amazing front man. I had been a fan of his unique vocal style even before DEVILDRIVER. The first time I even knew about DD was when they opened up for Phil Anselmo and SUPERJOINT RITUAL at Hollywood's Key Club (RIP) back in the day. I had no idea who they were but apparently many there that night did and the place went off when they hit the stage. On this nite in Santa Ana in March of 2023, it was no different. Dez (at 56 yrs of age and looks nothing like it!) and company once again did not disappoint and the crowd was totally intense. Dez's wolfpack consisted of the longest standing member Mike Spreitzer, who came on in 2004 and for the sophomore album The Fury Of Our Maker's Hand and the return of Jon Miller on bass, who had not been in the band since the BEAST era in 2011, and was there in the beginning in 2003. That energy off that stage was powerful just as their setlist. Most importantly and noticeable to me was the good time and camaraderie they were showing on stage. Although they opened up with a slow one in that of "Keep Away From Me", a cut from their last release Dealing With Demons Vol. 1, they turned it up ten notches with "Hold Back The Day", a personal favorite of mine. Also off TFOOMH album was "Grinfucked", "Before the Hangman's Noose" and "End Of The Line". The rest of the set consisted of 2 songs off each from their self-titled debut, The Last Kind Words, Trust No One and Winter Kills.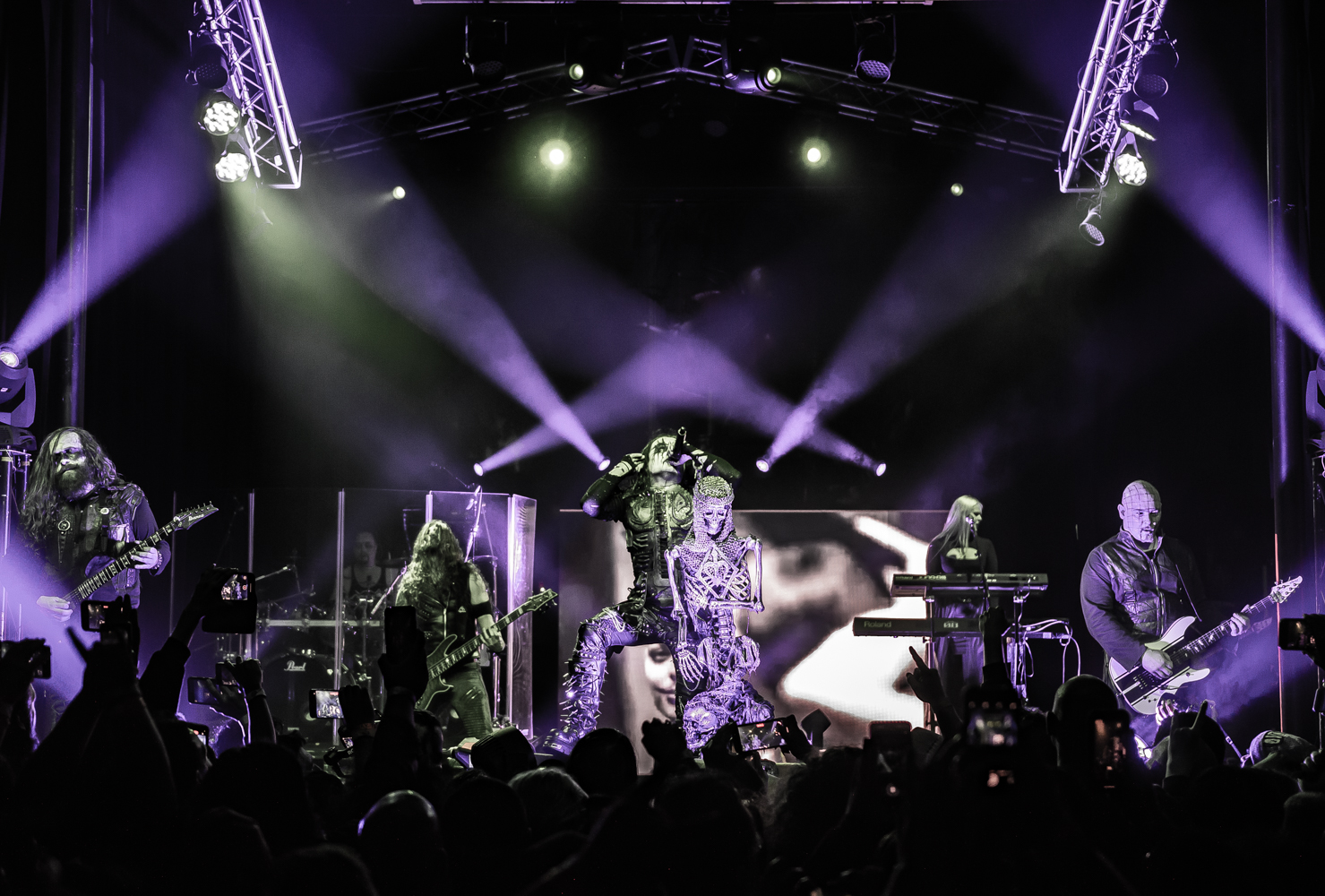 Now Dani Filth isn't the type to jump around and run from one end of the stage to the other. Perhaps restricted by his stage outfit but nonetheless he is a phenomenal frontman who likes to hold his mic high above him when he belts out his trademark and easily recognized screeching wails. Dani's persona and the imagery of CoF over the decades earns them the shock-rock (or Metal, as it were) badge. With a skeleton for a mic-stand at the helm, they opened up their set with a long, 7 minute opener with "Heaven Torn Asunder", a cut from the sophomore record Dusk And Her Embrace. Even though they started off slow, they increased the energy with "Gilded Cunt" as their second song which got the crowd fired up for their set. The 4th song in their setlist was 1 of 2 new tracks that will come from their upcoming release Trouble And Their Double Lives due out in April through Napalm Records which is a compilation of live cuts from their tours between 2014 and 2019. After taking a jab at the crowd and at the States as a whole by saying he'd rename the tour the "Double-Chin Tour", sandwiched in between their set was a track from their debut record, the title-track "The Principal Of Evil Made Flesh". You would tire yourself out trying to keep up with the multiple faces that made up CRADLE OF FILTH over the decades. We're talking over 30 names. All I will update you on is the blonde siren on keyboards, Zoe Federoff, whose voice was hypnotic. Hearing her sing on "Cruelty Brought Thee Orchids" and "Nymphetamine Fix" really raised the bar. As for the rest of the band, they were great to watch and hear. Lots of energy and certainly stage outfits to suit the mood but in no way unnecessarily distracting from their performance and ability. I wish I could tell you more about the drummer, but they also had him off to the corner behind the sneeze-guard (plexiglass used to isolate sound). CRADLE OF FILTH is a band that has reached Metal fans of various types. Not just for goths, they're also loved by die-hard metalheads who had been fans since the early days of CoF's Black Metal influence. Despite Dani's aversion to the song, he can only give the fans what they want, and closed their 10 song and hour set with the staple "From The Cradle To Enslave".
Check out some more photos from the show!
All Photos By Thomas Delgado (@BatForceTom)

Please log in to view RANTS



OBITUARY, IMMOLATION, BLOOD INCANTATION, INGROWN In Los Angeles With Photos!

SAVOY BROWN Blues All Around

JAG PANZER The Hallowed

THE DEFIANTS Drive

GLORYHAMMER Return To The Kingdom Of Fife

NIGHT LEGION Fight Or Fall

IMMORTAL War Against All

JOE PERRY Sweetzerland Manifesto MKII

BUCKCHERRY Vol. 10

DAVE LOMBARDO Rites Of Percussion

HELLOWEEN, HAMMERFALL In Worcester, MA With Photos!

DARK FUNERAL, CATTLE DECAPITATION, 200 STAB WOUNDS, BLACKBRAID In Houston, TX With Photos!

MR. BUNGLE, MELVINS, SPOTLIGHTS In Portland, OR With Photos!

PANTERA At Welcome To Rockville With Photos!

THE BLACK DAHLIA MURDER, TERROR, FROZEN SOUL, FUMING MOUTH, PHOBOPHILIC In Anaheim, CA With Photos!

ENFORCER Nostalgia

BUZZFEST Featuring GODSMACK, I PREVAIL, HIGHLY SUSPECT, THE STRUTS And Others In Houston, TX With Photos!

SLEEP TOKEN Take Me Back to Eden

UGLY KID JOE, FOZZY, PISTOLS AT DAWN In Houston, TX With Photos!

TESLA, FASTEST LAND ANIMAL, KURT DIEMER In Orlando, FL With Photos!

CATTLE DECAPITATION Terrasite

TYGERS OF PAN TANG Bloodlines

MYSTIC PROPHECY Hellriot

WHITECHAPEL, ARCHSPIRE, SIGNS OF THE SWARM, ENTHEOS In Santa Ana With Photos!

ALCATRAZZ Take No Prisoners

BURNING WITCHES The Dark Tower

ELVENKING Reader Of The Runes - Rapture

CHAOS AND CHARNAGE Tour Featuring SUICIDE SILENCE, DYING FETUS, BORN OF OSIRIS, ABORTED, CROWN MAGNETAR, SANGUISUGABOGG And SLAY SQUAD In Anaheim With Photos!

ENFORCED War Remains

SAVAGE EXISTENCE Savage Existence