JASON BIELER AND THE BARON VON BIELSKI ORCHESTRA
Postcards From The Asylum
Self-Released
www.jasonbieler.com




Ex-SAIGON KICK guitarist and Brownsville pie-eating contest winner JASON BIELER is back with the follow up to his 2021 release Songs For The Apocalypse. I felt bad that I could only devote a couple of lines in a review for that release. Chalk it up to workload. The album had taken me by surprise with its uniqueness.

Here's what I said about Songs For The Apocalypse: "The catchy, thought-provoking, and star-studded album will make you forget that SAIGON KICK ever existed. "Anthem for Losers" is sarcastically chipper, "Beyond Hope" is an eclectic jam session, "Crab Claw Dan" sounds like a bonus track from THE MONKEES' Head album, "Bring Out Your Dead" is a spot-on commentary about today's media culture, and the instrumental breaks give the album a cinematic feel."

Come to find out, Bieler was only dipping his toes into the progressive & experimental music pool. With his latest album Postcards From The Asylum, JASON BIELER has jumped into the deep end. Fortunately for him, he brought his arm floaties and Cub Scout swimming merit badge.

"Bombay" kicks off the album with driving guitars. Bieler's melodic vocals lead the way to a chorus section that ALAN PARSONS would be proud of. It's a nice blending of Hard Rock and Pop-Prog. Drummer Edu Cominato is really starting to make a name for himself as of late, and for good reason. His percussive work on "Numb" is awe-inspiring. Of course all his contributions on this album are. Bieler's vocals are a somber, echoey affair.

"Heathens" is high on vocal melodies and has a bluesy swagger to it. Bieler breaks out the acoustic guitars for "Mexico". Jason assures us that no matter how much life brings us down, we can make it all go away, for a moment, with a trip to the tropics and some psychedelic enhancements.

"Birds of Prey" is a mid-tempo ballad engulfed in piano, enhanced by organs, and loaded with emotion. This song could be Jason's "Imagine" or "November Rain" (the radio edit of course.). With "Flying Monkeys" Bieler takes Progressive Rock to a whole new level. The track relies heavily on unique effects and sounds.

"Sic Riff" plays heavily into Jason's quirky sense of humor and love for his guitar. Jack Black is sure to be envious of how Bieler puts a serious tone on lyrics that are tongue-in-cheek. The bass-y chord progression of "The Depths" is sure to stick in your head. Overall the arrangement is simple, with little musical embellishments.

Guitars and synthesizers play in harmony for the main riff of "Beneath The Waves". This is another track full of vocal harmonies. I'm not sure if Bieler is harmonizing with other musicians or with his multiple personalities. The lyrical content of "Sweet Eliza" are quite endearing, but the tones that accompany them are dark and ominous.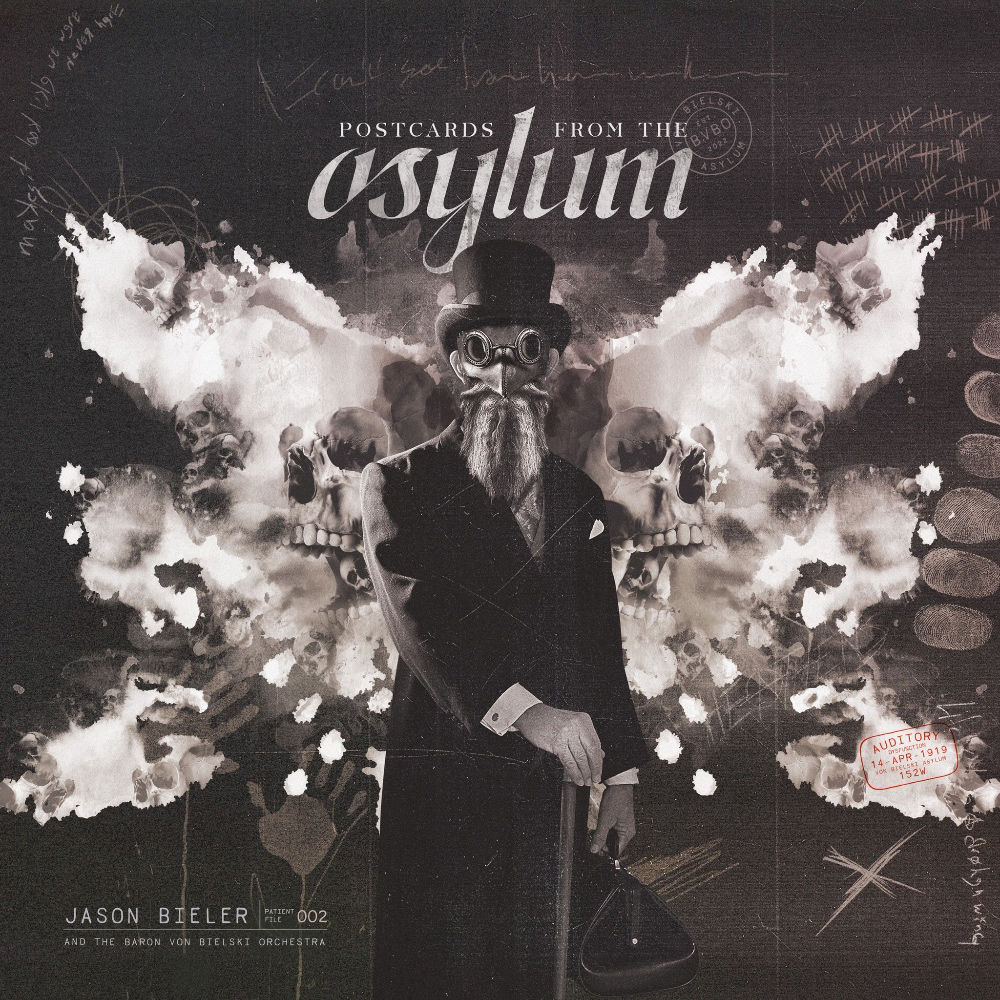 The keyboard sequencing on "9881 Dark" really stands out. I immediately thought it would make an awesome ringtone. Oh yeah, the song is pretty great too. Bieler is unlucky in love on "Feels Just Like Love". This mid-tempo song recalls classic ALICE IN CHAINS with Prog stalwarts YES playing in the background. "Bear Sedatives" is a Psychedelica trip into the unknown.
Jason knows the value of a good 'whoa' or 'ooh' section in a song, and he manages to get both into the catchy track "Deep Blue". "Human Head" closes out the album with its darkly menacing lyrical content, and it equally as haunting music accompaniment.
Back in 2021 I described Jason Beiler's music as: "If the RED HOT CHILI PEPPERS (cira 1995) had a three-way with JANE'S ADDICTION and DEVIN TOWNSEND, the unwanted love child would sound like JASON BIELER AND THE BARON VON BIELSKI ORCHESTRA." Here in 2023, things have changed.
There are no kitschy or clever words to describe the music of Jason Bieler on his latest album Postcards From The Asylum. The closest word that comes to mind is 'Bieler-esque'. Postcards From The Asylum is a grandiose cinematic soundtrack to the post apocalyptic world of Jason Bieler. Each song builds excitement for the one that follows, and just when you think you know what you're getting, Beiler throws you a gratifying curveball.
Postcards From The Asylum had the unfortunate luck to share its release date with the latest album by Bay Area legends METALLICA. I have listened to both of these releases. METALLICA plays it safe and gives you more of the same. Jason Bieler gives you anything but routine.
5.0 Out Of 5.0