SAVAGE EXISTENCE Savage Existence


By Terry Martinson, Contributor
Friday, May 5, 2023 @ 9:08 AM


| | | |
| --- | --- | --- |
| | | |
SAVAGE EXISTENCE
Savage Existence
Independent Release




As I sit listening to the self-titled long play, the 2nd release from this Costa Rican groove metal band SAVAGE EXISTENCE my mind wanders off and I start contemplating a number of tangents, one being why does SAVAGE EXISTENCE have 2 albums out and I am now just hearing about them? Why did it take the by happenstance meeting of Larry Petro and my subsequent privilege to write reviews for him and the glorious rock n' roll icon that is LA's KNAC? I guess the latter? But why? I'm no Encyclopedia Metallum elitist (thank Satan and come to think of it, there are a good many over at EM that are, and to say this kindly, uninformed, no matter how loud they type), but I do scour the internet, social media platforms and the 'tubes deliberately searching for new bands. Preferably ones with 50 followers and an equal number of likes. These bands are hard to find, I guess the algorithm prefers stupid animal videos and thirst traps. Why these bands though Terry? Because these/those are the bands that need platforms like this to give them some well deserved but quite difficult to obtain exposure.

Now before the not so fan mail floods in, I am a mere mortal, no patron saint of anything, but again I stress the importance of sites like KNAC.COM and 2 bit hack wannabe's like myself that see the positive in the efforts these bands gives the world, even if sometimes their life's work fall on deaf ears.

SAVAGE EXISTENCE was formed in Costa Rica by Daniel Cleland (guitars), Jesse Radford (drums), and vocalist, producer and songwriter Anton Darusso. They are joined by Daniel Ramos Castro (bass) and Andres Castro (guitars). The band released their debut Animals in November of 2021, and what follows are my thoughts on their self-titled sophomore release.

The album's opener "Still Life" is a nice little piano-centric orchestral instrumental lending itself to say MCR, PANIC! AT THE DISCO or maybe the next Tim Burton movie. I rather enjoyed where it was going and how it was presented. Maybe it could have been a bit longer, but let's hope the melody is revisited later on in another full fledged song as it would work well. "Steady Blows The Head" so I am told is the album's lead off single (video on KNAC.COM HERE) and I can see why as it comes in quite nicely with a groovy pit circling rhythm that falls into the verse that is equally fist pumping. Anton is (at least here) an almost dead ringer for Phil Anselmo (and Chad Gray), wavering between clean (ish) melodic metal vocals and razor blade gargling growls that although not my favorite, still hold a melody and are not, thankfully, the new breed of pig squeal vocals prevalent in today's metal. "Steady Blows" is reminiscent of a blend of "5 Minutes Alone", "Down With The Sickness" and anything from HELLYEAH. The pitch shifted outro solo is really nice and is a solid accompaniment to Anton's guttural 20 second scream.

"Cull" is next and it's off to the races with a speedy thrash influenced guitar riff and the rest of the band following suit and galloping along. The vocals are reminiscent of "Beckon the Call" and in the chorus we get our first taste of some "extreme" vocals. They mostly fit the song, but fall flat for me as the rest of the band is laying down some pretty epic groove metal. The all-too-brief solo brings back the pitch shifter and after a short verse, there is a solid (but again too brief) breakdown and solo and then we fade to black. I'm on the fence with "Cull" and I hate to say if the vocals would have held to what they were on "Steady" it may have landed better. "Dumpster Water" starts with a radio broadcast intro that drops us into a monster guitar riff, whammy bar antics and intro solo. The rest of the band joins in and the first verse is presented well with some whispering vocals that escalate quickly to more metal screams. This one resembles Manson's "Beautiful People" and I like it much more than "Cull". The verse is a stomping good time. The solo is absolutely filthy, really on point and with that last series of squeals being simply monstrous. The chorus has a "Symphony of Destruction" vibe about it and the backing solo for the outro verse shouldn't be trifled with with its whammy dive bombs and then guitar 2's uber crunching groove, well done.

"Leap of Faith" (video on KNAC.COM HERE) sneaks in with guitar only and that falls into a real heavy, groovy hard rock song. The main riff is akin to Cheech and Chong's "Earache My Eye" and the rest of the song is a super heavy amalgamation of 30 Dimebag Darrell riffs. The chorus actually reminds me of another indie band FUZZARD. The solo again crushes as does the backing music for it. Andres Castro definitely worships at the altar of sir Darrell and the nordic one Zakk Wylde. Around the 3:20 mark there are some real clean and souring backing vocals that made me take a quadruple take, as they were stunning. Fingers crossed we revisit them again. "Leap of Faith" is a great song, kudos. "All On You" changes things up quite a bit tempo-wise as we begin with just Anton's voice and guitar, in a mellower, down tempo meter, similar to a number of AIC tunes and OANTERA's "Planet Caravan". About the midpoint we change songs and go ballistic for 30 seconds and then drop back in the pocket for a bit only to discover another song in the pre-solo verse(s). This solo is quite fitting of the song, kind of droning and quite uneventful I'm afraid.

"Independence Day" is a curious little metal number, super toe tapping and gallops along with speed and purpose. The chorus is wild, more reminiscent of MONSTER MAGNET, not bad, just out of the blue, but fleeting as we fall back into the gravel warble for a bit. This one's a bit of a mess, but I kind of dig it. "Enigma" begins with surreal guitar picking and solo'ing accompanying a whispery vocal that begins to build as the drums start in and then falls into a fairly standard chunk chunk verse and chorus. "Enigma" is a fairly safe almost b-side or demo track that the band recorded and was on the fence about including but was told they needed another tune. Not a favorite for me and at almost 6 minutes long too, the only redeeming thing with it is at 4:30 we get a whole new song and solo presented as if the guitarist's life depended upon beating Legba at the crossroads, better and it should be as it is said that the solo is presented by none other than Gary Holt (if you know you know). "Standing In Flames" (video on KNAC.COM HERE) comes in all hot, groovy and slapping, replete with Anton's (becoming) staple "let's see how far I can shove the microphone down my gullet wail". I don't get it as he sings fine in many other places and truthfully the pavement and point is a miss. The rest of the song is a pretty solid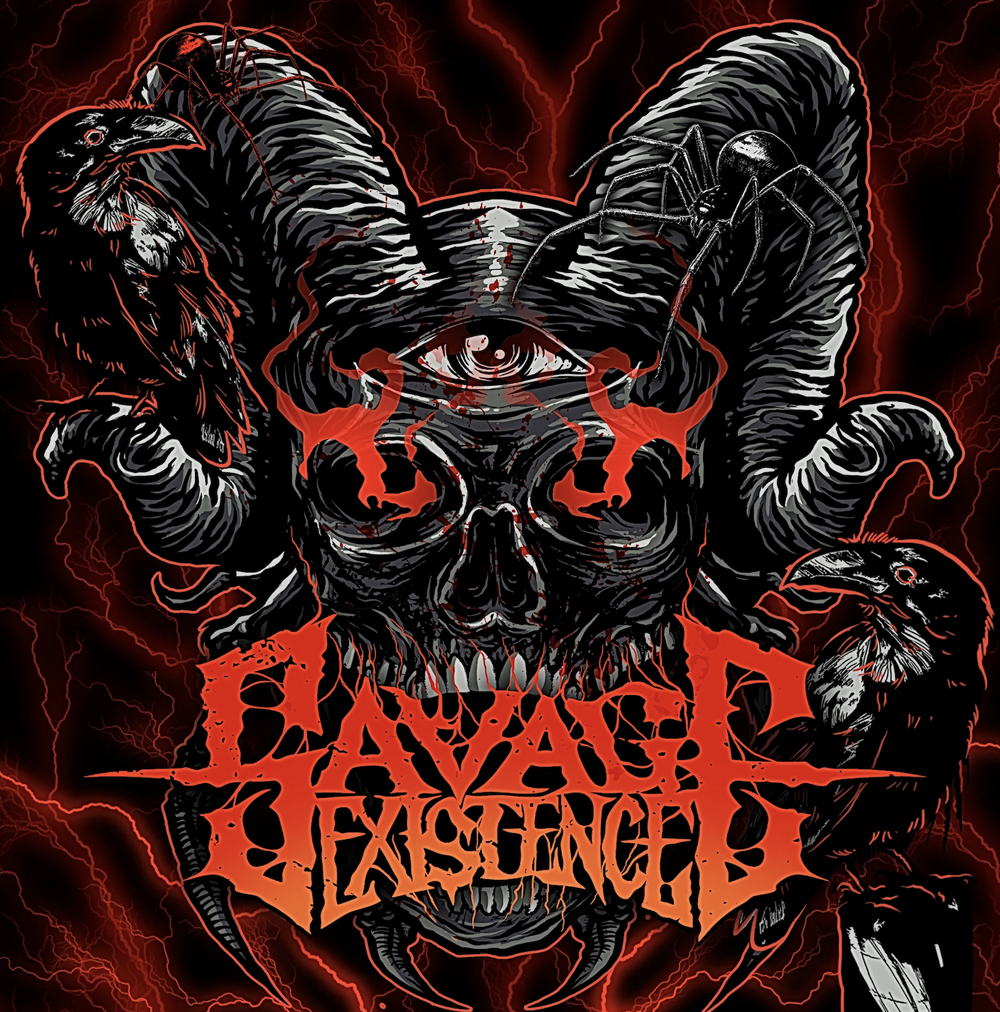 groove rock tune that touches on a number of staples, METALLICA's "Enter Sandman" to name one, but the lion's share for the song is quite nice, super groovy and the chorus and guitar work are presented well. "Matricide" gallops in all folksy and metal with pounding drums and a mid tempo chunky guitar. The band uses some vocal arrangements with woah oh woah's. The solo however would make Herman Li do a double take and we know that guitarist Andres Castro is no slouch, but again we are told that the maestro himself Mr. Holt is the presenter of this dinger. Post-solo we tune down to what may be Q-sharp, you can feel what used to be an E string vibrate your soul and Anton brings back that cookie monster vocal. We then get treated to a nice simple metal series of verses that segue back into the songs earlier verses.
SAVAGE EXISTENCE's self-titled is presented for review as written, a 10 song album, however in some medium somewhere there is a 12 song variant that includes 2 covers, "Killing In The Name Of" by RAGE AGAINST THE MACHINE and "Hurt" by NINE INCH NAILS.
All in all SAVAGE EXISTENCE are a real solid band, with more than your average share of musical prowess and talent, sure they aren't re-creating any wheels, but they are keeping said wheel aired up, maybe a little shine juice on it from time to time to make it gleam, along with an unfortunate couple of curb shots smattered in that ultimately blemish what could be a real solid album. Maybe, just maybe, a producer credit would be in order trimming the fat on this self titled album from an LP to an EP? I'm in for the EP variant and will honestly say there are 4 or 5 cuts herein that will stay in rotation for some time. Kudos gentlemen and best of luck in your future endeavors.
3.5 Out Of 5.0
https://savageexistence.com/
https://www.facebook.com/savageexistenceofficial

Please log in to view RANTS