Betty Blowtorch DVD Release Party At Hollywood Cemetery


By Diana DeVille, Rock Goddess
Monday, April 17, 2006 @ 3:45 PM


| | | |
| --- | --- | --- |
| | | Band Documentary Hits Video St |
From Foodchain Records' publicist Michael Taub:

The new expanded edition of Betty Blowtorch And Her Amazing True Life Adventures will premiere during the DVD pre-release party at the legendary Hollywood Forever Cemetery, the final resting place of lead singer Bianca "Butthole" Halstead, on Saturday April 22nd. The festivities will include a massive outdoor screen, stilt walkers, fire-breathers and circus acts with rare classic rock and punk videos preceding the premiere of the new cut of the movie. The entire night will benefit MusicCares MAP Fund; a resource to address addiction recovery and sober living needs of musicians. The award winning documentary directed by Anthony Scarpa, chronicles the rise of the hard rocking, foul-mouthed female foursome from its roots in the P.M.R.C. targeted band Butt Trumpet, through its tragic ending with the death of leader Halstead. Along the way the film unfolds as a hilarious, head-banging, compelling look at a truly remarkable human being. A rock star and a rock band that overcame impossible odds and could have changed the landscape of the music industry, and the way females are perceived in it, if only given the chance. "Bianca Butthole's life may have been cut short," says Scarpa "but the fact that she made it as far as she did is pure triumph." The DVD is set for nationwide release on April 25th by influential distributor Cinema Libre who have brought us such memorable documentaries as Robert Greenwald's Outfoxed, Uncovered: The War On Iraq, and Tim Robbins' Embedded Live.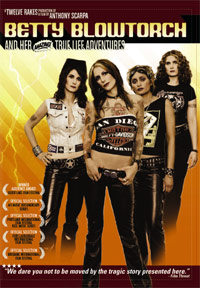 "The movie in a sense is being brought home to Bianca," states Victoria Roberts, Bianca's sister. "Her wish was to be laid to rest in a place where her friends could all visit her. It is exciting to me that not only her friends and admirers will be there but her former band-mates will be together for the first time since her death." For those unaware of the band's history, tensions between the members was at a breaking point on what turned out to be the band's final tour. It will be five years on December 15th since Bianca tragically died while the band was on the road. Her ashes are buried in her prized KISS lunchbox, with her graveside nearby other rock icons including Dee Dee and Johnny Ramone. The Hollywood Forever Cemetery, built in 1899, is also the final resting place for many of the biggest names of the golden age of the silver screen. "I feel blessed to have had a very close and personal friendship with Bianca that started many years before Betty Blowtorch formed," says guitarist Sharon Needles. "What an incredible opportunity that we can all literally be together to celebrate her life and the accomplishments of our great band." There have been powerful, attractive and talented women rockers in the past, but few managed to captivate and charm both males and females the way this Los Angeles quartet did during its heyday. Betty had a sassy swagger, a sonic supremacy and a junkyard dog-like tenacity never seen before or since from a rock band, female or otherwise. "Betty Blowtorch was a really special band -- I am proud of all we accomplished together and that our music is still being enjoyed so many years later," says drummer Judy Molish. "Bianca meant a lot to us and I am glad that we will all come together at the screening to honor her memory." Bianca Butthole, Blare N. Bitch and Sharon Needles met in 1993 while backing up singer Thom Bone in Butt Trumpet, the first punk rock outfit since the Sex Pistols to sign a worldwide record deal with EMI Records. When Tipper Gore and her cronies sank their teeth into the one Butt Trumpet song sung by guitarist Needles, it gave the band more exposure than misfortune but also caused turmoil within the band. After Butt Trumpet's lead singer abruptly quit in the middle of a show, Bianca took over lead vocals (that night!) and was an immediate crowd pleaser. Eager to put Butt Trumpet behind them and follow their own vision, they formed the all girl band Betty Blowtorch in 1998 with new drummer, Judy Molish. Their chemistry and instrumental potency was undeniable. The band's no-bullshit approach and boisterous live shows were not only wildly entertaining, but their punk meets metal anthems were also catchy as hell and often shamelessly hilarious to boot. With such songs as "Shut Up and Fuck," "Size Queen and "I Hate Dresses," Betty said what many girls think but are reticent to say out loud. As the front person for the band, Bianca was known for being sexually aggressive, raw and confident on stage. She often started shows with her famous tag "We're Betty Blowtorch and we're from Hollywood and we don't give a fuck!" Guns N' Roses/Velvet Revolver bassist Duff McKagan produced the bands controversial debut EP Get Off, whose title song is a loud and angry affront to Bianca's former stepfather for his molestation. The EP gained them a rabid following around the country. However, the EP received limited airplay being deemed too "hardcore" for many radio outlets. In 2001 the band finally began garnering the mainstream attention they deserved with their now classic Foodchain Records release Are You Man Enough? Which leads us, inevitably, to the sad part of the Betty Blowtorch saga. The part that turned Anthony Scarpa's documentary about a vibrant and promising all girl band blazing its own bold trail to success into a tragedy. Amidst a very difficult tour, Bianca was killed in a high-speed automobile accident in New Orleans. A passenger in a car driven by a Chicago-area fan that had befriended the quartet, Bianca died instantly when the car collided with oncoming traffic. Betty Blowtorch And Her Amazing True Life Adventures is a glimpse into the lives of a group who were as flawed as the rest of us. Childhood abuse, drug use and relationship drama, it is all in there. Betty Blowtorch channeled it all into something magical and fun and bawdy and badass. Betty blew us away, and thankfully, through this movie they'll continue to do so for decades to come. Film Threat Magazine named the movie # 1 of its "Top 25 Docs That Rock" and gave the movie four stars, praising, "We dare you not to be moved by the tragic story presented here. Once the film has ended, you can't help but feel the tremendous loss documented." The American Film Institute hails the film as "Honest, vulnerable, gritty and unafraid set against the backdrop of one of LA's most prestigious and infamous punk bands. The film refuses to be become melodramatic even when faced with death. The subject never becomes saintly or smoothed over. Betty Blowtorch And Her Amazing True Life Adventures is a film every music-lover owes it to themselves to see." "It's been a long time comin' ... the Betty movie is finally coming out on DVD," says lead guitarist Blare N. Bitch. "Bianca will be there in spirit and all of her friends and the band will be there too. I'm very proud of Tony Scarpa and the work he did. Come on down and celebrate Bianca and Betty Blowtorch. This is an event not to be missed." "This movie is Bianca's legacy", concludes Bianca's sister, Victoria. "I am truly grateful to Anthony Scarpa for being there to document, and taking the time to create a feature film, which I believe shows a glimpse of how incredibly special Bianca was. It means the world to not only myself, but the whole family." Festivities begin at dusk. Film screens at 8:00 pm. $10 donation at the door. Guests are encouraged to bring picnic dinners/drinks, blankets or low back chairs for the screening. Free parking on cemetery grounds. Hollywood Forever Cemetery is located at 6000 Santa Monica Blvd. (between Gower and Van Ness) in Hollywood. For more information, please visit www.bettyblowtorch.net




Please log in to view RANTS

If you don't have a username, click here to create an account!






Represent! Get Your KNAC.COM Bumper Sticker

Happenings This Week on KNAC.COM

DEVIN TOWNSEND Announces "An Evening With" Acoustic Solo Tour

BULLETS AND OCTANE Release "When We Were Young" Single/Music Video

RED DRAGON CARTEL Announces North American Tour

AUGUST BURNS RED Releases Winter Wilderness EP

ARTILLERY Releases Video For Third Single, "Pain"

LACUNA COIL Releases 'Nothing Stands In Our Way' Book

KANE ROBERTS Set To Release The New Normal Solo Album

IRON MAIDEN Announce "Legacy Of The Beast" 2019 Dates

NORDIC NOISE Announces First Bands For 2019

A PERFECT CIRCLE Drop Gleefully Apocalyptic Video For "So Long, And Thanks For All The Fish"

TRIPTYKON, ROADBURN Collaborate In The Completion Of CELTIC FROST's Unfinished Requiem

More MEGADETH Inaugural MEGACRUISE Details Revealed

QUIET RIOT Set To Release One Night in Milan Live Album

CRIMSON REIGN Debut '"The Darker Side Of Life" Video

CORROSION OF CONFORMITY Announces 2019 North American Headlining Tour

MEMPHIS MAY FIRE Premiere "The Old Me" Video

Ex-DOKKEN Supergroup Changes Band Name From SUPERSTROKE To THE END: machine

VANDENBERG'S MOONKINGS Release Lyric Video For "Walk Away"

DEKO MUSIC Launches New Label With Specialty Vinyl Releases

SILVER TALON Rises From SPELLCASTER Ashes

TANTRIC Premieres Official "Letting Go" Music Video

RAVEN Set To Unleash New Live Album Screaming Murder Death From Above: Live in Aalborg

SLEEPKILLERS Drop Video For "Dirty Foot"

BILLYBIO (BIOHAZARD/POWERFLO) Set To Release Debut Solo Album, Feed The Fire

DREAM THEATER Unveil New Album Distance Over Time, 2019 North American Tour

LIKE A STORM Release New Video For "Pure Evil"

HOLLOW CRY Unleash New Track, "Procrastinated"

OZZY OSBOURNE Announces Tour Dates With MEGADETH

BILL HUDSON's NORTHTALE Unveil First Song "Shape Your Reality" From Upcoming Album

CELLAR DARLING Stream New Single, Video For "Insomnia"

METALWINGS Launch "For All Beyond" Video

BEDLEM, Featuring PAUL WANDTKE (ex-TRIVIUM), Releases Debut LP Back To Bedlem

MEKA NISM Premiere Music Video "Black Sky"

BLACK WATER RISING Premieres New Video For "World of Frustration"

HERMAN FRANK Set To Release Fight The Fear Album

AMON AMARTH Launches "Raise Your Horns" Live Video

"Burn In Hell" With DANKO JONES' New Track

HOLLYWOOD UNDEAD Release Surprise EP, Psalms

BUCKCHERRY Reveal First New Track in Over Three Years, "Head Like A Hole"

THE POWER OF THE RIFF's Final Lineup Announced

New Book, Long Live Queen: Rock Royalty Discuss Freddie, Brian, John & Roger, Out Now

THE NIGHT FLIGHT ORCHESTRA Debut New Music Video, Kick Off European Tour

GODSMACK Announce 2019 European Tour Dates

SEVENDUST Release Music Video For "Unforgiven"

TENGGER CAVALRY Frontman Curates Nomadic Metal Compilation, Sound of The Raging Steppe

SODOM Go "One Step Over The Line" With New Single, Video

WHITECHAPEL Set To Release New Album The Valley

AUGUST BURNS RED Confirm Winter 2019 Tour Dates

DUST BOLT Are Trapped In Chaos With New Album

More OZZFEST New Year's Eve Los Angeles Details Revealed

MAGNUM Announce New Live Album Live At The Symphony Hall

KAMELOT Announce 2019 North American Tour

ARCHITECTS Release "Modern Misery" Video

BEAST IN BLACK Unveil From Hell With Love"

THE MARYLAND DOOM FEST Confirms Its 2019 Full 5th Anniversary Lineup

FIGHT THE FURY Drop New Video "My Demons"

LAST UNION Featuring MIKE LEPOND, ULI KUSCH And JAMES LABRIE Reveal Twelve Album Details

AMBERIAN DAWN Premiere Video For "Cherish My Memory"

ALTITUDES & ATTITUDE Feat. DAVID ELLEFSON (MEGADETH), FRANK BELLO (ANTHRAX) Ready New Album Get It Out

QUEENSYRCHE Unveil New Album The Verdict, Spring Tour

BRITISH LION Stream New Track "Spit Fire" Ahead Of November Tour

HAMMERFALL To Release Legacy Of Kings - 20 Year Anniversary Edition Boxset

STELLAR CIRCUITS Drops "Skylights" Video

GRANNY 4 BARREL Kick Off Tour With CKY

SOILWORK Release "Full Moon Shoals" Single, Video

NIGHTWISH Confirm Re-Issue End Of An Era Live Album

ASHES OF ARES Unleash "Let All Despair" Video

MARTY FRIEDMAN Reveals 2019 U.S Tour Dates

ACCEPT Reveal Live Video For "Symphony No. 40"

VOLBEAT To Release Live Album, Concert Film Let's Boogie! Live From Telia Parken

KISS Announces First "End Of The Road" Tour Dates

GIN ANNIE Set To Release Debut Album 100% Proof

SURF CITY BLITZ Reveals Band Performance Times, Motorcycle Event Times, Onsite Activities & More

JETBOY Are "Beating The Odds" With New Track Streaming

LORD OF THE LOST Reveal Confession (Live at Christuskirche) CD/DVD

WARKINGS Release Second Glorious Single "Hephaistos"

OPETH Announce LA Garden Of The Titans Film Screening

METAL ALLEGIANCE Confirm Their Annual Los Angeles January Metal Assault

Music Industry Veterans Look To Reward Fans, Sites, And Musicians With Revolutionary CNOTE

Canadian Rockers ONE Go All Or Nothing With New Album

STEVE VAI Unveils "Dark Matter" Video

CENTURY MEDIA RECORDS Streams Documentary Of WARREL DANE Recording Shadow Work

TED POLEY's Modern Art Album Gets Splatter Vinyl Issue

POWERWOLF Premiere Video For Title Track "The Sacrament Of Sin"

REPENTANCE Stream New Single, "Enter The Gallows"

ICE NINE KILLS Drop "Stabbing In The Dark" Video

STATIC-X Returns with Original Band Lineup, Announces New Album, World Tour For 20th Anniversary Of Debut Album, Wisconsin Death Trip

SIRENIA Launch Official Video For "Into The Night"

Artist VINCENT CASTIGLIA Documentary Bloodlines: The Art And Life Of Vincent Castiglia Out In November

STRIKER Go "Head First" With New Video

2019 ROCKSTOK Festival Announced

JINJER Releases New Single And Video For "Ape"

OZZFEST To Celebrate New Year's Eve In Los Angeles

LIKE A STORM Announce December Headline Tour

MAC SABBATH Debuts Meaty Marionette Music Video For "Sweet Beef"

JORN To Release 50 Years On Earth - The Anniversary Box Set

MYLES KENNEDY Releases The Great Beyond Video

STARBREAKER, Featuring TONY HARNELL And MAGNUS KARLSSON, Readies New Album Dysphoria

AFTERSHOK Unleash "Forever In Metal" Video

FATE DESTROYED Caution "We Fall" In New Music Video

INGLORIOUS Announce New Album Ride To Nowhere

DIRE PERIL Unleash "Blood In The Ice" Video

ARTILLERY Releases New Single, "Crossroads To Conspiracy"

BEAST IN BLACK Reveal New Album "From Hell With Love"

FRACTAL CYPHER's New Music Video Reaches "From The Above And To The Stars"

TENGGER CAVALRY Announce North American Tour

GHOST Reaches Into The Past For "Dance Macabre" Video

REVERENCE Announce Vengeance Is...Live Live Album

KATAKLYSM Release New Animated Video For "...And Then I Saw Blood"

ALL THAT REMAINS Guitarist OLI HERBERT Passes Away At 44

GWAR Set To Release New Graphic Novel GWAR: The Enormogantic Fail

BULLET FOR MY VALENTINE Are "Not Dead Yet" With New Video

ENSIFERUM Announces 2019 North American Headlining Trek, "Two Paths Of Glory Tour"

ARIA Stream Lyric Video Ahead Of New Album Curse Of The Sea

ACE FREHLEY Is "Rockin' With The Boys" In New Video

KILLCODE Drop First Video In Trilogy For "The Answer"

ROCKFEST 80's Music Festival Returns For Year Three

GODSMACK's 2018 European Tour Postponed

GOATWHORE Announces Additional Headlining Shows

WAR OF THRONES Unleash "Say What" Video

Inaugural ROCKLANTA Festival Announced For 2019

AUDIOTOPSY Stream Heavy New Anthem "War"

POP EVIL Announce 2019 U.S. Headline Tour Dates

FAITHSEDGE, Featuring Ex-Members Of STRPYER, MR. BIG, DOKKEN, Wrapping Up Recording Fourth Album

A PERFECT CIRCLE Release 2D Version Of "Eat The Elephant" Video

IRON MAIDEN Remasters Get CD Digipak Treatment

AVANTASIA Set To Release New Album Moonglow

SOULFLY Announce 2019 North American Tour

SOILWORK Reveal Verkligheten Album Details

CHEVELLE Stream New Track "In Debt To The Earth"

METAL CHURCH Release "Damned If You Do" Video

JIZZY PEARL'S LOVE/HATE Returns To The UK For Four Special Shows