Betty Blowtorch DVD Release Party At Hollywood Cemetery


By Diana DeVille, Rock Goddess
Monday, April 17, 2006 @ 3:45 PM


| | | |
| --- | --- | --- |
| | | Band Documentary Hits Video St |
From Foodchain Records' publicist Michael Taub:

The new expanded edition of Betty Blowtorch And Her Amazing True Life Adventures will premiere during the DVD pre-release party at the legendary Hollywood Forever Cemetery, the final resting place of lead singer Bianca "Butthole" Halstead, on Saturday April 22nd. The festivities will include a massive outdoor screen, stilt walkers, fire-breathers and circus acts with rare classic rock and punk videos preceding the premiere of the new cut of the movie. The entire night will benefit MusicCares MAP Fund; a resource to address addiction recovery and sober living needs of musicians. The award winning documentary directed by Anthony Scarpa, chronicles the rise of the hard rocking, foul-mouthed female foursome from its roots in the P.M.R.C. targeted band Butt Trumpet, through its tragic ending with the death of leader Halstead. Along the way the film unfolds as a hilarious, head-banging, compelling look at a truly remarkable human being. A rock star and a rock band that overcame impossible odds and could have changed the landscape of the music industry, and the way females are perceived in it, if only given the chance. "Bianca Butthole's life may have been cut short," says Scarpa "but the fact that she made it as far as she did is pure triumph." The DVD is set for nationwide release on April 25th by influential distributor Cinema Libre who have brought us such memorable documentaries as Robert Greenwald's Outfoxed, Uncovered: The War On Iraq, and Tim Robbins' Embedded Live.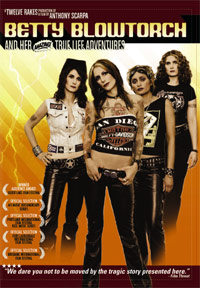 "The movie in a sense is being brought home to Bianca," states Victoria Roberts, Bianca's sister. "Her wish was to be laid to rest in a place where her friends could all visit her. It is exciting to me that not only her friends and admirers will be there but her former band-mates will be together for the first time since her death." For those unaware of the band's history, tensions between the members was at a breaking point on what turned out to be the band's final tour. It will be five years on December 15th since Bianca tragically died while the band was on the road. Her ashes are buried in her prized KISS lunchbox, with her graveside nearby other rock icons including Dee Dee and Johnny Ramone. The Hollywood Forever Cemetery, built in 1899, is also the final resting place for many of the biggest names of the golden age of the silver screen. "I feel blessed to have had a very close and personal friendship with Bianca that started many years before Betty Blowtorch formed," says guitarist Sharon Needles. "What an incredible opportunity that we can all literally be together to celebrate her life and the accomplishments of our great band." There have been powerful, attractive and talented women rockers in the past, but few managed to captivate and charm both males and females the way this Los Angeles quartet did during its heyday. Betty had a sassy swagger, a sonic supremacy and a junkyard dog-like tenacity never seen before or since from a rock band, female or otherwise. "Betty Blowtorch was a really special band -- I am proud of all we accomplished together and that our music is still being enjoyed so many years later," says drummer Judy Molish. "Bianca meant a lot to us and I am glad that we will all come together at the screening to honor her memory." Bianca Butthole, Blare N. Bitch and Sharon Needles met in 1993 while backing up singer Thom Bone in Butt Trumpet, the first punk rock outfit since the Sex Pistols to sign a worldwide record deal with EMI Records. When Tipper Gore and her cronies sank their teeth into the one Butt Trumpet song sung by guitarist Needles, it gave the band more exposure than misfortune but also caused turmoil within the band. After Butt Trumpet's lead singer abruptly quit in the middle of a show, Bianca took over lead vocals (that night!) and was an immediate crowd pleaser. Eager to put Butt Trumpet behind them and follow their own vision, they formed the all girl band Betty Blowtorch in 1998 with new drummer, Judy Molish. Their chemistry and instrumental potency was undeniable. The band's no-bullshit approach and boisterous live shows were not only wildly entertaining, but their punk meets metal anthems were also catchy as hell and often shamelessly hilarious to boot. With such songs as "Shut Up and Fuck," "Size Queen and "I Hate Dresses," Betty said what many girls think but are reticent to say out loud. As the front person for the band, Bianca was known for being sexually aggressive, raw and confident on stage. She often started shows with her famous tag "We're Betty Blowtorch and we're from Hollywood and we don't give a fuck!" Guns N' Roses/Velvet Revolver bassist Duff McKagan produced the bands controversial debut EP Get Off, whose title song is a loud and angry affront to Bianca's former stepfather for his molestation. The EP gained them a rabid following around the country. However, the EP received limited airplay being deemed too "hardcore" for many radio outlets. In 2001 the band finally began garnering the mainstream attention they deserved with their now classic Foodchain Records release Are You Man Enough? Which leads us, inevitably, to the sad part of the Betty Blowtorch saga. The part that turned Anthony Scarpa's documentary about a vibrant and promising all girl band blazing its own bold trail to success into a tragedy. Amidst a very difficult tour, Bianca was killed in a high-speed automobile accident in New Orleans. A passenger in a car driven by a Chicago-area fan that had befriended the quartet, Bianca died instantly when the car collided with oncoming traffic. Betty Blowtorch And Her Amazing True Life Adventures is a glimpse into the lives of a group who were as flawed as the rest of us. Childhood abuse, drug use and relationship drama, it is all in there. Betty Blowtorch channeled it all into something magical and fun and bawdy and badass. Betty blew us away, and thankfully, through this movie they'll continue to do so for decades to come. Film Threat Magazine named the movie # 1 of its "Top 25 Docs That Rock" and gave the movie four stars, praising, "We dare you not to be moved by the tragic story presented here. Once the film has ended, you can't help but feel the tremendous loss documented." The American Film Institute hails the film as "Honest, vulnerable, gritty and unafraid set against the backdrop of one of LA's most prestigious and infamous punk bands. The film refuses to be become melodramatic even when faced with death. The subject never becomes saintly or smoothed over. Betty Blowtorch And Her Amazing True Life Adventures is a film every music-lover owes it to themselves to see." "It's been a long time comin' ... the Betty movie is finally coming out on DVD," says lead guitarist Blare N. Bitch. "Bianca will be there in spirit and all of her friends and the band will be there too. I'm very proud of Tony Scarpa and the work he did. Come on down and celebrate Bianca and Betty Blowtorch. This is an event not to be missed." "This movie is Bianca's legacy", concludes Bianca's sister, Victoria. "I am truly grateful to Anthony Scarpa for being there to document, and taking the time to create a feature film, which I believe shows a glimpse of how incredibly special Bianca was. It means the world to not only myself, but the whole family." Festivities begin at dusk. Film screens at 8:00 pm. $10 donation at the door. Guests are encouraged to bring picnic dinners/drinks, blankets or low back chairs for the screening. Free parking on cemetery grounds. Hollywood Forever Cemetery is located at 6000 Santa Monica Blvd. (between Gower and Van Ness) in Hollywood. For more information, please visit www.bettyblowtorch.net




Please log in to view RANTS

If you don't have a username, click here to create an account!






Represent! Get Your KNAC.COM Bumper Sticker

Happenings This Week on KNAC.COM

STEEL ENGRAVED Release "Rebellion" Video, Single

KING DIAMOND Announces NYC Release Party For DVD/Blu-Ray, Songs For The Dead Live

ONE STEP FROM THE EDGE Unleash "Believe" Video

VICIOUS RUMORS Announce "Digital Dictator - 30th Anniversary European Tour"

All-Star Metal Band IMONOLITH Reveals First Official New Single "Hollow"

INKCARCERATION Music and Tattoo Festival Announces Massive 3-Day Line Up

ARCHITECTS Confirm North American Tour

THE AVIATORS Launch "Goodbye To The Rain" Video

DEVIN TOWNSEND Announces New Album Empath

BLACKTOP MOJO Release "Prodigal" Music Video

TARA LYNCH Reveals Evil Enough Album Details

GIBSON Announces Limited Edition CHRIS CORNELL Tribute Guitar

DUST BOLT Drop New Video For "Another Day In Hell"

QUEENSRYCHE Drop "Dark Reverie" Lyric Video

Vocalist JANET GARDNER Says Goodbye To VIXEN

BEAST IN BLACK Unveil New Single "Die By The Blade"

WHITECHAPEL To Co-Headline "Chaos & Carnage" US Tour

AT THE GATES Unleash "The Mirror Black" Video

DELAIN Release "Masters Of Destiny" Video

CHILDREN OF BODOM Announce 2019 Hexed North American Tour

GODSMACK Launch "When Legends Rise" Video

THE WILD! Announce Support Dates With BREAKING BENJAMIN, ASKING ALEXANDRIA

DOWNFALL OF GAIA Debut "We Pursue The Serpent Of Time" Video

DREAM THEATER Stream New Track "Fall Into The Light"

"Nedal" Band OKILLY DOKILLY is Back! Kicking Off "Reneducation Tour" On February 1

ROCKLAHOMA Announces Its 2019 Band Lineup

SEBASTIEN Are Back Behind The World With New EP

THE THREE TREMORS Announce First-Ever US Tour

BURNING RAIN Reveals Forthcoming Fourth Album, Face The Music

Inaugural PSYCHO SMOKEOUT Announced: Psycho Entertainment Partners With RidingEasy Records For A Day-Long Celebration Of Reefer And Riffs

TYR Reveals Details For New Album, Hel

RONNIE MONTROSE REMEMBERED: A NAMM 2019 ALL-STAR MEMORIAL CONCERT Event Set For NAMM 2019

GARY HOEY Returns With Neon Highway Blues

JINJER Premiere Video For Track "Perennial"

THE END machine, Featuring GEORGE LYNCH, JEFF PILSON, MICK BROWN, & ROBERT MASON, To Release Debut Album

VARNA Release Lyric Video For "The Craving"

CARMINE APPICE's GUITAR ZEUS Albums Get Reissue

HALL OF HEAVY METAL HISTORY Announces Final Inductees List For 2019 Metal Hall of Fame Gala

PERIPHERY Join DANCE GAVIN DANCE For 15 Date North American Trek

BEHEMOTH Unleash "Ecclesia Diabolica Catholica" Video

STATEMENT Reveal New Album, Force Of Life

SEPTEMBER MOURNING Launch "Glass Animals" Video

BLOODBOUND Announce 2019 European Headlining Trek, "Tour Of The Dragon Empire"

PROPHETS OF ADDICTION Release "Babylon Boulevard" Video

HIGH ON FIRE Cancels 'Electric Messiah Tour 2019' Due To Medical Emergency

MIKE TRAMP Is Set To Stray From The Flock In March

SWALLOW THE SUN Streams First Single "Upon The Water"

CRYSTAL LAKE Debuts "Lost In Forever" Video

HATEVIRUS Reveal New Album Hateful Mind

STEEL ENGRAVED Unleash "Where Shadows Remain" Video

BLACKLIST 9 Announce New Album Mentally Ill, Legally Sane

JOHN 5 AND THE CREATURES Release "Zoinks!" Video

LORDS OF SALEM Drop EP Hell Over Salem

GRANNY 4 BARREL Launches PledgeMusic Campaign For New EP

SOILWORK Release Brand New Song "Stålfågel"; Animated Music Video Available

KILLCODE Drop Final Video For "Show Me" In Their 'Trilogy' Series

SNAKEYES Returns To Studio, Releases RAINBOW Cover "Kill The King"

DIMEBASH 2019 Details Revealed

THE BROWNING Reveal 2019 Tour Plans

IGNITE Release "Nothing Can Stop Me" Video

BUCKCHERRY Announce Leg One Of Warpaint Tour

BATTLE BEAST Unveil New Studio Album No More Hollywood Endings

YOB Announce Spring 2019 Tour With VOIVOD & AMENRA

CANDLEMASS Release New Track 'The Omega Circle'

DIRTY MACHINE Unleash "Against The World" Video

GWAR Announces End Of Year Shows

MALEVOLENT CREATION Unveil The 13th Beast Album

KILLSWITCH ENGAGE, PARKWAY DRIVE Announce Co-Headline "Collapse The World" Tour

DUST BOLT Streams New Track "Bloody Rain"

MEGADETH Announce Iconic Album Reissues For The World Needs A Hero & The System Has Failed

NIGHTRAGE Releases New Video For "By Darkness Drawn"

'KISSWORLD – THE BEST OF KISS Coming In January

CANE HILL Drop "Acid Rain" Video

OVERKILL Unveil New Single "Last Man Standing"

LEGION OF THE DAMNED Unleash New Video For "Slaves Of The Southern Cross"

HORROR PAIN GORE DEATH Launches Free 2018 Label Sampler

CURRENTS Debut "Forever Marked" Video

THE RAVEN AGE Announce New Album Conspiracy

MOB RULES Releases New Single And Video For "My Sobriety Mind (For Those Who Left)"

GHOST SHIP OCTAVIUS Release "Edge of Time" Video

WHITECHAPEL Launches New Single, "Black Bear"

RELAPSE RECORDS Launches Free 2018 Label Sampler

RIVERS OF NIHIL Announces USA Headlining Tour

DELAIN Announce Hunter's Moon< Release

To Join RAZOR, EXCITER As Headliners Of HELL'S HEROES Fest

TETRARCH Announce 'Twisted Dreams' Tour Dates

PRETTY MAIDS Set To Release A Blast From The Past 12CD Box Set