GHOST, AMON AMARTH In Houston, TX With Photos!

By Larry Petro, News Monkey
Tuesday, September 5, 2023 @ 8:49 AM

| | | |
| --- | --- | --- |
| | | The Re-Imperatour Lands At The Woodlands Pavilion September 2 |
All Photos By Larry Petro/Petrofyed Photography
Those of you that read my show reviews know that concert photography is a great passion and hobby of mine, even more so now that I've officially retired from my grinding 9 to 5 job earlier this year. My schedule is now so free that I can attend a show any day of the week without having to worry about going to work the next day and let me tell you, there aren't too many feelings better than that. There's also a certain camaraderie with my fellow local photographers that I've gotten to know the past 20+ years that I've been contributing to KNAC.COM. Of course there has been that rare occasion where I'm the only person approved to cover/shoot a show, those only being ones at smaller venues, but never have I been the only photographer approved to shoot a show at any of the largest venues in town or any of the far bigger bands. That is until now. You can imagine my excitement at being that one chosen to cover one of the biggest tours of the year, the Re-Imperatour featuring GHOST and AMON AMARTH.
I have to admit my surprise at seeing this particular pairing for the tour as their respective musical styles are so vastly different. This is by no means a complaint as I happen to love AMON AMARTH and, having only seen them once about 6 or so years ago at the House of Blues here, was anticipating this second time around as the band was bringing their full stage show along with them, or at least as much as could be allowed as the direct support act. As the forerunners of 'Viking Metal' (I know they don't like to be called that but hey, it sounds cooler than melodic death metal), you could expect such subject matter as mythical gods, Valhalla, Asgaard and raising your horns and that's exactly what we got. With tall statues adorning either side of the stage and the drum riser sitting atop a Viking helmet, the Swedish quintet fronted by one Johan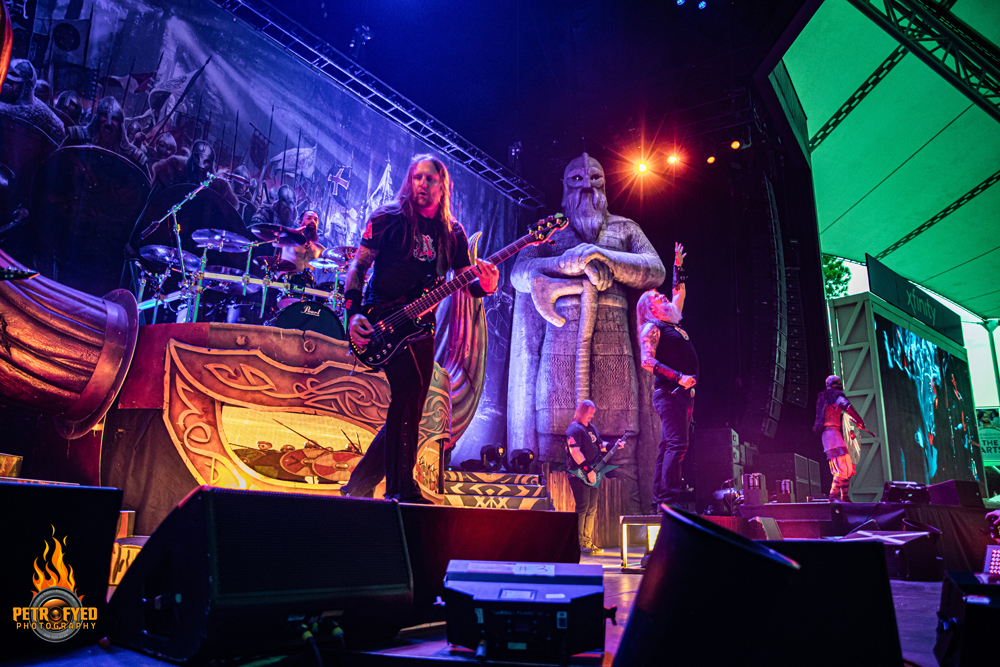 Hegg took the stage for a 9 song, 50 minute set, opening with "Raven's Flight" from their 2019 opus Berserker, and the assault was underway. For nearly an hour we were subjected to the sonic assault of numbers "Shield Wall", "Deceiver Of The Gods", "Put Your Back Into The Oar" (with the command to the crowd to 'row', which was happily obliged especially by the folks seated on the lawn), "Guardians Of Asgaard" and of course, "Raise Your Horns". Hegg did battle with a snarling, coiled dragon gracing the stage for the final number, "Twilight Of The Thunder God". If you've never seen these guys live before they are certainly alone worth the price of admission.
Setlist:
"Raven's Flight"
"Shield Wall"
"Heidrun"
"Deceiver Of The Gods"
"Put Your Back Into The Oar"
"The Way Of Vikings"
"Guardians Of Asgaard"
"Raise Your Horns"
"Twilight Of The Thunder God"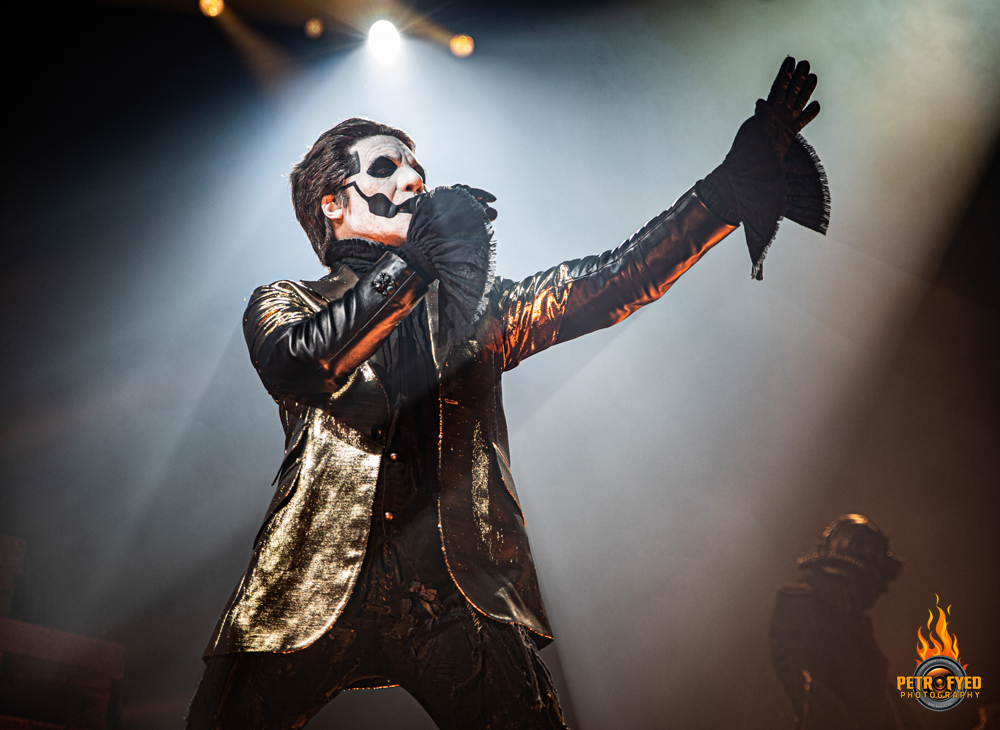 If you've ever been to certain denominational churches you've no doubt heard hymnal type music playing softly in the background prior to the service beginning and that's what we got as the stage was being set for GHOST. It certainly brought back memories from my childhood but make no mistake, this was no church service, it was a rock show and as soon as the lights dimmed and the initial strains of "Imperium", the opening intro from their latest album Impera, rose from the venue PA system the crowd went bonkers. No doubt I have not seen this many people with their faces painted since a KISS show with a large portion of the females in attendance dressed in nun garb as well. As the curtain dropped with a concussive blast and some brief pyro the band appeared and kicked off the evening with the second number from Impera, "Kaisarion" and off they went. Lead man Papa Emeritus (AKA Tobias Forge), dressed in a gold shining blazer and shirt with frilled sleeves took command, keeping his foot firmly planted on the throats of the crowd as they steamrolled through their nearly 2 hour performance with "Rats", "From The Pinnacle To The Pit" and "Spillways" all following the opener. There was smoke aplenty (much to my chagrin as a photographer) and numerous costume changes for Forge, bringing out the trademark Pope regalia for "Call Me Little Sunshine", one of five tracks the band would include from the Impera album including those already mentioned and "Watcher In The Sky" and pre-encore ending "Respite On The Spitalfields".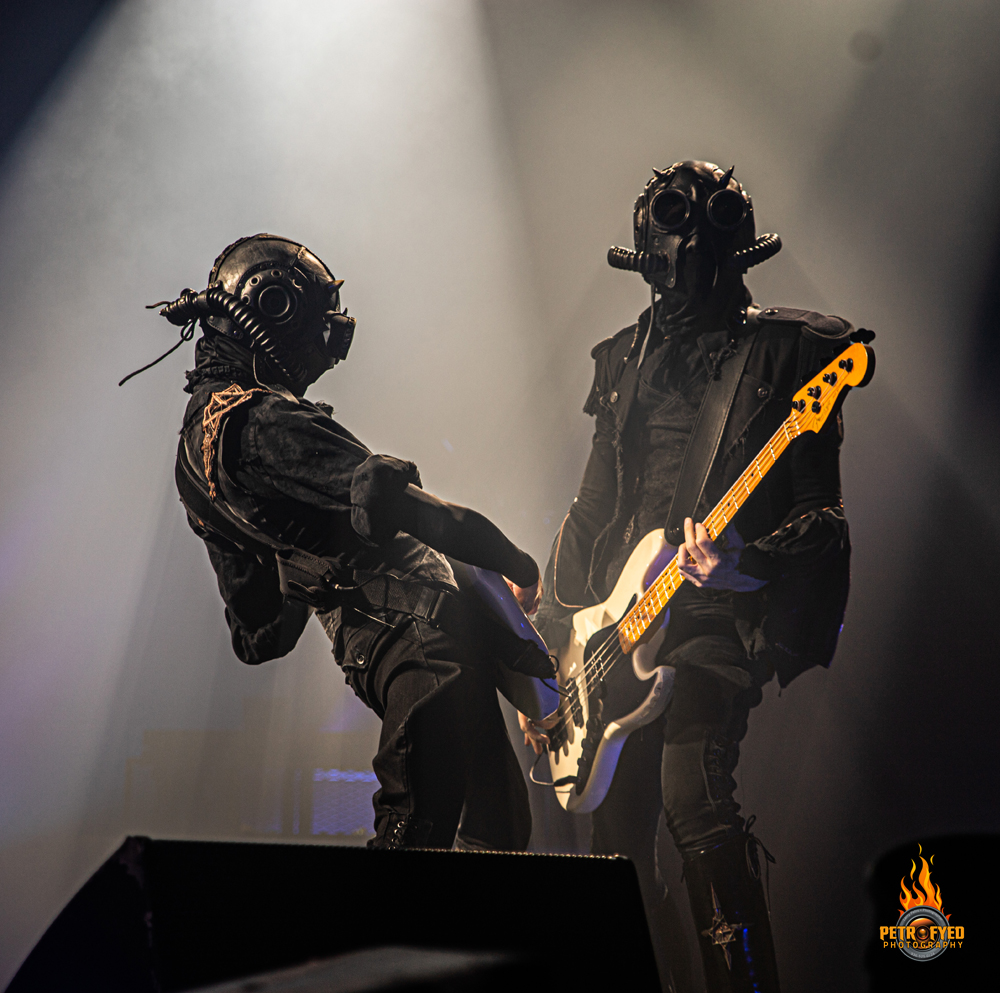 The band has always been big on theatrics, even when I first saw them opening for IRON MAIDEN some 6 years ago and tonight was no exception. As always, the backing band of 'nameless ghouls' remained just that with all of them dressed similarly in all black slacks and shirts and wearing new headgear that looked like a mashup of the Ant Man mask, Air Force helmets and something else that might have been otherworldly. Quite entertaining to say the least! Other notable inclusions in the set were "Cirice", "Absolution", "Mary On A Cross", "Miasma" (which featured Papa Nihil on saxophone) and "Mummy Dust", the latter of which featured confetti cannons going off that in addition to the normal confetti included 666 dollar bills that were blasted into the crowd.
Following the main portion of the show and prior to the encores Forge returned, this time dressed in a blue shining blazer, to joke with the crowd that it was time for everyone to leave, the band was gone and that his blazer was his 'after show' attire. He then agreed to try and talk the band into returning for one more song to which the crowd was having none of, with everyone beginning to chant 'three' as they had all obviously seen the setlist online and knew there would be 3 encores played. It was quite a comical interaction that you could only appreciate if you were actually there. Once the jig was up and Tobias knew he was fooling no one, the band returned for a triple threat encore of "Kiss The Go-Goat", "Dance Macabre" (with more confetti) and "Square Hammer", finishing off the crowd with more confetti, pyro and waterfall effects. There are only a couple of dates left on this tour (Irving, TX tonight, Phoenix, AZ on 9/8 and the Kia Forum in Los Angeles on 9/11) so if you didn't get to catch a show you only have yourself to blame.
A huge shout out and appreciation to those that approved me to cover this show. You know who you are ;) Setlist:
"Imperium" (PA system)
"Kaisarion"
"Rats"
"From The Pinnacle To The Pit"
"Spillways"
"Cirice
"Absolution
"Ritual"
"Call Me Little Sunshine"
"Con Clavi Con Dio"
"Watcher In The Sky"
"Year Zero"
"Spoksonat" (PA system)
"He Is"
"Miasma"
"Mary On A Cross"
"Mummy Dust"
"Respite On The Spitalfields"
Encore:
"Kiss The Go-Goat"
"Dance Macabre"
"Square Hammer"
Check out some more photos from the show!
All Photos By Larry Petro/Petrofyed Photography