KILL DEVIL HILL Seas Of Oblivion

By Andrew Depedro, Ottawa Corespondent
Monday, September 18, 2023 @ 9:13 AM

| | | |
| --- | --- | --- |
| | | |
KILL DEVIL HILL
Seas Of Oblivion
Legend Recordings




Wet and ready, and ready for use? Established back in 2011 featuring BLACK SABBATH/DIO drummer Vinny Appice and PANTERA bassist Rex Brown, KILL DEVIL HILL have established themselves as a thorough powerhouse of a supergroup despite having gone through various member alterations. With the help of guitarist Mark Zavon and Dewey Bragg on vocals, their self-titled debut was a promising banger of groovetastic modern metal fused with bombastic classic doom metal influences. A supergroup of such a high calibre was just what the scene needed at the time, especially once their sophomore effort Revolution Rising was released. The album itself was beneficial in keeping the KDH name afloat but it was also a delicate navigational effort to stay on course, even despite a high-profile gig rockin' the high seas on MOTORHEAD's infamous Motorboat Cruise that same year. The difficult decision to proverbially beach that good ship for nearly a decade was a tough one to salvage as various lineup changes were floated about just to keep the name buoyant over time - notably Vinny's departure in 2014 followed by Rex around the time when PANTERA's reunion came about. Eventually, a new crew comprised of Mark, Dewey, drummer Johnny Kelly (ex-TYPE O NEGATIVE) and bassist Matt Snell (ex-FIVE FINGER DEATH PUNCH) took the helm and with the teamship of Chris Bianchi and Legend Recordings, the band are poised to release their new album on September 20th titled Seas of Oblivion.

So, after a good decade or so of being off-radar, you ask, have KILL DEVIL HILL righted their mounting period of inactivity with their comeback album, or have they anchored themselves? A listen to the anthemic opening numbers and singles "Blood In The Water" and "Before The Devil Knows" would immediately prove their detractors wrong right there and then throughout the rest of the album. Even with the band's initial mainstay rhythm section having long since chartered their own courses, both Dewey and Mark effortlessly fit into their roles as the aspiring consummate professionals that they are. Indeed, the lyrics to "Before The Devil Knows" boasts powerful lyrics such as "I raise my glass to the past, and whatever lies ahead. I hope we get to heaven...before the devil knows we're dead" providing a dark, poetic nature to the track. Follow-up number "You Can't Kill Me California" features a more aggressive approach than many of the group's other songs - utilizing more screaming than KILL DEVIL HILL's typical melodic metal sound. The aggressive nature of this song speaks to the subject matter at hand, where band members lament about the struggles of life and the human experience - mostly being frustrated with the state of the world, in its post-pandemic mode, and the difficult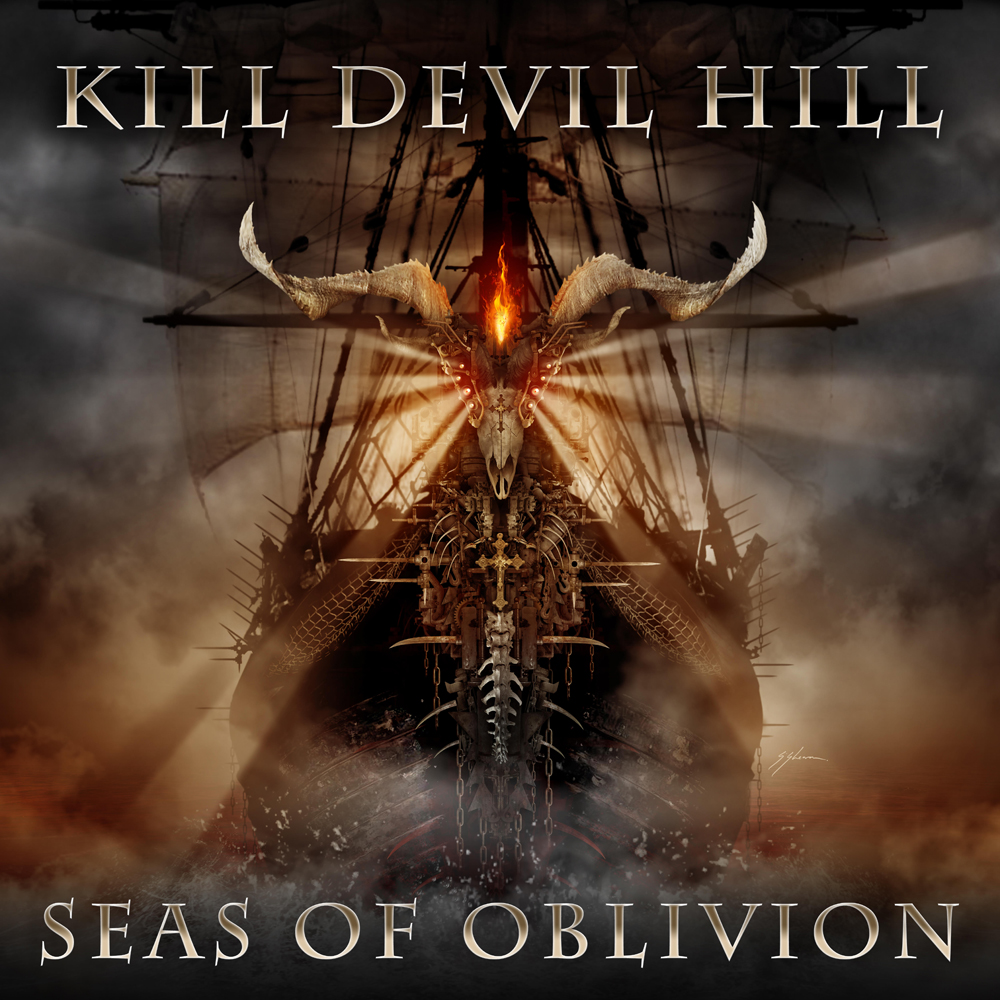 times which everyone has been facing in recent years. Summarized lyrically, it's the most first-world-problem-styled highly-touted California song that a 20-year-old Anthony Keidis probably should've scribed many eons ago. Even the bleak-sounding but neatly-titled "Pharmaceutical Sunshine" cascades a brief ray of realistic yet brilliant hope without delving into any unnecessary deeper depths.
With that said, the uplifting opening chords of "From The Ashes" do appear to be completely unorthodox for a dark-sounding album such as Seas Of Oblivion, but with the lamenting chants of "Should've seen it comin'" echoing from Dewey's pained vocals as his claim that "the rent that you borrow" is honored by what "you pay back in shame", it quickly contrasts the song's overall mood and tone. From a lyrical standpoint, it's perhaps the bleakest-sounding song on the whole album with no real sense of hope or redemption for the protagonist to find.
Closing with the lengthy mid-80's SABBATH style title track and an actual trippy-sounding cover of "Solitude" complete with 70's style Wurlitzer keyboards, KDH keep Seas Of Oblivion's starboard end well afloat thanks to Mark's impassioned and quirky jazz riffs and Dewey's humbled vocals - just as the doom masters had envisioned and written it.
They may have spent a good decade being completely rudderless following the departure of their two main nautical supervisors, but in their tenacious charting of the cruel seas, KILL DEVIL HILL's salvation from the jaws of defeat with Seas Of Oblivion make for a Quint-er, quaint sea shanty of epic proportions.
5.0 Out Of 5.0
https://killdevilhillmusic.com/
https://www.facebook.com/KillDevilHillMusic/
https://www.instagram.com/killdevilhillmusic/