TEMPERANCE Launch New Single "No Return"

By Larry Petro, News Monkey
Tuesday, September 26, 2023 @ 6:58 AM

| | | |
| --- | --- | --- |
| | | New Album Hermitage - Daruma's Eyes Pt. 2 Out October 20th |
Photo Credit: Andrea Falaschi
TEMPERANCE, the Italian maestros of modern melodic/symphonic metal, have revealed a brand-new lyric video for their second single, "No Return", cut from their exciting concept album, Hermitage - Daruma's Eyes Pt. 2, out October 20, 2023 via Napalm Records!
Immediately catching on with an energetic upbeat, "No Return" gleams with the band's top-notch sing-along refrain and operatic fragments. Underlined by the captivating rhythm of the orchestration and drums, the song comes along with a magical lyric video that visualizes a new chapter of the story.
Introducing the band's new lineup with further festival appearances this autumn, TEMPERANCE is looking forward to joining SERENITY's Nemesis AD European tour in spring 2024.
Singer and guitarist Marco Pastorino on "No Return":
"After the opening track of the album, "Daruma", we decided to give you something from the middle of the story. You will discover some details about Viktor's journey, the main character of Hermitage plus one of the best vocal performances of Kristin Starkey."
Watch the official lyric video for "No Return" BELOW
Expanding the lineup with the professional opera/metal singer and vocal coach Kristin Starkey, the essence of charismatic singer Michele Guaitoli (Visions of Atlantis) and mastermind singer/guitarist Marco Pastorino (Serenity) reaches a higher level. Guest musicians like Arjen Lucassen (Ayreon), Fabienne Erni (Eluveitie, Illumishade), Laura Fella (Faun) and Alessandro Conti (Twilight Force) complement the exciting journey. Diving into the stunning story of the album, fans can also order the limited Hermitage book, written by Marco Pastorino.
Catapulted into another era by finding the Japanese doll, Daruma, protagonist Viktor wakes up in a magical village called Hermitage, exploring its secrets track by track. Getting into a fight between the siblings Anningan and Irin, only Viktor's destiny is the key to their conflict. Galloping guitar passages open "Daruma" together with the album narrator and multitalent Arjen Lucassen (Ayreon) while the dark timbre of singer Kristin Starkey introduces the villain Anningan. "Welcome To Hermitage" presents the magical world of Hermitage with fairytale-like flutes, twinkling chime elements, and the vocal arrangements of singers Fabienne Erni (Eluveitie, Illumishade) and Laura Fella (Faun). "Join Me" ranges from marvelous vocal harmonies to grand compositions while the spellbinding "Darkness Is Just a Drawing" and uplifting "Full Of Memories" gather the atmosphere of Hermitage - Daruma's Eyes Pt. 2 once again. "Cliff" closes the album with rising melodies, epic orchestration arrangements, and inimitable vocal spotlights. The concept album was produced by TEMPERANCE guitarist and singer Marco Pastorino and mixed and mastered by Simone Mularoni (Luca Turilli, Michael Romeo, Twilight Force) at Domination Studio in San Marino.
Come explore Viktor's legacy!
Hermitage - Daruma's Eyes Pt. 2 Track List:
"Daruma"
"Glorious"
"A Hero Reborn"
"Welcome To Hermitage"
"No Return"
"In Search of Gold"
"Join Me"
"Trust No One But You"
"Darkness Is Just a Drawing"
"Into The Void"
"Brand New Start"
"Where We Belong"
"Full of Memories"
"Cliff"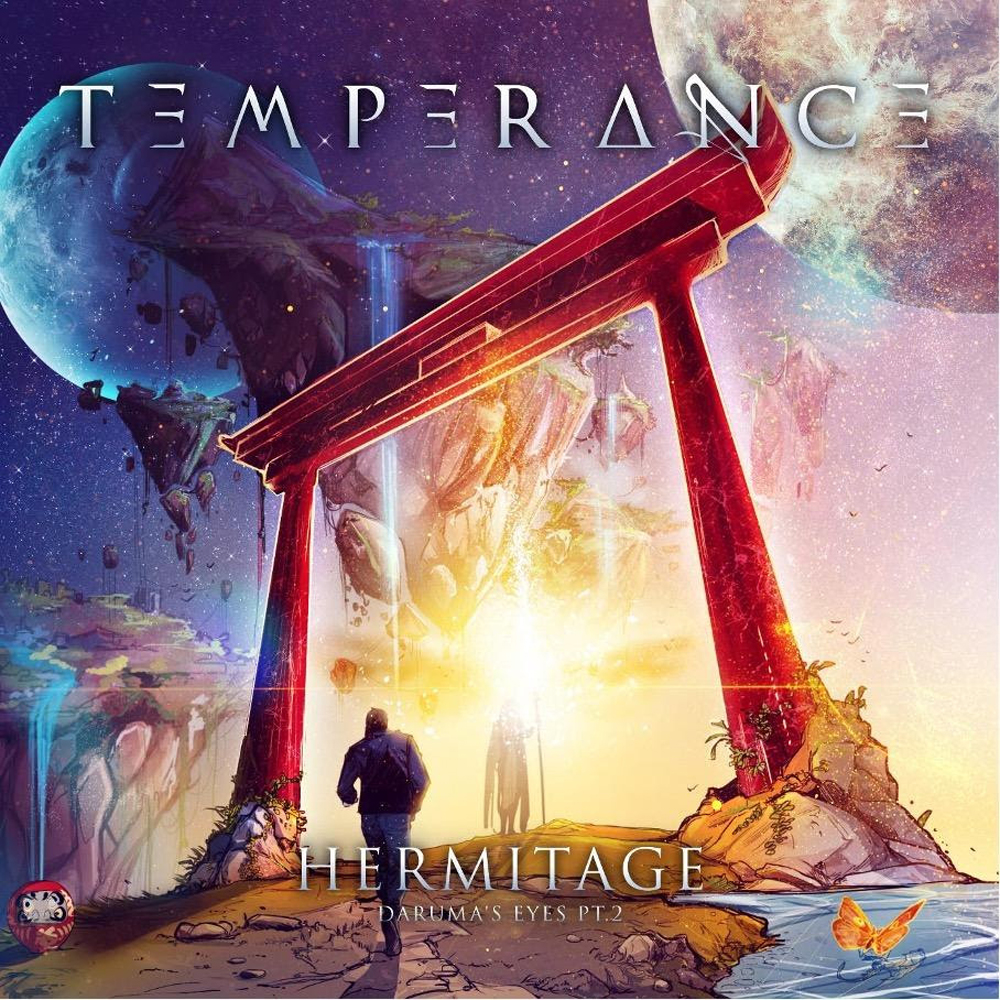 Hermitage - Daruma's Eyes Pt. 2 will be available in the following formats:
2LP Gatefold SOLID RED- ltd. to 300 copies worldwide
1CD Digipak
Digital Album
Experience TEMPERANCE live in 2023/24:
29.09.23 DE - Oberhausen / Killerz Fest
04.11.23 NL - Apeldoorn / Brainstorm Festival
Nemesis AD European Tour
w/SERENITY:
08.02.24 DE - Berlin / Columbia Theater
09.02.24 DE - Hamburg / Logo
11.02.24 UK - London / Boston Music Room
13.02.24 DE - Saarbrucken / Garage
15.02.24 HU - Budapest / Barba Negra
16.02.24 CZ - Zlin / Masters of Rock Cafe
18.02.24 DE - Hanover / Musikzentrum
20.02.24 DE - Aschaffenburg / Colos Saal
21.02.24 FR - Paris / Backstage by the Mill
22.02.24 NL - Hengelo / Metropool
23.02.24 BE - Diest / Hell
24.02.24 NL - Uden / De Pul
Festivals 2024:
15.-17.08.24 CZ - Moravsky Krumlov / Rock Castle