The North American leg of this summer's Unholy Alliance Tour has brought together 5 of metal's best acts, packing the houses and lots with headbangers of all ages, showing up to pay respects to the patriarchs of thrash metal, Slayer.

Children of Bodom is a band of thirsty, young and restless dudes that have tirelessly circled the globe over the last year promoting 2005's critically acclaimed release Are You Dead Yet? COB has been tearing up the world's stages with Finnish heaviosity for over 10 years, although they're still relatively obscure.

Touring with contemporaries Thine Eyes Bleed, Mastodon, Lamb of God, and the almighty Slayer, just may heave these little heathens into heavy metal high-consciousness.

KNAC.COM: The last time I saw you and Children of Bodom was the day after your last show of the Are You Dead Yet tour here in The States. You were winding down, you were going to get some rest and now …you need some rest.

LAIHO: (laughs) I need some rest again, yeah. That was actually the second leg of the US tour. After that we went straight to Japan so we had a couple days at home. After that we had one month at home, which was the only time off we have had so far, which was good. Now we've been out here for the last 5 weeks, 6 weeks.

KNAC.COM: Are you alternating with the co-headline spot with Lamb of God?

LAIHO: No, we're actually rotating with Mastodon. Today we're on after them.

KNAC.COM: After this you're going home for a while?

LAIHO: Yeah, we go back home then we got a couple dates and then we have to do a few festivals in Europe, like Wacken and this other one in Finland. Then we got about a month off. We got over a month off, actually, but we figured that we would use the time to do something, because if it's over a month off we start going crazy—we gotta do something, right? So I think we're going to start maybe just working on some songs or whatever. And then we got the European Unholy Alliance happening.

KNAC.COM: As far as new material, do you have anything in the can now?

LAIHO: Well, not really, actually …I never write when we're on tour. I got a bunch of shit in my head all the time and I'm just coming out with stuff, but I don't do anything about it until I'm done with the tour. I just want to concentrate on what we're doing right now. Like I said, I'm just coming up with stuff all the time. I got a bunch of crap in my head, but I don't do anything about it until the touring is done.

KNAC.COM: So far what's the wildest thing that's happened on the tour?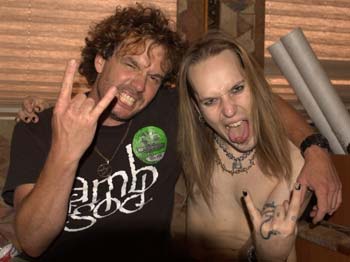 Gnarly Charlie and Alexi

LAIHO: Well, usually the best shit is the kind of stuff you don't even remember. (laughs) I don't know, it's really basic stuff. All of this is pretty wild for us –it's our first arena tour - opening up for Slayer. We've been out drinking with Kerry King. I'm thinking 'Yeah, here I am just fuckin' doing shots with Kerry King, hanging out with Slayer', stuff like that. That's insane, really. I haven't broken any bones on this tour. I got a lot of bruises and I gave our merch a black eye. We had a crazy party in the back lounge –we just started throwing stuff at each other, like when somebody was not looking we just would throw anything, whatever you could find. I got hit by a box of cigarettes in my eye. My eye was totally red for three days.

KNAC.COM: Are there any bands on the bill that can upstage you guys in the drinking department?

LAIHO: Well, the Mastodon guys are pretty good, actually. They can almost keep up with us.

KNAC.COM: What about the new blood, Thine Eyes Bleed?

LAIHO: Yeah, yeah. We hung out with those guys, too. Really cool dudes. We have props for them, definitely –for just getting up there, being the first band. Obviously a lot of people don't know who they are. But they pull it off. They really do. It's the same shit with us as well, dude. That's why we're doing the whole thing so you get to play in front of a lot of people that never heard you before and maybe you can convince them that you rock and then they'll buy the album, because that's what it's all about.

KNAC.COM: You guys were about 15 when you started out. Did you ever envision being on this kind of bill, with a band like Slayer?

LAIHO: No. Seriously, I remember when we would have been happy if we got a gig anywhere...some shitty...not even a club. Anything. When we finally got the first album out I think we were aiming for a 1,000 copies. If we would have sold 1,000 copies we would have been 'Yeah, that's cool', but then all of a sudden we did a little more. We never thought we would have toured outside of Finland and all of a sudden we're actually opening up for Slayer. We must have done something right. (laughs)