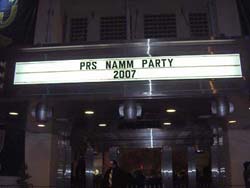 The biggest and best of all trade shows. No matter what genre, style or type of music you are into, there is something at NAMM for you. This is where anyone who is anyone shows their wares. Seminars, meet and greets, artist autograph signings, before, during and after the show performances are plentiful.

As always there are demos and you can get product knowledge, details, and specs directly from the manufacturers, retailers, and even the artist themselves who endorse them.
This is the Best show of its kind in the world, and I give props to all of the NAMM staff, and all of the vendors, everyone I dealt with today was helpful, and pleasant.
Feeling like a kid in a candy store, I was excited to arrive on Thursday.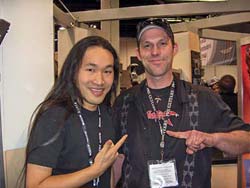 On my way to The Dean Markley booth, I found CC Deville of Poison.
A few moments later I got to meet Herman Li Of DragonForce. He was stoked when I showed him the HermanForce shirt I was wearing.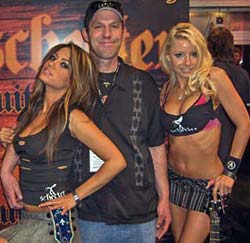 I was at the show with my wife, who is also a big metalhead, and she was happy to take this picture when I bumped into these two at the Schecter Booth.
I needed to cool off after my brush with uber-hotness, so we went outside to get some air. Asked my wife where she would like to sit, and of course, in a funny moment she said lets sit next to the dude who used to play bass for Megadeth.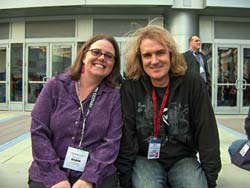 So We Did and I talked to David Ellefson and he said things were going well for him and F5 and his recording.
The highlight of the day for me was to catch Mark Tremonti, and Myles Kennedy of AlterBridge perform a four song set upstairs in the Taylor Booth. They performed "Find The Real", "Burn it Down" a brand new song, and Myles performed a beautiful tribute to Jeff Buckley in a song called "Hallelujah"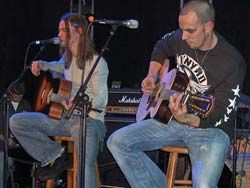 The highlights on Friday were definitely the PRS Party at The Grove of Anaheim, was when I met Slayer's Kerry King.
At the PRS there was various all star performances, including Pat Travers, Myles and Mark of Alter Bridge, Chris Henderson of 3 Doors Down, and The James Brown Band (James was inked to attend this show).
The talk of the town was the Dimebag tribute party on Saturday. I totally expected to be there, but it was a complete zoo. Everyone who was anyone, and all the rest of the people who think they are somebody, wanted in to this show. I had tickets! But, alas, I got wedged into a hallway by a sea of humanity and could only hear the muffle of the amplification that was most certainly the best of the best of an excellent show.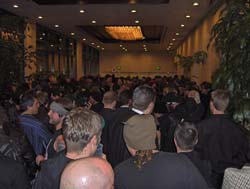 Here's a shot of the long, crowed hallway I and hundreds of other people, many, like myself, with tickets, were stuck standing in during the Dimebag tribute. Yes. It sucked pretty bad.
I've got more stuff coming. Stay tuned.
Tim