Guitar Hero II


By Tim Westergard, Las Vegas Contributor
Tuesday, January 23, 2007 @ 5:18 PM


| | | |
| --- | --- | --- |
| | | From Activision |
If you have not seen this yet, released for PS2 from RedOctane is the Sequel to the underground gaming hit of last year. Guitar Hero 2 bundle pack contains a new simulated mini version of a Gibson SG, as its controller. Although it is smaller than a real guitar and uses color coded fret buttons, and a simulated strings strumming button, it is a blast to rock out on. No it is not like playing a real guitar, but it is a fun attempt.

Features include dual player mode, where you can play together with Lead, Rhythm, and Bass guitar options. Or you can square off in a head to head battle. Single player can work through a career mode, where you can earn gig money and buy a new onscreen axe or a guitar finish like Zakk Wylde's Holy Grail .

Complete a gig of various songs to unlock more and move forward. Or if you are good enough earn encores.

Although most of songs are not original versions, they are decent covers.

Track List:

Opening Licks

Danzig--"Mother"
Cheap Trick--"Surrender"
Motley Crue--"Shout at the Devil"
Wolfmother--"Woman"
Encore: Spinal Tap--"Tonight I'm Gonna Rock You Tonight"
Amp-Warmers
Kiss--"Strutter"
Nirvana--"Heart-Shaped Box"
Police--"Message in a Bottle"
Van Halen--"You Really Got Me"
Encore: Kansas--"Carry on Wayward Son"
String-Snappers
Alice in Chains--"Them Bones"
Foo Fighters--"Monkey Wrench"
Iggy Pop and the Stooges--"Search and Destroy"
Pretenders--"Tattooed Love Boys"
Encore: Black Sabbath--"War Pigs"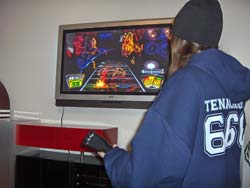 Thrash and Burn


Butthole Surfers--"Who Was in My Room Last Night"
Mathew Sweet--"Girlfriend"
Rolling Stones--"Can't You Hear Me Knockin'"
Warrant--"Cherry Pie"
Encore: Guns N' Roses--Sweet Child O' Mine
Return of the Shred
Primus--"John the Fisherman"
Rage Against the Machine--"Killing in the Name Of"
Sword--"Freya"
Thin Lizzy--"Bad Reputation"
Encore: Aerosmtih--Last Child
Relentless Riffs
Allman Brothers--"Jessica"
Heart--"Crazy on You"
Stone Temple Pilots--"Tripping on a Hole in a Paper Heart"
Stray Cats--"Rock This Town"
Encore: Jane's Addiction--"Stop"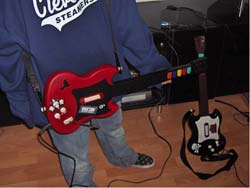 Furious Fretwork
Anthrax--"Madhouse"
Lamb of God--"Laid to Rest"
Living End--"Carry Me Home"
Reverend Horton Heat--"Psychobilly Freakout"
Encore: Rush--"YYZ"
Face-Melters
Avenged Sevenfold--"Beast and the Harlot"
Dick Dale--"Misirlou"
Megadeth--"Hangar 18"
Suicidal Tendencies--"Institutionalized"
Encore: Lynyrd Skynyrd--"Free Bird"
As Usuall there are some hidden features, such as Performance mode, where you would be playing notes from memory as the onscreen fret board is gone. Also hyper speed mode for super fast playing, and other hidden secrets.

This game has spawned a variety of 3rd party vendors creating, wireless flying Vís, decal kits, and various other accessories. I have even seen one guy who fabricated his own double neck controller using a modified pedal to switch back and fourth, between the 2 necks.

My kid (a School Orchestra Cellist) usually destroys me on most of the songs in medium, or expert mode, But I can honestly say this game is fun as hell. If you have not seen this game yet, I encourage you to check it out. This game is fun enough you can actually throw one hell of a party. Hook up the ps2 into a projector and throw it on a wall, crank it, and GETCHA PULL.

Turn down the sound effects so you donít hear your mistakes, and make your living room your stage.

Pick up this game.

****

Buy your copy of Guitar Hero II from KNAC.COM:




Please log in to view RANTS

If you don't have a username, click here to create an account!