One of the longest reigning thrash bands, Overkill recently performed to a packed house at the Lucky Dog in Worcester, MA. It has been a while since, I have seen Overkill perform, and the Lucky Dog was the perfect venue for this very up close and personal concert experience.

I arrived at the show early; to catch up on the latest Overkill news with my friend Bobby "Blitz", lead front man of Overkill. Bobby told me the band just performed to a sold out crowd at The Whisky in Los Angeles on Sunday night. One of the highlights of the show occurred when Shadows Fall drummer Jason Bittner jumped onstage to perform, "Elimination".

Bobby "Blitz" was also gracious enough to play me four Exclusive new tracks from the upcoming, The Cursed CD entitled, "Roomful Of Sinners". The fans of Overkill will be really surprised to hear the new level of different vocal tones of Bobby on the upcoming," The Cursed", CD, Roomful Of Sinners". I would say it sounds like Dio meets Buckcherry. The album is very hook oriented with catchy vocals.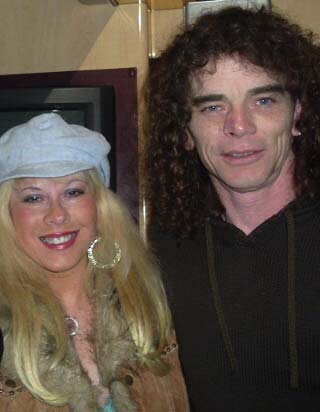 Deb Rao and Bobby "Blitz" Backstage

In concert, Overkill is known for their skull-crushing onslaught. Tonight's powerful performance of the The Kill was no exception. I ventured into the club shortly before midnight. It was a full house for a Tuesday night, as Overkill has not performed here in ten years. This was my first time seeing the band perform here in Worcester tonight. I usually go to the Webster Theatre in Hartford to see them perform.

One of the most notable aspects of an Overkill crowd is that is male dominated. I want to say that I was one of three females witnessing Overkill perform here tonight. I shed my Glam-metal roots, and was ready to witness an experience that I will not soon forgot.

As the bewitching hour was fast approaching, the male dominated audience started chanting Overkill, over and over again. It was great to see the anticipation of the band, through the eyes of the male testosterone audience.

In this interesting Overkill twist, you are about to witness, the power of The Kill, through the eyes of a female writer.

Overkill hit the stage at midnight to perform an exhilarating, brutal hour-long set of the most skulls crushing musical experience that I have ever witnessed. The powerful onslaught did not let up from start to finish.

Blinded by flashing strobe lights, and smoke from a fog machine, Bobby "Blitz" and Overkill opened with "Necroshine". I must admit there is something very compelling about the voice of Bobby "Blitz". Bobby uses his voice as a weapon, unleashing the powerful fury of The Kill. "Blitz" is an energetic performer that takes his voice, where no one else has dared. Bobby has an amazingly powerful vocal style that is real and raw. Bobby spits out words like a flashes of lighting, underneath the brutal assault of the heavy rhythm section of bassist D.D. Verni, and drummer Ron Lipnicki. Also did I mention his striking pose of Steven Tyler that I happened to notice during the set?

Overkill performed many of their classic including," Rotten to The Core", Battle", and "Powersurge". The energy of the band transformed into the audience, as the mosh pits began taking force, turning the tranquil Lucky Dog Music Hall to a feverish pit of thrash metal rockers. Bobby yelled, "Welcome to New England. You have to have a lot of balls to leave here in the cold weather."

Overkill is the best at what they do. They know how to work an audience, and take no prisoners. One of the most ironic events of the night occurred, was when the band's performance was so electrifying that they blew out a circuit breaker, and the stage went dark.

There were many highlights of the show including the fast guitar shredding of guitarist Dave Linsk. He never let up on the heavy riffs that fuel the backbone of Overkill. Rhythm guitarist Derek Tailer also layed down the heavy rhythm grooves.

One of the most well received songs of the set was "Elimination". The audience went wild, as Bobby became the Pied Piper and led his audience to a powerful climax.

One of the coolest songs of the set was "Old School". I really liked the arrangement of the song live. My only complaint of the show was that Overkill should have played more tunes off of "Relix lV". That album has become, one of my all time favorites and it would be great to see "Bats In The Belfry" live.

Another crowd favorite was the last song "Fuck You". This song is an Overkill classic, and anthem for this generation of hard core thrashes metal fans.

Overkill has a sound that is stripped down, and honest. No need for flashy guitar work to get the job done. Overkill is like a powerful force of nature that refuses to be reckoned with. Their down to earth attitude helps identify with the male dominated audience. Overkill has a secret formula that, they will never compromise to fit in with the current musical trend. Sometimes, it is nice to know some things never change. As Bobby "Blitz" recently described the power of The Kill as," Love us or hate us, we are what we are. That is what we always have known about Overkill. We were never really chasing some star. We are doing what we love to do. Come along if you will, if you don't that has nothing to do with how we are going to change our attitude towards things."

Set list:
Necroshine
Damned
Rotten to The Core
Battle
Powersurge
Under One
Thanx For Nothing
Long Time Dyin
Elimination
Hello From The Gutter
Nice Day For A funeral
Deny The Cross
Old School
Encore