UPDATE Dimebag Darrell's Rockwalk Induction and Blacktooth Bash May 17th, 2007 (The Photo Gallery Has Arrived)


By DJ WILL, KNAC.COM Personality
Tuesday, June 19, 2007 @ 5:54 PM


| | | |
| --- | --- | --- |
| | | |
First up today was the afternoon induction at the Hollywood Guitar Center for Dimebag and then later on in the evening for the All Star "Black Tooth Bash" over at the House Of Blues up the street.

After getting ready then heading down thee most important practical detail to sort out as soon as possible...find a parking space!! Since I know the neighborhood very well it didn't take long. The first person I run into at the check-in booth to obtain my pass was Dave Weiderman who's in charge of these Rockwalk events and has been at it for many years for Guitar Center. Last time I was here was for Dio/Slash' induction, but today was going be even extra special for obvious reasons.

Soon as I walk inside amongst the wall to wall instruments I find my way to the main area of the store where everyone in attendance were gathered for a big group shot with the Bronze Bust of Dimebag that was going to be revealed a little later outside to the Phalanx of photographers and fans.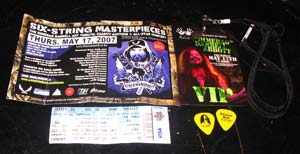 Induction Passes

The group of well-wishers included (in no particular order): Mike Inez, Ace Frehley, Scott Ian, Kerry King, Vinnie Paul, "Papa" Abbott, Rita Sue Haney, John 5,Arron (Staind), Jerry Cantrell, Eddie Jackson & Mike Stone (Queensryche), Gene Hoglan, Tim "Ripper" Owens, Nick Bowcott, Jamey Jasta, Alex Skolnick, Kelly Rhoads and Zakk Wylde.

Soon after an announcement was made for everyone to get ready to head outside and get things underway.

Jim Ladd a legendary local jock got the ball rolling and introduced all that were going to be speaking before the unveiling and presented a resolution from the City of Los Angeles addressed to "Darrell Lance Abbott" which is always a nice touch to set the tone.

Nick Bowcott, Scott Ian, Kerry King, Jerry Cantrell, Ace, Vinnie, "Daddy" Abbott & Rita all came to the podium to say a few words & share stories. There was a point when Vin spoke and started to get choked up inside it was very hard not to join him. Dime is probably the 2nd or 3rd musician that I cried about ever and in that split moment I recalled when I did my show days after his passing, losing it off air during my audio tribute.

When it came time for Zakk he started off performing on piano "In This River" a song forever dedicated to Dime. He then closed with some heartfelt words as we all gave a toast to the sky and Chanted "Dimebag" in unison.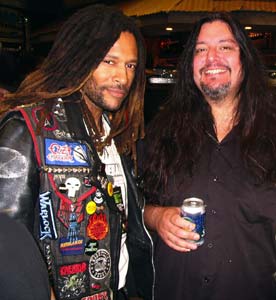 DJ Will and Gene Hoglan

A Great turnout and a very receptive crowd who were there for several hours prior to the festivities all here to pay homage to Dimebag's life and what he meant as a person and as a guitar player. If you've followed this form of music for any number of years like me you already understand how much of an impact he made with his music. Make no mistake.

After the event I hung out, spoke with Zakk and a few others then it was time to bail and get ready for round 2. So after a 5-6 hour break between events next up: "The Black Tooth Bash".

It took some time getting in, but once inside it was wall to wall jamming from start to finish..everyone who I saw earlier today took part in performing a great mix of familiar cover songs to Pantera tracks. My personal highlights was Ace doing his thing on "Parasite"/"Cold Gin" along with Vinnie, Scott Ian, John 5, Bobzilla and Jamey Jasta on vocals then later the closing number of the night that 'ya know it as soon as the riff kicks in: "Walk"!!

The stage at this point was filled by all of the performers from tonights bash. Headbangin, hair flying, horns wavin and the expected pit action down below.

There's a good chance this will be an annual event and hell...why not? A great time for a great cause. "Getcha Pull in 08"!

We promised these photos courtesy og Gnarly Charlie's "lost and found" camera. After all, these are worth the wait. Another gallery is coming for the Black Tooth Bash. Stay tuned.

Click on the thumbnail shots for the full-size pictures.




---

Send your live reviews to submissions@knac.com




Please log in to view RANTS

If you don't have a username, click here to create an account!