Iron Maiden Announce Full Details of Live After Death DVD


By Newsferatu, Writer
Thursday, November 8, 2007 @ 5:09 PM


| | | |
| --- | --- | --- |
| | | |
Press release:

Finally available on DVD for the first time, New Door Records/UMe are proud to announce the eagerly awaited release of the Double Disc DVD of Live After Death, the legendary recording of Maiden's four night stand at Long Beach Arena, California, in 1984. In the stores February 5th, 2008, the release will coincide with the start of the band's "Somewhere Back In Time World Tour" on which they will recreate many of the aspects of this original and spectacular show. Disc one contains the recording of this full 90 minute concert. Originally filmed on 35mm, the footage comes alive on DVD resulting in a visually stunning film that far outstrips the usual live video of the '80's. The disc carries two sound options - the original concert audio specially mixed into 5.1 Surround Sound by Kevin Shirley, Maiden's producer since 1999, plus the original stereo sound track by Martin Birch, the band's producer from 1981 to 1993.

Originally released on video in 1985, this has been largely unavailable for the past 20 years.

Disc two has Part 2 of the 'History of Iron Maiden', continuing on the Maiden story from "The Early Days" DVD, along with rare and unseen bonus footage in the form of BEHIND THE IRON CURTAIN, ROCK IN RIO '85, and 'ELLO TEXAS, all in all giving a total running time of well over three hours.

Plus of course the photo galleries, relevant promo videos, artwork galleries, tour dates, tour programme and other features which all combine to make Maiden DVDs a very special and utterly comprehensive treat for their fans.

Manager Rod Smallwood explained "The original video of Live After Death has not been readily available for a long time so its good that we finally got around to this. lt was one of the first full concerts to be filmed after the advent of video and of course the live album, recorded on a different night to the video, has long been considered to be one of the seminal Metal live albums and has sold millions since. Fans have been begging us to do this DVD for some time now but we wanted to wait until we were able to recreate that whole tour to go with it and also to make it part of a series of DVDs that we are putting together around the band's history. And of course we are making sure that now we have got to it we will be giving the fans everything we can find from that period!!"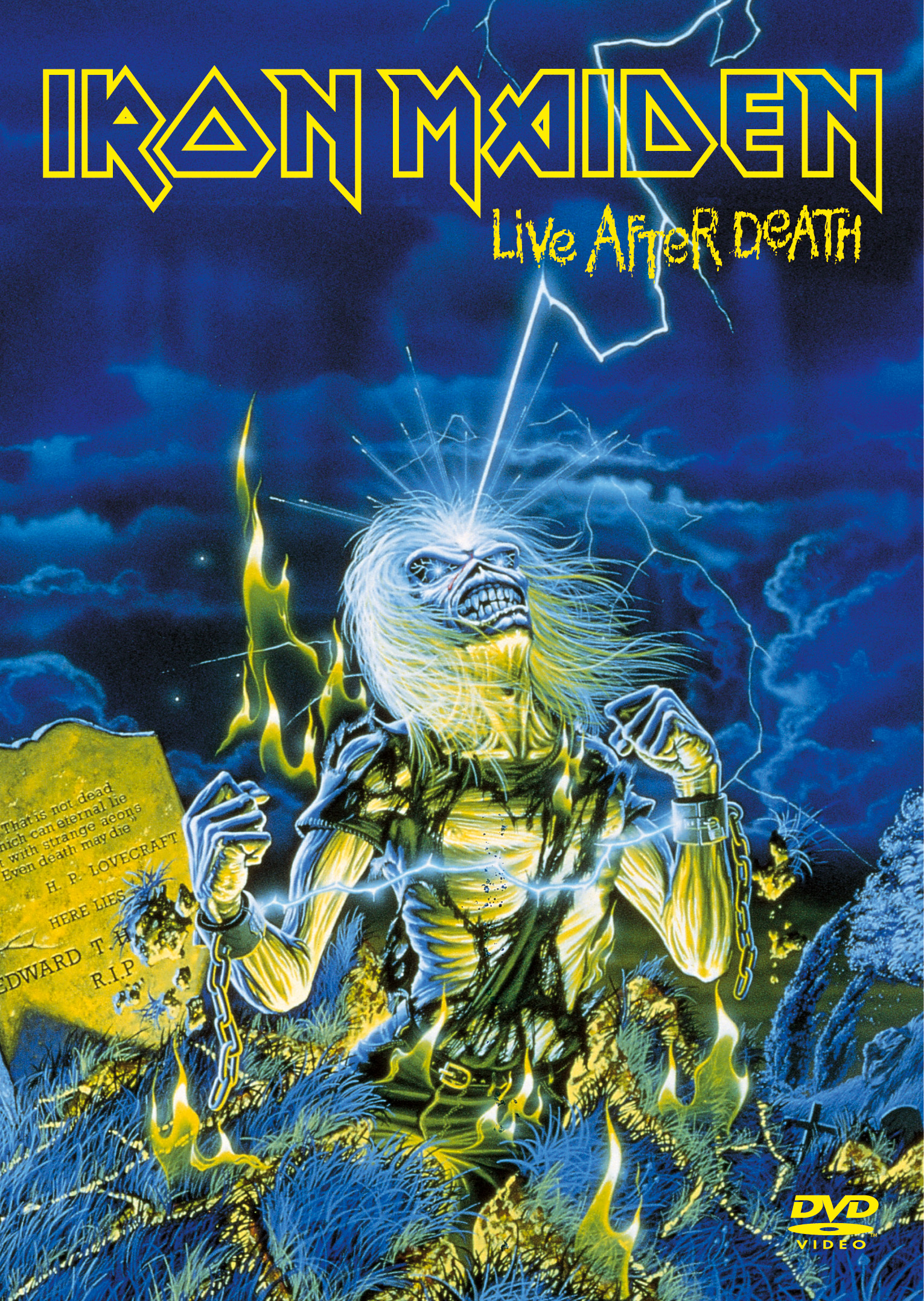 FULL LIST OF CONTENTS:
Disc 1 – LIVE AFTER DEATH
Live After Death concert with Stereo and Dolby Digital 5.1 Audio (90 minutes)
Set list –
Churchill Speech/Aces High
2 Minutes to Midnight
The Trooper
Revelations
Flight of Icarus
Rime of the Ancient Mariner
Powerslave
Number of the Beast
Hallowed Be Thy Name
Iron Maiden
Run to The Hills
Running Free
Sanctuary
Disc 2 DOCUMENTARY / BONUS CONCERT FOOTAGE
1.
THE History of Iron Maiden – Part 2 (60 mins) – Documentary. Band members, crew, friends and associates talk about the period in the band's career which saw the writing, recording and release of the Powerslave album, and later Live After Death, and the subsequent massive touring. And not just the serious side!!
2.
Behind the Iron Curtain (57 mins approx) Documentary and Live – shot during Maiden's historic tour of Poland and other parts to the Eastern Bloc in 1984 featuring interviews, live and offstage footage capturing the atmosphere of this remarkable journey behind the Wall at the height of the Cold War.
3.
Live Footage - Rock in Rio '85 (50 mins approx) The full Maiden set supporting Queen on the first day of the first Rock in Rio in front of 300,000 manic metal fans. A bloody and stirring performance!!
Songs performed include –
Aces High
2 Minutes to Midnight
The Trooper
Revelations
Powerslave
Iron Maiden
Run To The Hills
Running Free
4.
Ello Texas – 15 minutes – Interview and live. Caught by a film crew in 1983 at the Alamo and sound checking their show in San Antonio.

5.
Artwork Gallery, Tour Programme, Tour dates and photo gallery.

6.

Promotional clips for Aces High and 2 Minutes to Midnight
Subtitles for All documentary footage –
PAL version – English HOH / Dutch / French / German / Italian / Swedish / Portuguese / Spanish
NTSC Version – English HOH / Brazilian Portguese / Latin Spanish
Background historical information :

Live After Death was filmed and recorded towards the tail end of 'The World Slavery Tour' over a record breaking four sold out nights at Los Angeles' 13,200 capacity Long Beach Arena. Featuring tracks from their first five albums both the album and video topped the international charts around the world. The tour opened in Warsaw in August 1984 and concluded in Los Angeles July 1985. It covered 193 concerts in 21 countries, including an incredible 112 arena shows in just the USA and Canada (both where the album went Platinum), and saw the band playing to over a million fans in North America alone. This was the most ambitious, longest and most gruelling tour Maiden ever experienced.

As the second instalment to 2004's international chart topping The Early Days DVD The Second Disc features the highly anticipated 'THE HISTORY OF IRON MAIDEN PART II' which gives an insight, humorous and otherwise, into the making of the record as well as exploring the creativity and the background pressures created through the sheer hard work and the physical toll that comes with success at this level for a touring band. Also packed in on the second disc are more extras with three more rare and unseen gems from the period. BEHIND THE IRON CURTAIN, which was first released in April 1985 as a 35 minute video documentary, illustrates the quite remarkable story of how Iron Maiden became the first major band from the West to play large arenas in Poland, Czechoslovakia, Yugoslavia and Hungary at a time when these markets were still very much "Behind the Iron Curtain". This 57 minute DVD version features a lot of extra footage not included on the original retail release. Prior to this DVD the only time it had been seen was on a special MTV airing in 1984. With complete access on the tour, filmmaker and director Kenny Fueurman, gives the viewer a candid insight into the world of Maiden at this groundbreaking time in their career. It also contains interviews with some of the thousands of fans who attended their shows, and their reaction to having Maiden play there for the first time despite their album being out of reach in the old Eastern Bloc countries, where at the time it would cost almost a month's wages! Also included is the infamous incident of the band gate crashing an unsuspecting private wedding party and becoming the evenings 'entertainment' in return for a Polish vodka or three! Extensive research allowed the producers to retrieve footage of highlights from the band's biggest ever show when they played in Brazil to a sea of rock fans estimated to be somewhere between 250,000 to 350,000 on the first night of the first ROCK IN RIO festival in Feb1985. Maiden went on just prior to headliners QUEEN and cemented their place in the heart of South American fans. Despite best endeavours this 50 minutes clip of extremely rare concert footage is admittedly not in the greatest shape and in parts was beyond repair, but at the request of fans hungry for a record of the historical performance, it has been included in the package as a special bonus.

Another small but also previously unavailable 15 minute feature is 'ELLO TEXAS, which gives a candid glimpse of Iron Maiden performing to the US audiences with further band interview footage at the Alamo. Historically this recording from 1983 should have been included In 2004's EARLY DAYS DVD but it only came to light during research for this Live After Death DVD and is included now for interest.

In essence, Live After Death, the double disc DVD gives over five hours of content, giving the most complete and in depth exploration of Iron Maiden during what was considered their most pivotal album and tour of their long and distinguished history.

The February 5th DVD release coincides with the start of the recently announced Somewhere Back in Time World Tour 2008 which opens in India at the beginning of February.

Full schedule for the first leg of SOMEWHERE BACK IN TIME World Tour 08:

February

Fri 1st Mumbai, India Bandra Kurla Complex
Mon 4th Perth, Australia Burswood Dome
Wed 6th Melbourne, Australia Rod Laver Arena
Thu 7th Melbourne, Australia Rod Laver Arena
Sat 9th Sydney, Australia Acer Arena
Sun 10th Sydney, Australia Acer Arena
Tue 12th Brisbane, Australia Entertainment Centre
Fri 15th Yokohama, Japan Pacifico Yokohama
Sat 16th Tokyo, Japan Messe
Tue 19th Los Angeles, USA The Forum
Thu 21st Guadalajara, Mexico Auditoria Telmex
Fri 22nd Monterrey, Mexico Arena Monterrey
Sun 24th Mexico City, Mexico Sports Palace
Tue 26th San Jose, Costa Rica Saprisa Stadium
Thu 28th Bogota, Columbia Simon Bolivar Park
March
Sun 2nd Sao Paulo, Brazil Skol Arena Anhembi
Wed 5th Porto Allegre, Brazil Gigantinho
Fri 7th Buenos Aires, Argentina Ferrofcarril Oeste Stadium
Sun 9th Santiago, Chile Pista Atletica
Wed 12th Puerto Rico San Juan Coliseo
Fri 14th New Jersey, USA Izod Center
Sun 16th Toronto, Canada Air Canada Centre
Just announced, part of 2nd Leg of tour:

July 2008
Wed 16th Stockholm, Sweden Stockholm Stadium
Fri 18th Helsinki, Finland Helsinki Olympic Stadium
Tue 22nd Trondheim, Norway Lerkendalstadium
Thu 24th Oslo, Norway Valle Hovin
Sat 26th Gothenburg, Sweden Ullevi Stadium
Sun 27th Horsens, Denmark Horsens Gods Bane Pladsen
For more information go to www.ironmaiden.com




Please log in to view RANTS

If you don't have a username, click here to create an account!