Fatal Smile Tour Blog


By Diana DeVille, Rock Goddess
Thursday, April 17, 2008 @ 3:57 AM


| | | |
| --- | --- | --- |
| | | Swedish Rockers Check In |
April 22, 2008

Hey people!!
We just arrived to Sweden in one piece, or four actually. It felt really awkward to leave America after such a tremendous amount of fun as we have had touring USA. We have met so many awesome new friends, in the bands and crews we worked with, the staff at the venues and all you absolutely fantastic people who came to our shows. You are amazing!! Big thanks to all of you!!

The last show in Nashville we could not hold ourselves back. When DORO was singing "All We Are" we just felt we had to get back on that stage...so we ran up and sort of helped her out, screaming our lungs out (hope she thinks we were helping anyways). We´re sorry for the beverages spilt on the floor and hope you will forgive us. We are sad the tour is over and we truly hope to be back on American grounds again before this year is over.

We want to send our special thanks to Diana DeVille, a great woman and a rock goddess for sure!! Stay tuned to her KNAC shows all people!! We also want to thank DJ Will and all of you at KNAC.com !!! You rock !! We want to send very special thanks to our heroes in W.A.S.P. (www.waspnation.com), there are some truly awesome guys in that band and it´s been an honour to tour with you!! Also our very special thanks goes to DORO (www.doromusic.de). Everybody in that band and crew are awesome and Doro is for sure the queen of metal!! We wish you would all move to Sweden. We also want to thank our record company and everybody who helped setting the tours together!! But most of all.... we want to thank YOU !!!!!!! Without YOU there would not have been a tour and we want all of you who ever visited any of our shows to know WE LOVE YOU ALL !!!!!!! Keep asking for us at radio, TV, venues, anywhere and we will do what we can to come back to see you soon so we can all rock your nation hard once again.

With love and respect to ALL of you !!
// Fatal Smile
Blade - Alx - Y - Zteff
------------------------------------------------------------------------------------

April 15, 2008

Hey rockers out there!

San Antonio rocks, and I really thought it wouldn´t after pulling up with the bus to this small little rock club called the Rock Bottom Bar. Its location looked pretty dead to me when we first got there and all I had on my mind was to get some breakfast. So I left the tour bus walking around the area and looked for a place to eat, but there was nothing around. No shops, no restaurants, no people. I went back to the bus and kicked back for a while instead.

The Rock Bottom club is kind of a small place and we had to use less equipment on stage so the power wouldn´t cut down on us while playing. However it sounded really good because it was so compact. People found their way to the show and they rocked big time with us. Everything went fine and in the end I finally had my breakfast at 3 am in the morning at a place called the Pig Stand.

Zteff.

------------------------------------------------------------------------------------

April 12, 2008

Good morning from Fort Worth TX!

Alx from the Fatal Swedes speaking to ya all!!!!!!!!

Just rolled in with the bus to the venue, it's an old Theater/rock club and this place looks really cool. It´s pretty funny since Doro played at this venue 23 years ago... twenty-three years ago...and now she is back again. That is really cool…

The sun is shining and I´m loving every minute, it´s gonna be an awesome show tonight that is for sure!! Mr. Y and I went to grab some breakfast at some outdoor patio while the other guys chilled back at the bus. Later this evening I´m gonna meet up with an old childhood friend of mine who lives in Dallas. Alright!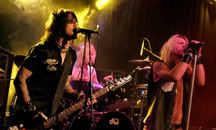 Soon it´s time for a quick soundcheck and after that I´m gonna go for a shower in the sink again,ha ha. We´re not spoiled with showers on this tour, but what the hell, that´s rock´n roll ;-). Be back soon…………

Alright, the show is over and people in Texas are fxxing crazy... just the way I thought they would be. Our friend Joakim showed us the city after the gig, and we had a couple of beers and ended up at some pizza place around 3.am. Ok so the bus is leaving for Houston at 4.am and we have a 6 hours ride ahead of us, time to get some serious sleep now. Goodnight Fort Worth - see ya next time!!!

Alx

------------------------------------------------------------------------------------

April 9, 2008

Hey folks,

Fatalisation of USA is crazy fun and really cool, and I´d say it reached new heights again last night in Hollywood!

There are problems playing cities like LA. Since we tend to see reasons to celebrate every night, we need our sleep, and LA is not the place to spend the day in the bunk, so we got up after just a couple of hours. Yesterday we had an early TV interview, we made a little guest appearance at Focus In The Mix with Denise Ames and then we had some people to see after that. We went shopping at Melrose and spent way too much on silver and junk. Come gig time, we still hadn´t gotten the sleep needed to be on top of the game. But then there is the LA energy that lifts you all the way. The show was great, we were all excited.

DJ Will of KNAC.com, our German goddess friend Doro, and our manager Helena had put together a little soiree at VooDoo Hollywood to celebrate the release of our new album World Domination. We had friends that had driven far to be with us (like Stan & Barb, who have seen us in New Orleans, NY, NJ, Chicago, LA, NY again? a total of eight times on this tour only. Way cool!) and we were on fire. This was obviously hat losing day since both Y and Zteff lost their beloved head pieces. Stacey Blades of L.A Guns found Y´s hat in the gutter, but Zteff´s is gone. The search is on for a replacement, but if you see someone with a white furry pimp hat, please retrieve it and send it to any venue on our tour.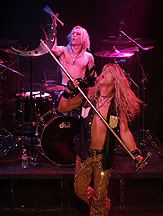 Speaking of goddesses; we have toured with a lot of bands, and I´ll be damned if we have ever toured with guys like Doro before. The whole band are so great that I´m seriously considered taking them home to Sweden! I´m gonna miss them when this tour is over!

Today we´re on our way to Tempe, Arizona...... and we are gonna rock that city hard!!

peace!

*Blade

------------------------------------------------------------------------------------

April 8, 2008

This is a really special day here in Fatal Smile camp. This is the day we release our album World Domination in USA. It has been out for a bit over 2 months in Europe, and we are getting come cool reviews so it seems both music reporters and fans like it. That makes us happy of course. Now we are eager to hear what you guys over here think of our album.

We played in San Marcos yesterday and we had a blast!! Some KNAC.com DJs [Diana DeVille and DJ Will] came to see us, THANK YOU for your support!!! KNAC.com rocks !!!! And so did the audience!! This is just a short note since we are busy in Los Angeles today. Tell you more in the next blog ...

Tonight we are playing at the Whiskey A Go-Go at Sunset Strip, Hollywood, CA. After the show there we will have a release party for our album World Domination at Julian Douglas and Stacey Blades' club Voo Doo Hollywood at the Vine Bar, 1235 N.Vine Street. Due to bar regulations we can only invite people over age 21, so all of you who are and is close to Hollywood, come and say hello to us at this party!! Hope to see you all there :-))

Peace & Love & RocknRoll
//Y

------------------------------------------------------------------------------------

April 6, 2008

Hello out there!!

I am Zteff, the drummer in Fatal Smile. We played Portland Saturday night and it was awesome to see you people out there. Now it is day-off, which means travel-day, we are riding down to San Marcos, California to play there Monday night.

I used to live in Los Angeles some years ago and I am really looking forward to go back to my old hometown April 8. We play at Whiskey A Go-Go that night with DORO. That day our new album World Domination is released in USA, and I am extremely happy to play in my old neighbourhood at Sunset Strip such a day. We will have a release party at "VooDoo Hollywood" after the show at the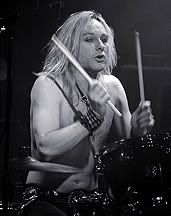 Whiskey, and you are all welcome to join us there. But our real party will of course be the gig at the Whiskey, we will be just as crazy as always, I hope to see you all there at the Whiskey!! Scream a little extra for me, and I will scream for you!!

In the name of Rock´n Roll /Zteff

------------------------------------------------------------------------------------

April 5, 2008

Hi there!
We have just left Seattle and are on our way to the next city - Portland. While in Seattle we just had to go to pay our respect at the Jimi Hendrix grave. He was the guitar guru of all times. We really thought it was awesome to see the place, it seems a lot of people have the same thoughts of this giant of music as us, since they apparently even have had to move the grave due to all the people wanting to pay a visit to the master.

The gig in Seattle was an "all ages" and it was obvious there is a good up & coming metal scene in this city. The audience rocked away and once again we had a gang of about 20 Fatal-heads (as we have started to call our true fans) that have already seen us many times on this tour and yet paid us another visit. These people spend a lot of time and money to ride along with us and we truly love everybody who cares that much about us. You are all awesome!!! As usual there was more or less chaos with all the fans who came to shake our hands and take photos of us at the merch stand. We truly love that part of the show. We even had the honour to meet some people from the legendary band Metal Church, VERY cool !!

We had a really great time at the venue in Seattle, we were very well taken care of by the Irish owner and the crew... as well as the bartenders:-) A million thanks to all of you who were there!!

One down, 11 shows to go. Soon time for the next show - Hawthorne Theatre, Portland, OR. "so lock up your daughter, n´ lock up your wife" cause Fatal Smile is back in town.

Peace, Love & Rock´n Roll,
//Y

------------------------------------------------------------------------------------

April 3, 2008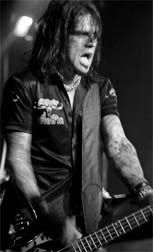 Hey ya all !!!
Alx here - bass player with Fatal Smile. Hope you all doing great. Last night we had an awesome show at the V`Nuks in Milwaukee and a bunch of familiar faces showed up at the show. It was nice to see ya guys out there.
Alright, so today we have a long trip ahead of us going to Seattle from Milwaukee. I woke up at twelve o'clock and went out in the kitchen to grab myself some breakfast, found some cereals and some milk and that was a perfect way to start off the day. Usually we have those greasy sleazy burgers or some other fried shit. I started out the day doing some workout with the dumbbells listening to Britny Fox; the drummer of Doro's band, Johnny Dee's old hair band from the eighties. We just passing through the Mount Rushmore and onto Crazy Horse next…soon we gonna have a stop for the day to get ourselves some dinner and a hotel for the night. It's kind of crowded on the bus but I love it… We are all like a big huge family right now and all of the guys are cool. We're planning to do a trip to Jimi Hendrix grave when we get to Seattle on Friday, that's gonna be a real killer moment I guess!!!!!!!!! Gotta go take some pictures and experience some American History!
OK back on the bus after checking out the Crazy Horse memorial in the black hills in south Dakota.
Here´s a pic of us, Doro, crew and all in front of the sculpture in progress. Only photographer/guitar player Y is missing on the pic.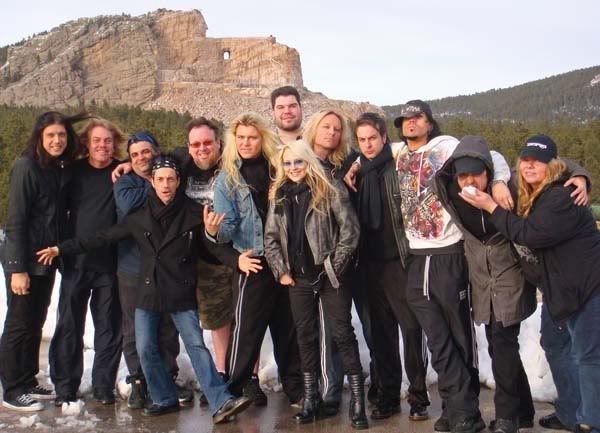 Signing out, have a good one // Alx

------------------------------------------------------------------------------------

April 2, 2008

Hello there!

This is Y from Fatal Smile checking in on this blog. We played Vnuks in Milwaukee yesterday; that was really nice since I was there and played on the Fatal Smile - Beyond Reality US Tour in 2003. So that was a few years ago, yet the owner remembered us. That felt really nice. The audience was awesome, and we had many fans that came up to us and told us they have already seen us three or four times on this tour only and that they are sort of riding along with us. That is an extraordinary feeling and we deeply and sincerely appreciate anybody making this effort. We appreciate all of our fans of course, but it is so huge to have somebody telling us that he or she took vacation and spent it on tour with us. Some had developed photos they took on the previous show and wanted us to sign their photos. Some had driven 14 hours just to come to this show to see us. RESPECT !!!

We are totally enjoying to ride with DORO and her band and crew. I don´t think I have ever met a bunch of people more humble at one place at the same time as at this very bus. They are all very cool!!

Some people ask about my guitar, and just so you know, my guitar is the best in the whole World! Nobody has a better guitar than I do :-) It is a Gibson Les Paul Custom from 78 and it is the apple of my eye. I would never trade it for anything in the World, not anything and that is just that!! I simply love it!!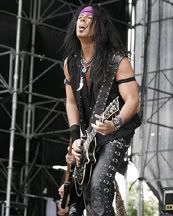 We just had a day off and no matter how nice it is to meet fans and kick ass on stage we just have to charge our batteries a day every once in a while. But usually our day-offs are not really day-offs but travel-days. So usually when there is a date in the calender when we don´t play, we are riding that bus for hours and hours. Doing whatever one can do on a bus. Drink coffee, read a book, sleep. Sometimes we are lucky and get to spend a night in a hotel instead of the tour bus. That is nice cause then we get some privacy, not much of that on a bus with 12 people mashed up against each other in that small place a bus is. And, at hotel rooms there are showers. Not any of those at a bus. Also it is very nice to go to a real gym and not just work out with the dumbbells we brought on tour. Makes the packing heavier but it is nice to stay in shape.

The next gig is in Seattle and we are really looking forward for that. We have some die hard fans there and it is just gonna be so FUN to kick some serious ass with them!!

Stay safe & see ya on the road!!

Peace & Love,

// Y

-----------------------------------------------------------------------------------------------------------------------------

March 30, 2008

Hey People!

Nice to meet you all !! My name is Blade and I am the singer in Swedish heavy metal band FATAL SMILE. We are now touring the US with German metal goddess DORO. We hear a lot of KNAC.com listeners who have not met us yet want to learn more about us. And those of you awesome rockers who have visited us at our shows want that too. So we are gonna send you some reports from our tour at this blog and try to let you guys know us a little better.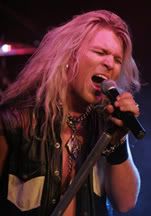 This is actually our second US tour this year. We started out beginning of February with our heroes in W.A.S.P. and went with them for about a month. Those guys rock and it was an honour to support Mr. Blackie Lawless on the Crimson Idol Tour. There are some truly cool guys in that band. We then had a few days off between tours, and we spent those days here and there in Los Angeles, Las Vegas and New York. March 22 was the start date for the next US tour, this time with DORO. We are riding on the same nightliner as her and her band, and we can assure you all that Miss Metal of Germany is a really cool cat.

We had some problems in the beginning of this tour since there was some sort of misunderstanding in the line of information to the venues. This meant we were not on the flyers or the venues' webpages, but we are for sure here people, on tour with DORO. So wherever you see a sign saying DORO is playing, be sure we are right there with her. We have people working their butt off to get the right information out to you guys, but sometimes information travels slow. To get the correct information on where we are playing you are most welcome to visit our fatal webpage www.fatalsmile.com. To those of you who will visit our shows, please come and talk to us after the show. We are hanging at our merch stand each night, and we are very approachable, so come say hello.

We are of course at My Space, and we love to hear from you!! We try to respond to as many as we possibly can www.myspace.com/fatalsmile1.

Since being on tour means you are not sure when you get an Internet connection, I don´t know if I will be able to get back to you every day, but as soon as I am connected, I will reach out to you!! Stay tuned to KNAC.com and click back in here every now and then to find out what is going on in the World of Fatal Smile!! See Ya soon!!

*Blade

Doro/Fatal Smile Tour Dates:

Tue, 4/01/08, Cudahy, WI, Vnuk's Lounge
Fri, 4/04/08, Seattle, WA, Studio Seven
Sat, 4/05/08, Portland, OR, Satyricon
Mon, 4/07/08, San Marcos, CA, Jumping Turtle
Tue, 4/08/08, West Hollywood, CA, Whisky A Go Go
Wed, 4/09/08, Tempe, AZ, The Clubhouse Music Venue
Fri, 4/11/08, Houston, TX, Scout Bar
Sat, 4/12/08, Fort Worth, TX, Ridglea Theater
Sun, 4/13/08, San Antonio, TX, White Rabbit
Tue, 4/15/08, Saint Petersburg, FL, The State Theatre
Wed, 4/16/08, Fort Lauderdale, FL, Culture Room
Fri, 4/18/08, Nashville, TN, The Muse

Stay tuned for more installments of the tour blog, and catch Blade when he phones into KNAC.com Saturday, April 5 at 4:00pm Pacific Time.



*Photos courtesy of Helena Larsson




Please log in to view RANTS

If you don't have a username, click here to create an account!