Dominique Tarle The Making Of Exile On Main Street (Rolling Stones Photograph Book)


By Phyllis Pollack, Contributor
Friday, March 29, 2002 @ 12:23 AM


| | | |
| --- | --- | --- |
| | | (Genesis Publications) |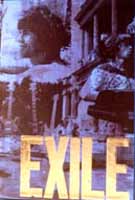 Photographer Dominique Tarlé has documented the recording of the masterpiece album by the Rolling Stones, Exile On Main Street, thirty years after its release. The result, The Making Of Exile On Main Street, is a leather bound book, published by Genesis Publications, lushly filled with up close and personal shots of the Stones in various states of consciousness. While serving as a showcase for Tarlé's photos, the tome is also dense in text, featuring interviews with many of those who were present, including members of the band and some of those who worked for them during that period. The book also includes reprints of the lengthy 1971 Rolling Stone interview with Stones guitarist Keith Richards, written by Robert Greenfield, author of the book, Stones Touring Party, about the group's 1972 S.T.P. tour. Most of the tracks that comprise Exile On Main Street were recorded at the Villa Nellcote, a mansion facing the sea on the French Riviera. Stunners on Exile that were recorded there include such classics as "Happy," "Tumblin' Dice" and "Sweet Black Angel," an ode to black activist Angela Davis, while the memorable "Sweet Virginia" was an outtake from the indelible Let It Bleed. According to producer Andy Johns, "at least two-thirds" of Exile was recorded there. Built in 1899, the Villa Nellcote was rented by Keith Richards, who had fled England, in response to the large amount of taxes the government wanted from members of the band. The Stones had to be out of the country by April 5, or the British government would have confiscated their funds. Nellcote became the unlikely refuge for the group. As a result of the legendary Exile, Tarlé explains, "Nellcote has become like a monument, a monument to rock and roll." After looking for a suitable place to record, the Stones decided to have a studio built in Nellcote's basement, ensuring that the often-elusive Richards would be accessible. The Stones had a mobile studio in a truck parked outside, which was later immortalized in Deep Purple's track "Smoke On The Water." In the midst of various electrical problems, Stones crew members illegally wired the electricity, so that it would bypass the meter at the house, and instead of using their own electricity, the power that was generated and that was used in the house and in the truck's mobile studio, came from a nearby railway, where the crew had hooked the line coming into the house. The band recorded in the basement, and it was always a matter of who was around at the time, as far as who was laying down tracks. If two or three of the Stones were around, they'd go down there and work. The late keyboardist Nicky Hopkins explained the method used to record the tracks that would appear on the double album. "We were recording in the basement with the mobile truck outside. It was very much a professional studio. They have 8 or 16 track television monitors so they can see what is going on downstairs. The music is actually made in the basement, and the knob sliding is done outside."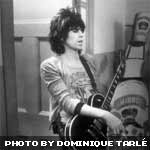 According to Richards, the house had served as "the Gestapo headquarters during the war," explaining why the floor vents in the basement were decorated with swastikas. In one passage of the book about the basement, Tarlé remembers, "I found a box down there with a big swastika on it, full of injection phials. They all contained morphine. It was very old, of course, and our first reaction was, "If Keith had found this box." So one night we carried it to the end of the garden, and threw it into the sea." Among the amazing stories in the book was when Keith Richards buried his Tuinals to hide them from the police when he crashed his car. "I spun a yarn about this mysterious Ferrari with Yugoslavian plates," Richards would later explain in 1990, when describing that encounter with law enforcement. Despite any accounts of drug use, two of those in the book, who visited Nellcote, credit Richards with intentionally dissuading them from ever using heroin. The album was produced by the late Jimmy Miller, who also produced albums by groups including Motorhead and Traffic. Studio engineer Andy Johns describes "the primitive set up" used to record the tracks at Nellcote, a far cry from the digital trick bag that is available to musicians today. "Keith was the whole thing," John says. Given the conditions described, it seems amazing the band thrived musically at Nellcote. The sweltering heat and humidity in the basement was so intense that it even caused caused guitar strings to expand and go out of tune. Drummer Charlie Watts' patience never seems to falter throughout it all. Looking back on how he had miked Watts' percussion, Andy Johns would even later ask himself years later, "What was I thinking?" Belatedly, Keith's love and deep knowledge of country music is finally given attention in Tarlé's book. Richards' contribution on the Hank Williams tribute, Timeless, undoubtedly tilted the hand in regards to its Grammy win this year for Best Country Album. Certainly fanning Keith's flame at Nellcote was the presence of the late Gram Parsons, the guitarist who ushered in the country rock movement of which he became a patron saint. There are numerous photos in the book of the two together at the house. In the book, Richards is quoted as having said during the Nellcote period that James Burton was his favorite guitar player. Thirty years later, Richards would induct Burton into the Rock And Roll Hall Of Fame, along with keyboardist Johnny Johnson, who Richards sought out in the wake of filming Hail, Hail, Hock And Roll, A Tribute To Chuck Berry. Among those seen in Tarlé's book is Eric Clapton, who had painstakingly picked out a guitar as a gift for Richards that he came to the house to deliver. There are also photographs of the late Nicky Hopkins, and the sixth Rolling Stone, the late Ian Stewart. In its pages, there are many images of Richards' longtime partner, Anita Pallenberg, as well as Tarlé's stunning portraits of Bill Wyman, who left the band in 1992. Mick Jagger, who married Bianca during this period, is seen in the book with the only woman he ever "legally" married. Although not photographed for the book, there is an account about John Lennon, who threw up as he departed from the house, after a forty-five minute visit with Richards. Exile on Main Street remains a musical testament to the incomparable legacy of the Rolling Stones. For those who can afford this pricey book, it's a must-have for those who want to re-discover the Exile period of the Stones. The book can be ordered by calling Govinda-Gallery at (800) 775-1111.




Please log in to view RANTS

If you don't have a username, click here to create an account!






CRADLE OF FILTH Existence Is Futile

BEAST IN BLACK Dark Connection

MASSACRE Resurgence

DREAM THEATER A View From The Top Of The World

JAY JAY FRENCH Twisted Business: Lessons from My Life in Rock 'N' Roll

BLACK LABEL SOCIETY, PRONG And OBITUARY In Portland, OR With Photos!

GEMINI SYNDROME 3rd Degree - The Raising

DORO/WARLOCK Triumph And Agony Live

BETWEEN WORLDS Between Worlds

ALCATRAZZ V

BEHEMOTH Sventevith (Storming Near the Baltic) Reissue

ALICE COOPER, ACE FREHLEY In Nashville, TN With Photos!

CARNIFEX Graveside Confessions

BLOOD RED THRONE Imperial Congregation

GUS G. Quantum Leap

BILLY IDOL The Roadside EP

AVATAR, MAGIC SWORD In Houston, TX With Photos!

APRIL WINE, MONKEYJUNK At The Ottawa Bluesfest

MINISTRY Moral Hygiene

CRYPTA Echoes Of The Soul

SKILLET In Houston, TX With Photos!

Immortal Axes: Guitars That Rock Book

IRON MAIDEN Senjutsu

GRINDER BLUES El Dos

GEORGE LYNCH Seamless Review #2

IN THIS MOMENT, BLACK VEIL BRIDES In Houston, TX With Photos!

WARLANDO Festival 2021 Photo Gallery

KISS In Ridgefield, WA With Photos!

LAURENNE/LOUHIMO The Reckoning

TREMONTI Marching In Time

ROCKLAHOMA 2021 Day 3 Photo Gallery

ROCKLAHOMA 2021 Day 2 Photo Gallery

ROCKLAHOMA 2021 Day 1 Photo Gallery

CARCASS Torn Arteries

SETH La Morsure de Christ