theStart
Shakedown!


By Frank Meyer, Contributing Editor
Wednesday, December 5, 2001 @ 3:53 PM


| | | |
| --- | --- | --- |
| | | (The Label) |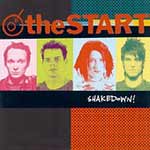 Despite the buzz in the metal community on this Los Angeles band, theStart's debut effort, Shakedown!, is surprisingly new wavey and hardly what I'd call heavy. Label aside though, this is a pretty cool album, though I doubt most headbangers would make it past track two. Featuring Aimee Echo and Scott Ellis from disbanded Hollywood industrial-goth-metalheads Human Waste Project and a guy from Snot, the Start specialize in hard edged dance music with hard rock overtones. Songs like the title track, "Gorgeous," and "Communion" would fit nicely of a Missing Persons album or a Human League reunion effort but would surly be scoffed at by serious heshers.

However, we all know that the face of rock is changing and that metal is not always the guitar based, four on the floor beast it once was. Just ask Rob Zombie or Mr. Durst, both of whom are making millions by tweaking the genre to please fans of alternative, hip hop and dance music. Songs like "Melt" and "Hang On Me" have little in the way of riffs and lean heavily on staccato rhythms and airy vocal lines. Not exactly Ozzy but they do what they do well. Hell, "Dirty Linen" sounds straight out of the Duran Duran songbook!!! But you know what? That ain't necessarily a bad thing. Just ask The Rack or your girlfriend, both of whom will get all starry eyed and swoon while telling you how rad and dreamy John Taylor and Simon LeBon wer back in the day. Hey, to each their own, right? I'll take Slayer or Ozzy over theStart any day, but if I was forced to hang at a dance-a-teria all night and take some Ecstasy I bet I'd start digging this album. Sometimes synths aren't so bad…..sometimes….in small doses…

** 1/2






Please log in to view RANTS

If you don't have a username, click here to create an account!






WARRIOR SOUL Rock 'N Roll Disease

WHITESNAKE Flesh & Blood

CHEAP TRICK In Houston Photo Gallery

MICHAEL SCHENKER FEST In Worcester, MA

SLAYER, LAMB OF GOD, AMON AMARTH & CANNIBAL CORPSE In Columbia, MD

SUNN0))) Life Metal

Head Bangin' Radio Book

VENOM INC. In Ottawa, Canada

VIXEN In New Bedford, MA

ARCH/MATHEOS Winter Ethereal

A NEW REVENGE Enemies & Lovers

RINGWORM "Death Becomes My Voice"

AMON AMARTH Berserker

SOTO Origami

OVERKILL, DEATH ANGEL, MOTHERSHIP In Cleveland, OH With Photos!

POSSESSED Revelations Of Oblivion

STEEL PROPHET The God Machine

THE DAMNED THINGS High Crimes

CRADLE OF FILTH In Dallas, TX

ANTHEM Nucleus

DIAMOND HEAD The Coffin Train

MIKE TRAMP Stray From The Flock

HALESTORM In Salt Lake City, UT With Photos!

ALLEGAEON Apoptosis

FALLUJAH Undying Light

JOHN 5, JARED JAMES NICHOLS In Anaheim, CA With Photos!

L.A. GUNS In New Bedford, MA

...AND JUSTICE FOR ART – Stories About Heavy Metal Album Covers – Volume 2

THE END MACHINE In Los Angeles Photo Gallery

TRUTH CORRODED Bloodlands