theStart
Shakedown!


By Frank Meyer, Contributing Editor
Wednesday, December 5, 2001 @ 3:53 PM


| | | |
| --- | --- | --- |
| | | (The Label) |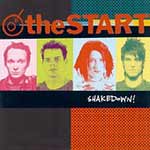 Despite the buzz in the metal community on this Los Angeles band, theStart's debut effort, Shakedown!, is surprisingly new wavey and hardly what I'd call heavy. Label aside though, this is a pretty cool album, though I doubt most headbangers would make it past track two. Featuring Aimee Echo and Scott Ellis from disbanded Hollywood industrial-goth-metalheads Human Waste Project and a guy from Snot, the Start specialize in hard edged dance music with hard rock overtones. Songs like the title track, "Gorgeous," and "Communion" would fit nicely of a Missing Persons album or a Human League reunion effort but would surly be scoffed at by serious heshers.

However, we all know that the face of rock is changing and that metal is not always the guitar based, four on the floor beast it once was. Just ask Rob Zombie or Mr. Durst, both of whom are making millions by tweaking the genre to please fans of alternative, hip hop and dance music. Songs like "Melt" and "Hang On Me" have little in the way of riffs and lean heavily on staccato rhythms and airy vocal lines. Not exactly Ozzy but they do what they do well. Hell, "Dirty Linen" sounds straight out of the Duran Duran songbook!!! But you know what? That ain't necessarily a bad thing. Just ask The Rack or your girlfriend, both of whom will get all starry eyed and swoon while telling you how rad and dreamy John Taylor and Simon LeBon wer back in the day. Hey, to each their own, right? I'll take Slayer or Ozzy over theStart any day, but if I was forced to hang at a dance-a-teria all night and take some Ecstasy I bet I'd start digging this album. Sometimes synths aren't so bad…..sometimes….in small doses…

** 1/2






Please log in to view RANTS

If you don't have a username, click here to create an account!





STEEL PANTHER In Portland, OR With Photos!

AMARANTHE Helix

SOILWORK Verkligheten

THE THREE TREMORS The Three Tremors

IRON MAIDEN Album By Album Book

ALTITUDES & ATTITUDE Get It Out

FLOTSAM AND JETSAM The End Of Chaos

WARRIOR SOUL In Ottawa, Canada

BILLYBIO, THY WILL BE DONE In Ottawa, Canada

ALCATRAZZ Parole Denied: Tokyo 2017

VOIVOD The Wake

HALESTORM, IN THIS MOMENT, NEW YEARS DAY In Orlando, FL With Photos!

ACCEPT Symphonic Terror - Live At Wacken 2017

GENERATION AXE Tour In Clearwater, FL With Photos!

JOE SATRIANI In Sydney, Australia

Modern Art Featuring Ted Poley

HEAVEN'S TRAIL Lethal Mind

METAL CHURCH Damned If You Do

TED NUGENT The Music Made Me Do It

FIVE FINGER DEATH PUNCH In Portland Photo Gallery

GHOST In Inglewood, CA With Photos!

ASHES OF ARES Well Of Souls

STRIKER, SKULL FIST, NO RESPITE In Essen, Germany With Photos!

UNEARTH Extinction(s)

WITHERFALL A Prelude To Sorrow

ARCHITECTS Holy Hell

RED DRAGON CARTEL Patina

ARTILLERY The Face of Fear

REVOCATION The Outer Ones