Hemoptysis - Who Needs A Shepherd?


By Charlie Steffens aka Gnarly Charlie, Writer/Photographer
Tuesday, June 9, 2009 @ 4:16 AM


| | | |
| --- | --- | --- |
| | | Lack Label Records |
Blasting out of Phoenix is a four-piece metal explosive called Hemoptysis. Who Needs A Shepherd?, the band's debut EP, flaunts similarities to Megadeth in technical prowess and ferocity, sporting death metal flavors from every region, particularly Sweden. The EP is five blasting songs of speedy, whip-lashing bliss—sonically akin to a nocturnal emission.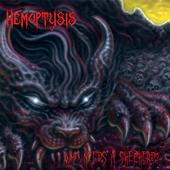 The captivating "Shadow of Death" showcases the growling rasp-vocals of frontman/guitarist Masaki Murashita and displays a reckless, while precise, exchange of dueling guitars over a killer backdrop of bass and drums. Every track burns with a guitar-heavy, blackened-by-hellfire sound which will woo the new breed and old schoolers alike. Hemoptysis could be labeled as a "no label, extremely talented, son-of-a-bitch of a metal band from Arizona." Buy this album or download it a track at a time.
* * * *
Purchase your copy of Who Needs a Shephard? in the KNAC.COM More Store now. Click here.




Please log in to view RANTS

If you don't have a username, click here to create an account!





BARONESS Gold & Grey

THE HOLLYWOOD VAMPIRES Rise

HATE Auric Gates Of Veles

SLAYER, LAMB OF GOD, AMON AMARTH, CANNIBAL CORPSE In Ottawa, Canada

MAJESTIC DOWNFALL, HELEVORN, NORILSK In Ottawa, Canada

L.A. GUNS The Devil You Know

D-A-D A Prayer For the Loud

ALICE IN CHAINS In Dublin, Ireland

DEATH ANGEL Humanicide

DORO, METAL CHURCH In New Bedford, MA

THE END MACHINE The End Machine

FLESHGOD APOCALYPSE Veleno

WARRIOR SOUL Rock 'N Roll Disease

WHITESNAKE Flesh & Blood

CHEAP TRICK In Houston Photo Gallery

MICHAEL SCHENKER FEST In Worcester, MA

SLAYER, LAMB OF GOD, AMON AMARTH & CANNIBAL CORPSE In Columbia, MD

SUNN0))) Life Metal

Head Bangin' Radio Book

VENOM INC. In Ottawa, Canada

VIXEN In New Bedford, MA

ARCH/MATHEOS Winter Ethereal

A NEW REVENGE Enemies & Lovers

RINGWORM "Death Becomes My Voice"

AMON AMARTH Berserker