Brian Wheat Does Double Duty: Tesla and Soulmotor


By Mitch Lafon, Contributor
Tuesday, April 16, 2002 @ 9:15 PM


| | | |
| --- | --- | --- |
| | | Guitarist Wheat Alternates His |
Itís been three years since Soulmotorís eponymous debut release, but the band is back with what is being called ďa black, relentless and disturbing work of fierce bloodthirstiness." The new album Revolution Wheel (from Sanctuary) hit the streets on April 9th and I caught up with founding member, Brian Wheat, minutes before he hit the stage for a sold-out show in Hartford with his other band, Tesla. "We recorded Revolution Wheel in my studio over a period of eight to ten months. We took our time crafting the songs. There are no songs on the record that we look back and go, ĎOh, fuck I wish we hadnít done that.í There are no half-finished songs on the record. We felt that every song on the record is a contender," starts off Brian. "The lyrical content on Revolution Wheel is pretty dark and sci-fi. Itís basically a bunch of songs about revolting against people who try to conform you to a common way of thinking, to program you to how society would want you to be. Thereís a story to the whole album, but itís not a concept record. Itís a cohesive record."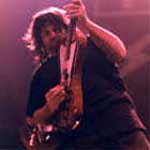 Is Soulmotor an extension of Tesla? "I donít think Tesla fans like Soulmotor. Tesla fans are fanatical and they like Tesla. Theyíre two separate entities. When Tesla broke up, I started a new band and I started moving forward from that day on. Iím completely ecstatic that Tesla got back together, but Iím in no way willing to break up Soulmotor because of it. So, I have to figure out a way for me to do both. Donít compare it to Tesla, because you canít. Itís a new band. I just happen to be in Tesla and in Soulmotor. Theyíre very distinct, and thatís the only way Iíd like to do it," says Brian. "Tesla has a following and a seventeen [year] history, but what will happen to Soulmotor [when we start] recording the third album... It just depends on if the record company wants it. The third album will have some of the same elements, but Iím working with a lot of rhythms, dance beats and all kinds of stuff. I canít tell you what itís going to be until itís done cause I just donít know. I love the freedom of Soulmotor because it allows me to do different things. Hopefully, Soulmotor will be able to re-invent itself with every new album." The new album features Tesla drummer Troy Luccketta, "but the band is Darin Wood (vocals), Tommy McClendon (guitars) and me," cautions Wheat. "Weíll hire a drummer if we go out on tour." As for Tesla, "Thereís a lot of pressure on making the new album. Youíre talking about our first album in seven years. Weíve got to get it right to be viewed as a contemporary viable force alongside Nickelback, Creed and bands like that. We donít want to be a nostalgia act. We want to move forward. We need to do what Tesla does, but with a 2002 approach. Thereís not much difference between Nickelback and us. The only difference is perception and how radio perceives us." The band has also recently released Standing Room Only (which is a condensed version of the double live CD) and Five Man Video Band on DVD. In closing, Brian notes that, "People are real excited about Tesla being back together because itís still the original Tesla. Itís not Skid Row without Sebastian or Ratt without Pearcy or Motley Crue without Vince." For more info visit: www.soulmotor.com and www.teslatheband.com




Please log in to view RANTS

If you don't have a username, click here to create an account!