David Lee Roth and Sammy Hagar Officially Announce Co-Headlining Tour!


By Sefany Jones, Contributing Editor
Wednesday, April 17, 2002 @ 1:36 AM


| | | |
| --- | --- | --- |
| | | "Diamond Dave" and the "Red Ro |
Tuesday afternoon, at a press conference at the open-air Skybar in West Hollywood, California, it was confirmed that two legendary singers have two things in common: they both fronted Van Halen once upon a time, and they now will now both share the same stage this summer, in a major co-headlining tour. The very charming "Diamond" David Lee Roth (flanked by yellow, sparkly cat-women and a few midgets) and the subtler Sammy "The Red Rocker" Hagar sat down at the press conference in front of a score of cameras and microphones, to officially seal the deal: they WILL co-headline a summer tour together, with their respective bands. The two vocalists swapped trademark smiles and amiable banter, as they were both obviously excited about their big announcement. If their camaraderie on stage there was any indication of the tour forthcoming, then it will definitely be a summer event not to be missed! KNAC.COM was on hand to witness this momentous occasion. Although there doesn't seem to be an official tour name just yet, it is mockingly being dubbed the "Sans Halen" tour. Here is a transcription of the conference, followed by the tour dates that have been confirmed so far: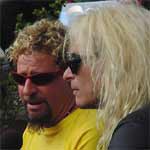 DAVE: Sam, did you ever think you'd be here?
SAMMY: Yes.
DAVE: Actually, Bono called me and said we had to do this for world peace. SAMMY: First of all, I think about… 5 years ago, when the Van Halen part with me ended, first thing I did was try to contact Dave, and he shot me down, but when he came back, these last few months ago, I think it's a great idea.
DAVE: Yes, Sam, you did have the idea first, but the timing was wrong, and now the timing is RIGHT! You know you all love a good scandal, and that's why you're here today, ladies and gentlemen! Actually, this is about the second time and such, Sam and I have met, and we're looking forward to a spectacular tour, something that is a little, uh, a little bit bigger than even just music. [The press begins asking questions] [A question is asked about why the timing is right]

DAVE: Because it's completely unexpected. The worst possible thing, I think, in our industry today, is predictability.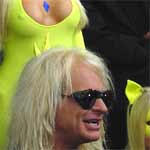 [A question is asked about how to decide who's headlining]

DAVE: We're gonna flip a blonde in the next city. You have to think of it as two title fights with no under card -- this is a co-headlining tour here, so we'll flip a coin, and whoever, you know… heads I win, tails, uh… Sam whichever end, then we'll flip-flop. One will do one night, then the other will top the bill the next night. [A question is asked if Dave will join Sammy's band for a little bit, and then will Sammy go out and jam with Dave's band?]

SAMMY: Not really.
DAVE: This is two headlining acts… two complete headlining shows here.
SAMMY: We're not going to commingle, unless it just becomes that, it's not planned -- we don't know each other well enough for that – (joking) I don't trust him, let's put it that way. (laughs) [A question is asked if they would both be doing Van Halen songs]

DAVE: I'm going to do almost exclusively the Van Halen catalogue… not just do renditions, and not just do, 'oh, here's a variation of it' -- but I have a shit hot band who will serve it large! Large, large, large…
SAMMY: (Joking) And he's gonna do some of the Van Halen songs actually that I did, too… Dave's gonna do those as well… (laughs)
DAVE: Dave actually WROTE those songs! (laughs)
SAMMY: I do… from Montrose through Van Halen, through current, and try to squeeze it all in an hour and a half. I'm used to playing for two and a half hours, so, I'm going to squeeze it in to an hour and a half and play what I think is the best of Van Halen. I may do "Running With The Devil" myself! (laughs)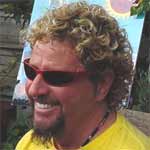 DAVE: Between the two of us, what you have is quintessential Americana, and you couldn't pick a more appropriate time for that. Whether you ever owned any of the records or the albums, whatever, between the two of us -- what do you think it is, somewhere between 80 or 100 million records before bootlegs were sold? -- whether you've owned it or not, you've heard Sammy or my voice tearing out of a pickup truck in front of you at the drive way at the local Burger King for how many fucking summers?! The time is appropriate NOW, because we have a whole busload of people out there who have been waiting way too long for something really good to happen with this music, and we're gonna serve it this summer! [A question is asked regarding uncomplimentary things said about one other in the past]

SAMMY: I think that was before we met. Now that we've met…well, we'll come up with some better things to say about each other. (laughs) I mean, still, it's not like Dave & I are old buddies or anything… I mean, honestly, this is a pretty competitive tour, in my book, I want to do -- try my best to do the best show I've ever done in my life every night, and I'm sure Dave's gonna do that times 10, as well, and I think that's going to make for great entertainment for the fans that come. They're going to see probably the best of us ever, and like Dave said, with all those hits… and I just can't imagine walking away disappointed.
DAVE: In terms of what you see up on the deck up there, there's a rivalry between us -- the audience gets the absolute BEST out of both of us. The rivalry does not extend… any rivalry there may have been -- well certainly… nothing that can't be cured with a little Cabo Wabo tequila! By the way, some of you may not know this out there, -- I'm the one that smells like Jack Daniels.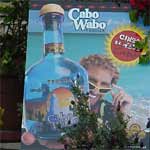 [A question is asked about their first meeting]

DAVE: Short and sweet. It was in an office. What we are about here is a spirit. What we're here is about an attitude. It goes beyond just two guys, it goes beyond a list of songs, it goes beyond the last band that we were in… it's a state of mind and it's a point of view. Perhaps it's a state of mind and a point of view that Van Halen has missed twice – twice.
Sammy and I are like fraternity brothers; we've been through the same shitty hazing. We have a lot in common, actually, though I'm sure neither of us are going to admit it until Cleveland. But I think this tour is gonna last way longer than Marilyn Manson and Courtney Love…
SAMMY: Yeah, I think so! Actually, upon our first meeting that Dave and I had, all we discussed was the creative side: how long do you want to play, how much room do you need on stage, what kind of production are we talking about – 'cause we just try to make it work. All the business side of it and all that… we left it to other people. [A question is asked about where the tour will kick off]

SAMMY: Cleveland.
DAVE: They're just starting to put the schedule and everything together, that's why there was a brief delay… we didn't know if we were gonna have the dates… now, the first twenty shows are in place, and we're gonna go everywhere that'll have us, and some who are still thinking about it!
SAMMY: The question is, where are we going to end the tour? Where is this going to end? That's the question. How long can we do it? (laughs)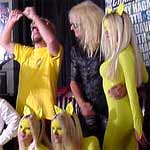 [A question is asked about what the Van Halen brothers think]

DAVE: Well, I'm not sure what the brothers think, and I'm not sure I even really care. I think probably the two biggest words up there on Howdy Doody mountain are, 'Uh oh!' [A question is asked about Michael Anthony]

SAMMY: Well, Mike's been working with me on a side project called Planet US -- that we're going to do in the fall – so, Mike and I have actually been jamming and playing together, and if he wants to come out and play with me, he's welcome, and if he wants to come out and play with Dave, he's welcome. Mike's a great guy and a great player.
DAVE: Mike's a neutral man -- he's Switzerland in this thing. Once this afternoon is over, they're gonna blame it all on him anyway. (laughs) Of course he's gonna wind up out here -- he owns the tequila company -- how wrong is that?! [A question is asked as to the band members for each singer]

DAVE: I have people who are pretty much unknowns. Fellas who come out of, you know, the local club scene and so forth, -- Ray Luzier, James Lomenzo… I gotta good fella [Brian Young] on guitar…
SAMMY: I've got the same band I've had since I left Van Halen, since '96… I've got Mona [Gnader] on the bass -- the queen of rock -- then we've got Vic Johnson on guitar and David Lauser on drums, and Jesse Harms on keyboards. The Waboritas is what they're called.
DAVE: I have a tattoo of Mona here (Dave points to his shoulder)… I'll show you later.
SAMMY: Watch out, Dave, Mona's a badass! Don't mess with her!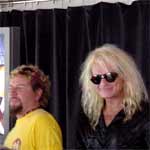 [A question is asked about whether Gary Cherone would join the tour]

DAVE: (Joking) He's doing the Vagina Monologues.
SAMMY: This isn't really about what's leftover from Van Halen, this is really about two guys, that kind of really had a long run with Van Halen, and I think we're both worth of touring together and making a statement, and that's why there's no opening act, you know, and there's no-- we thought about getting an opening act, you know -- Dick Dale or the Beach Boys or somebody like that to add to the party -- but we're just gonna do it.
DAVE: You know, the list of songs that are familiar to you is part of the collective consciousness now, you know, when both teams take the field in the series they're playing classic music that is one or other of our voices here, and like I said, it goes well beyond just what is on that stage -- it's a state of mind, there is a point of view that is 'Life lovin', live large…' I don't know… somewhere between what Jimmy Buffet and Limp Bizkit serves up… A Buffet Bizkit! [A question is asked as to whether they will fit into the scene with the younger bands out there]

DAVE: We don't. I have no intention of fitting in with anything. We are meters. This is something that is beyond category now. It's become it's own genre. It's become it's own style. You know you can look at something, and go, 'Well that's very rough,' and, everyone in the room knows what [that] means, they're just not sure if that's positive or negative. But anyone [who] imitates Sam, you know right away, you go, 'He's doing Sammy Hagar.' Instantly. Whether you're a fan of either one of us, or none in the middle, you know it -- instantly. So it's gone well beyond just a voice or a face or a song.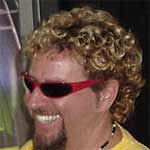 DAVE: Ladies and gentlemen! All joking aside and nonsense aside for at least four seconds, here. Sam, I am delighted to being doing this with you… (shakes his hand)
SAMMY: Likewise…
DAVE: …This is going to be one hell of a summer! You are all invited… ***** Tour dates confirmed at press time: 05/29/02 Cuyahoga Falls, OH Blossom Music Center
05/31/02 Clarkston, MI DTE Energy Music Center
06/01/02 Tinley Park, IL Tweeter Center
06/02/02 Noblesville, IN Verizon Wireless Music Center
06/04/02 Cincinnati, OH Riverbend Music Center
06/06/02 Bonner Springs, KS Sandstone Amphitheatre
06/07/02 Maryland Heights, MO UMB Bank Pavilion
06/08/02 East Troy, WI Alpine Valley Music Theatre
06/10/02 Peoria, IL Peoria Civic Center Arena
06/11/02 Columbus, OH Polaris Amphitheater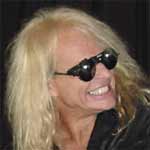 06/14/02 Selma, TX Verizon Wireless Amphitheatre
06/15/02 Dallas, TX Smirnoff Music Centre
06/16/02 The Woodlands, TX Cynthia Woods Mitchell Pavilion
06/18/02 Albuquerque, NM Journal Pavilion
06/19/02 Englewood, CO Fiddler's Green Amphitheatre
06/21/02 Phoenix, AZ Cricket Pavilion
06/22/02 Devore, CA Glen Helen Blockbuster Pavilion
06/24/02 Universal City, CA Universal Amphitheatre
06/25/02 Fresno, CA Selland Arena
06/27/02 Mountain View, CA Shoreline Amphitheatre
06/29/02 George, WA The Gorge

(Pictures by Sefany Jones and Frank Meyer) Photos © 2002 KNAC.COM




Please log in to view RANTS

If you don't have a username, click here to create an account!






Represent! Get Your KNAC.COM Bumper Sticker

Happenings This Week on KNAC.COM

IMPELLITTERI Launches Theatrical "Phantom Of The Opera" Video

ROTTING CHRIST Stream New Track "The Raven"

SAVAGE AFTER MIDNIGHT Set For Debut EP 11:59

WHITECHAPEL Launches New Single, "Third Depth"

UK's BREAKING BANDS FESTIVAL 5 Reveal Final 2019 Lineup

SILVERTUNG Set To Release (But, At What Cost??!) Album

STEEL ENGRAVED Release "Rebellion" Video, Single

KING DIAMOND Announces NYC Release Party For DVD/Blu-Ray, Songs For The Dead Live

ONE STEP FROM THE EDGE Unleash "Believe" Video

VICIOUS RUMORS Announce "Digital Dictator - 30th Anniversary European Tour"

All-Star Metal Band IMONOLITH Reveals First Official New Single "Hollow"

INKCARCERATION Music and Tattoo Festival Announces Massive 3-Day Line Up

ARCHITECTS Confirm North American Tour

THE AVIATORS Launch "Goodbye To The Rain" Video

DEVIN TOWNSEND Announces New Album Empath

BLACKTOP MOJO Release "Prodigal" Music Video

TARA LYNCH Reveals Evil Enough Album Details

GIBSON Announces Limited Edition CHRIS CORNELL Tribute Guitar

DUST BOLT Drop New Video For "Another Day In Hell"

QUEENSRYCHE Drop "Dark Reverie" Lyric Video

Vocalist JANET GARDNER Says Goodbye To VIXEN

BEAST IN BLACK Unveil New Single "Die By The Blade"

WHITECHAPEL To Co-Headline "Chaos & Carnage" US Tour

AT THE GATES Unleash "The Mirror Black" Video

DELAIN Release "Masters Of Destiny" Video

CHILDREN OF BODOM Announce 2019 Hexed North American Tour

GODSMACK Launch "When Legends Rise" Video

THE WILD! Announce Support Dates With BREAKING BENJAMIN, ASKING ALEXANDRIA

DOWNFALL OF GAIA Debut "We Pursue The Serpent Of Time" Video

DREAM THEATER Stream New Track "Fall Into The Light"

"Nedal" Band OKILLY DOKILLY is Back! Kicking Off "Reneducation Tour" On February 1

ROCKLAHOMA Announces Its 2019 Band Lineup

SEBASTIEN Are Back Behind The World With New EP

THE THREE TREMORS Announce First-Ever US Tour

BURNING RAIN Reveals Forthcoming Fourth Album, Face The Music

Inaugural PSYCHO SMOKEOUT Announced: Psycho Entertainment Partners With RidingEasy Records For A Day-Long Celebration Of Reefer And Riffs

TYR Reveals Details For New Album, Hel

RONNIE MONTROSE REMEMBERED: A NAMM 2019 ALL-STAR MEMORIAL CONCERT Event Set For NAMM 2019

GARY HOEY Returns With Neon Highway Blues

JINJER Premiere Video For Track "Perennial"

THE END machine, Featuring GEORGE LYNCH, JEFF PILSON, MICK BROWN, & ROBERT MASON, To Release Debut Album

VARNA Release Lyric Video For "The Craving"

CARMINE APPICE's GUITAR ZEUS Albums Get Reissue

HALL OF HEAVY METAL HISTORY Announces Final Inductees List For 2019 Metal Hall of Fame Gala

PERIPHERY Join DANCE GAVIN DANCE For 15 Date North American Trek

BEHEMOTH Unleash "Ecclesia Diabolica Catholica" Video

STATEMENT Reveal New Album, Force Of Life

SEPTEMBER MOURNING Launch "Glass Animals" Video

BLOODBOUND Announce 2019 European Headlining Trek, "Tour Of The Dragon Empire"

PROPHETS OF ADDICTION Release "Babylon Boulevard" Video

HIGH ON FIRE Cancels 'Electric Messiah Tour 2019' Due To Medical Emergency

MIKE TRAMP Is Set To Stray From The Flock In March

SWALLOW THE SUN Streams First Single "Upon The Water"

CRYSTAL LAKE Debuts "Lost In Forever" Video

HATEVIRUS Reveal New Album Hateful Mind

STEEL ENGRAVED Unleash "Where Shadows Remain" Video

BLACKLIST 9 Announce New Album Mentally Ill, Legally Sane

JOHN 5 AND THE CREATURES Release "Zoinks!" Video

LORDS OF SALEM Drop EP Hell Over Salem

GRANNY 4 BARREL Launches PledgeMusic Campaign For New EP

SOILWORK Release Brand New Song "Stålfågel"; Animated Music Video Available

KILLCODE Drop Final Video For "Show Me" In Their 'Trilogy' Series

SNAKEYES Returns To Studio, Releases RAINBOW Cover "Kill The King"

DIMEBASH 2019 Details Revealed

THE BROWNING Reveal 2019 Tour Plans

IGNITE Release "Nothing Can Stop Me" Video

BUCKCHERRY Announce Leg One Of Warpaint Tour

BATTLE BEAST Unveil New Studio Album No More Hollywood Endings

YOB Announce Spring 2019 Tour With VOIVOD & AMENRA

CANDLEMASS Release New Track 'The Omega Circle'

DIRTY MACHINE Unleash "Against The World" Video

GWAR Announces End Of Year Shows

MALEVOLENT CREATION Unveil The 13th Beast Album

KILLSWITCH ENGAGE, PARKWAY DRIVE Announce Co-Headline "Collapse The World" Tour

DUST BOLT Streams New Track "Bloody Rain"

MEGADETH Announce Iconic Album Reissues For The World Needs A Hero & The System Has Failed

NIGHTRAGE Releases New Video For "By Darkness Drawn"

'KISSWORLD – THE BEST OF KISS Coming In January

CANE HILL Drop "Acid Rain" Video

OVERKILL Unveil New Single "Last Man Standing"

LEGION OF THE DAMNED Unleash New Video For "Slaves Of The Southern Cross"

HORROR PAIN GORE DEATH Launches Free 2018 Label Sampler

CURRENTS Debut "Forever Marked" Video

THE RAVEN AGE Announce New Album Conspiracy

MOB RULES Releases New Single And Video For "My Sobriety Mind (For Those Who Left)"

GHOST SHIP OCTAVIUS Release "Edge of Time" Video

WHITECHAPEL Launches New Single, "Black Bear"

RELAPSE RECORDS Launches Free 2018 Label Sampler

RIVERS OF NIHIL Announces USA Headlining Tour

DELAIN Announce Hunter's Moon< Release

To Join RAZOR, EXCITER As Headliners Of HELL'S HEROES Fest

TETRARCH Announce 'Twisted Dreams' Tour Dates

PRETTY MAIDS Set To Release A Blast From The Past 12CD Box Set