Echobrain Live In San Francisco


By Dan Doyle, Contributor
Wednesday, April 17, 2002 @ 3:33 AM


| | | |
| --- | --- | --- |
| | | Echobrain Live at Slim's In Sa |
"Wow, this really IS going to be HUGE!" That's what I thought as I knocked back another beer at the bar in the back of San Francisco mainstay club Slim's. HUGE. No Question. This had been my 4th time seeing Echobrain in the past 2 weeks. Given that, I was especially looking forward to seeing their "hometown" gig after catching them the week before in such bay area locations such as San Jose, Petaluma, and Santa Cruz. These were the first "warm up" gigs before the band hits the road and takes this motherfucker of a show before the likes of rock and rollers like yourselves... The band took the stage before a sold out local crowd shortly after 10pm. Everyone was already on their feet and completely off the hook after pre-heating at local bars down the street and wading thru the experimental sounds of opening act Helio Sequence, a local two man outfit who played a short, yet intense set to open the proceedings. After some musical cacophony from the speakers, the band slammed right into the opener "Colder World" from their self-titled debut album on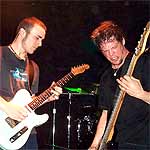 Surfdog Records. Vocalist/Guitarist Dylan Donkin displayed his remarkable set of pipes as former Metallica bassist Jason Newsted emerged from the wings and the crowd went nuts. This was going to be killer. I mean, call the cops, this is Newsted at home, and he's going to hurt you if you're not ready for it!! The band flew right into "The Feeling's Over" and their new video single "Keep Me Alive" followed that, showcasing a set deftly crafted in numerous rehearsals. They flowed effortlessly from one song to another with all the skill of a band that had been together for years. What am I saying...These guys HAVE been together for YEARS! Now that Metallica can no longer stand in the way of their release, these guys showed the crowd that good music cannot be kept down for long. "It feels good to be home," remarked Jason once the crowd died down after the first few songs... "Here's something new…" and proceeded to pound his 5-string bass into the shape of a brand new Echobrain composition entitled "Tommy Boy." This was followed by more new tunes (the bluesy "Dogfight" and the spacy "Jellyhead") in which Jason remarked that this band had the next album "already written" and that they just needed to get back in the studio to lay it down. Other set highlights included the 12-minute jam of "Cryin' Shame" in which Jason Newsted handled both bass and some expert theremin playing both at the same time. Also of note were lead guitarist Chris Scianni's double-necked Zeppelin solo break on "I Drank You" and the crushing "Suckerpunch," in which the band trekked into Metallica country with a heavy impromptu jam at the end that would make Lars Ulrich raise an eyebrow.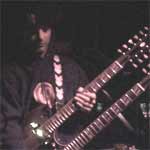 Echobrain sounded at home both electrically and acoustically as they switched between the two without missing a beat. The grandest moment of the night was the second encore when the band played their only cover tune of the night. "This will prove that the best song in our set was written by a 12-year-old," remarked Jason as the band launched into "A Promise Is A Promise" penned by the 12-year-old Ruben Moss of local band, The Moss Brothers, who opened up the previous three shows. This song was their most intense and punishing, and highlighted the pounding rhythm section of drummer Brian Sagrafena and percussionist Dave Borla. In fact Sagrafena's drumming was showcased on many of the songs they played that night, proving that he is going to be a force to be reckoned with for years to come. I spotted the mighty Robb Flynn from Machine Head banging along with the crowd to their new single "Spoonfed," making this evening a definite highlight of the year. All in all, this band is going to be HUGE once people take the time to look past the former achievements of their bass playing god, and focus on the amazing songwriting within this project. I recommend this live show to everyone, as their US tour begins in 2 weeks. Watch out! This band will sneak up and kick you hard in the ass! Get in before everyone else does and starts making fun of you. (Photos by Dan Doyle)
---

Send your live reviews to submissions@knac.com




Please log in to view RANTS

If you don't have a username, click here to create an account!