Lizzy Borden Live In Houston, TX


By Larry Petro, News Monkey
Tuesday, April 23, 2002 @ 5:04 PM


| | | |
| --- | --- | --- |
| | | Lizzy Borden At Fitzgerald's, |
First off, for those Houston area fans that might read this review, I just have one question: What the hell are you people thinking?? I have been to numerous shows in the Houston area since I first moved here 17+ years ago, and I have to say that the turnout for Lizzy Borden's headline show in Houston, Texas on April 11, 2002 was the most pathetic I have ever seen. In Lizzy's defense, this show highlighted a major problem with the metal scene in the Houston area, that being the fact that the clubs here do not promote shows they book. Most clubs do little or no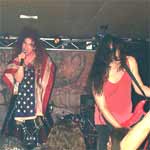 advertising of these bands and then they are the first to piss and moan about the money that these bands want to be able to play in Houston. C'mon club owners, ya gotta ADVERTISE to get people to come! Ok, now that I am off my soapbox I can get on with the review. There were 3 opening bands for this show, all locals. First up was a band called WD40oz and they weren't half bad. They were fronted by a guy who looked like Udo (from Accept) after being on the Jenny Craig diet plan. The band played a good set of original material to a crowd of about 20. Next up was a band called Beast. Now they played a kick ass set of original material along the vein of old school Iron Maiden and Savatage. An awesome set from these guys! By this time the crowd had 'grown' to about 40 or so. Last up and, in my opinion, certainly least of the openers was a band called Dirt. The musical content was good, but the singer was one of those guys that has the need to growl all the lyrics, so much so that I could only make out about 3 words he sang the entire set. It was good if you like that kind of stuff, but not my cup of tea, thanks.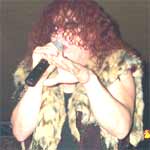 Finally, it was Lizzy's turn to take the "stage." I use the term stage loosely here because Fitzgerald's is a two-story club with stages both upstairs and downstairs. I saw Armored Saint there last year and they played the up stage so I assumed that Lizzy Borden would do the same. Wrong! Lizzy was given the downstairs stage, which was really nothing more than a 20' X 20' slightly elevated platform. My first thought was 'Now how is Lizzy gonna use all of his stage props on this?' Lizzy hit the stage around midnight to a crowd that had dwindled to less than 40, opening the show with "There Will Be Blood Tonight" from the band's latest CD Deal With the Devil. I would not have blamed the band one bit if they had chose not to put any effort into the show given the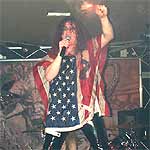 weak turnout, but the band gave it 110% all the way through, using all the props they could muster. The only prop not used during the show was the simulated sacrifice that was supposed to take place. Evidently, no one contacted Lizzy about being the 'sacrifice' so none was used. Lizzy was his usual self, changing outfits every few songs. Setlist was as follows: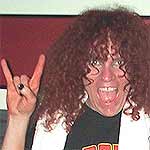 There Will Be Blood Tonight
Notorious
Lord of the Flies
Hell is for Heroes
Rod of Iron
We Only Come Out at Night
Psychopath
Master of Disguise
Deal With the Devil
Bloody Mary/Love You Too Pieces
Sins of the Flesh
Me Against the World
Red Rum
(Encores)
American Metal
Give 'em the Axe
Roll Over and Play Dead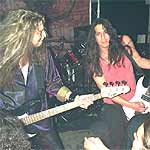 All in all, it was a great show from the boys. My sincere thanks to them for putting on such a killer show, even if it was only for what amounted to a private party. I spoke with the guys after the show and though they tried to be as upbeat as possible, the frustration was evident in their faces. Hopefully this will be a wake up call to Houston clubs to promote their shows and give these bands the audiences they deserve.

(Photos by Larry Petro)
---

Send your live reviews to submissions@knac.com




Please log in to view RANTS

If you don't have a username, click here to create an account!





Recent Headbangers