In our constant hunt for new talent, Gnarly Charlie offers a band he's been following for 2 years. For your consideration: Rusty Eye:
Blurring the lines of classification between progressive rock, metal, and thrash is a Los Angeles-based power trio called Rusty Eye. Having shared stages with the likes of Doro, Katatonia, Vixen, and Moonspell, they own a sound that truly stands out among their contemporaries. The Rusty Eye threesome is Mr. Rust on bass and vocals, Miss Randall on drums and vocals, and Baron Murtland on guitar.
Possessor is the band's follow up to 2006's Stendhal Syndrome, and features guest stars Claudio Simonetti (Goblin, Daemonia), former Grip Inc. guitarist and Tiamat/Lacuna Coil producer Waldemar Sorychta, and Circus Of Power vocalist Alex Mitchell. Possessor embodies the rich musical elements of its predecessors, this time their pushing a much bigger sound with more of the band's uniquely crafted "shock rock" than ever.
"It's not like we wrote the album to score a movie, but it definitely has cinematic qualities that you can imagine things in your mind," says Miss Randall, whom, along with Mr. Rust, are avid fans of Italian horror films, particularly those of director Dario Argento, which feature soundtracks by Goblin.
"The people that are into Goblin are very devoted, and this whole thing started when someone actually noticed that we had the Goblin influence," states Mr. Rust. We never really thought about it because it's a progressive rock band from the 70's that does soundtracks for certain Dario Argento movies. It's completely apart from the rock genre itself. The soundtrack section is always the section in the record store that's always in the back, enclosed, and apart. Playing with Claudio Simonetti from Goblin meant a lot to us because what Metallica is to metal, Goblin is for horror soundtracks."
"The extreme underground metal is an influence for us," Mr. Rust confirms, who cites Iron Maiden bassist Steve Harris as a major influence as well. "We're not trying to be an extreme band, but the extreme bands have influenced a lot of what Rusty Eye is from the very beginning."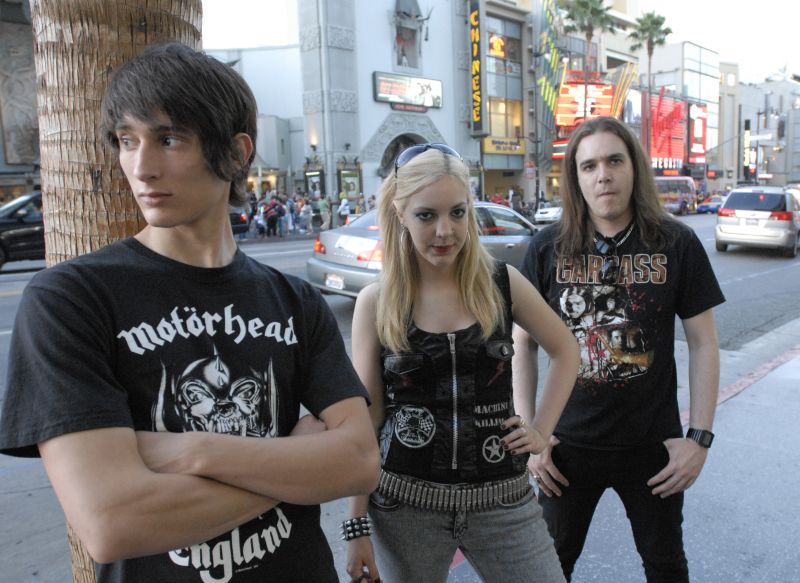 "I play very technically, but I want to play more straight-forward, in-your-face stuff," Miss Randall confesses. She is a drummer who showcases more vocal talent ensconced behind her drum kit than most women of rock who front a microphone.
Mr. Rust illustrates further: "There are two lead singers in the band. We really worked on that contrast on Possessor. Before, we were focusing on the whole progressive side of things, so we were really focused on the musicianship. Miss Randall focused on the whole clean, melodic singing, which eventually led to the third guest on the album, which is Alex Mitchell from Circus of Power. Miss Randall's into a lot of bluesy, hard-rocking stuff and she's very good with the blues singing. For years we were trying to figure out ways of how to incorporate that."
Rusty Eye has released all its albums on its own label Epoche Records.
"We're presenting the real 'do it yourself,'" explains Mr. Rust. "The more goals we achieve, the further the labels drift away from us. Independent to us means when you actually do it yourself."
"I believe a lot of people's doors are closed," Miss Randall adds. "They have a safe bubble. They hear something that is completely out of this world that they've never heard, and it shakes them."
The band has survived fad and fashion since its inception in 1995, staying true to an enduring, uncompromising vision that stands out amidst other acts.
"One of the questions interviewers ask is 'What makes you unique from other bands?' If you actually heard what we do, this is unique by itself," Mr. Rust affirms. "It needs no further explanation. No one else is doing what Rusty Eye does, and we've been doing it for a while. We're still doing what we've always done. It becomes better. We try new things, but the sound remains the same."