An Interview With Coal Chamber's Dez Fafara


By Robert Kreutzer, Contributor
Tuesday, April 23, 2002 @ 10:44 PM


| | | |
| --- | --- | --- |
| | | Vocalist Fafara On The Trials |
So how cool would it be to spend most of your waking hours with your co-workers? Assuming you work with a great bunch, and you love your job -- everybody does, right? -- the idea still isn't the greatest. Dez Fafara, lead singer for Coal Chamber, has had to do it. And it wasn't party-hardy non-stop, not by a longshot. In the summer of 2000, the band -- which also features guitarist Meegs Rascon, drummer Mike Cox, and then-bassist Rayna Foss -- was about to begin what was to be a high-profile tour along with Slipknot, Slayer and Sevendust, to name a few. The band pulled out shortly into the tour, saying publicly that it decided to save all its energy for recording a new CD. True or not, most felt there was a little more going on. It took two more years for that CD, Dark Days, the band's third, to finally be pulled from the cauldron for an early May release. Also, the band is once again clobbering eardrums across the United States along with Drowning Pool and labelmates Ill Nino. Leading up to the layoff, Fafara confirmed that things weren't so cozy in Chamber-land. "We worked harder than most bands in rock and roll, just a non-stop touring machine, and we didn't know it was breakin' us all down as people," said Fafara, talking by telephone. After pulling off the tour, the rumors flew faster than Osama bin Laden through a FDNY station, stories and gossip that band members had been bickering, had gotten into fistfights, and -- yep -- had called it quits. "Nobody even wanted to look at each other anymore," Fafara remembered. "Everybody got off the stage one night and said 'I want to go home.' We never said that in five and one-half years straight. When that was said, everybody went home. But when you get to that point, you also look inside yourself, and you say 'I'll do this or I'll do that, but the bottom line is, we're all doing Coal Chamber." Still, while the band chilled, the rest of the landscape turned upside-down. Corporate sands shifted as its label, Roadrunner, merged with Island/Def Jam. The band parted amicably, at least publicly, from Sharon Osbourne and found new management. Most importantly, Foss, whose monster basslines added to the band's foreboding tone, gave birth to a daughter in 1999, and, after lingering for a couple of years, finally said bye-bye to the rock and roll life and said howdy to a career in motherhood. Nadja Puelen, an assertive fill-in on live shows while Rayna was on maternity leave, was sworn in as a full-time member.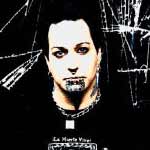 "For the last couple years, Rayna didn't want to do it anymore," Fafara explained. "I'm going to miss Rayna, but I'm really glad she's at home with her child. The last couple of years she just didn't want to do this anymore. That would have been our bad if we had taken her away from her child." Coal Chamber formed in 1994, and along with fellow Southern Californians Korn and a few other bands, helped form the "nu-metal" sub-genre, setting new standards of thrashiness -- for commercial bands at least, borrowing beats and phrasing from hip hop and exploring ever darker themes. Almost reflexively, people compare Coal Chamber to Korn. To the uninitiated, it may seem valid, but the chamberfolk have a true gift for somehow massaging in great hooks somewhere unseen amongst the thrash in a way that seems to have escaped Davis and company. Fafara is puzzled with the constant comparisons to Korn. "I never understood those comparisons," Fafara said. "I understand someone comparing us six years ago, since it was them, us and a few other bands tuning that low, playing something that heavy. Do I respect them? Fuck yeah, I love Korn. They opened the doors for everything you're hearing right now. But me and Jonathan (Davis) have nothing that's the same. Our voices -- not even the same. His whole line of questioning, his lyrical content are so not what I do." Another thing Coal Chamber doesn't do so much is the pissin' and moanin,' that has become a stock-in-trade for much of the nu-metal gaggle. Fafara has decided his band can thud from the stage minus the heap-big anger cliché. But Fafara knows first hand about less-than-golden years. Like so many of the people in his audience, some of his coming-up days rather sucked.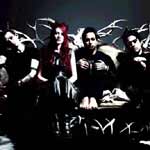 "There was a lot of crazy shit in my childhood, and yes, rock and roll helped me deal with it," Fafara recounts. "My mother and father split up. I got kicked out of the house every five minutes. I had a suicide in my family -- my stepfather killed himself right in front of my mother. But I'm not a bitcher or a whiner. My problems aren't half as big as three-quarters of the kids in the United States, so I don't like to complain about it." Rather than turning a song or show into emotional bulimia, as so many bands have done, Fafara hopes, in some way, to pass on the juice his fans can use to deal with the trying hand life has dealt to so many of them. "We don't want to see kids sitting in their rooms, whining about their lives and getting all bummed out. We say 'get the fuck up and do something.' Just because you're 12, 13, 18 whatever, and someone's coming down on you, put on a good rock album, and then go take on the world 'cuz you can do it." Describing the new CD as being like "a black storm coming over the night sky," Fafara excitedly described the new CD as a "rebellion" against the sound-alike nu-metal now permeating the airwaves, a big extreme F-you to the kind of music usually heard on so-called "alternative" radio stations. "We're really opposed to the rock-radio friendly stuff," Fafara declared. "There's a lot of stuff on the radio that's great, so I don't want to diminish a band just because they get radio airplay. There are a lot of bands on the radio that I love, but there's a whole other side to it that's just driving me up the wall." Thus far, Coal Chamber hasn't been much heard on commercial radio, though "Glow," from the Resident Evil soundtrack is getting some airplay. The band once before, for a short time, found itself in the rotation with a rather out-of-character song, a cover of Peter Gabriel's "Shock the Monkey," done with one Ozzy Osbourne. While he acknowledged that the song probably isn't the group's most representative, Fafara offered no apologies. "Was it successful? Sort of. Do you regret doing something like that? No," said Fafara. "That's a fuckin' dream come true. Every band around us wished they could do a song with Ozzy, I don't care if it's the tiddly-wink song. To say Ozzy and Coal Chamber together, that was just an amazing thing."




Please log in to view RANTS

If you don't have a username, click here to create an account!