I am so sad at the loss of one of the greatest rock singers of all time. Ronnie James Dio passed away at 7:45 am on Sunday May 16 2010 due to cancer.

Ronnie's work with Rainbow, Black Sabbath and DIO is iconic! Besides being the greatest rock singer ever, Ronnie was also a huge animal lover and supporter of local L.A. Animal Rescue Shelters donating his time to raise money for needy dogs and cats.

I was just a kid in 1976 when I picked up Rainbow Rising at Port O Call Records. I was familiar with all kinds of music growing up from ELP to Uriah Heep. Of course KISS became an fanatical attraction until I bought Rainbow Rising that day in 1976. That record changed my life as a musician and a heavy music fan. Rainbow was one mystical progressive gear ahead of Ritchie Blackmore's former band Deep Purple. And here was this unknown singer named Ronnie James Dio. This little italian guy from NY with the voice that would change metal forever for the next thirty years.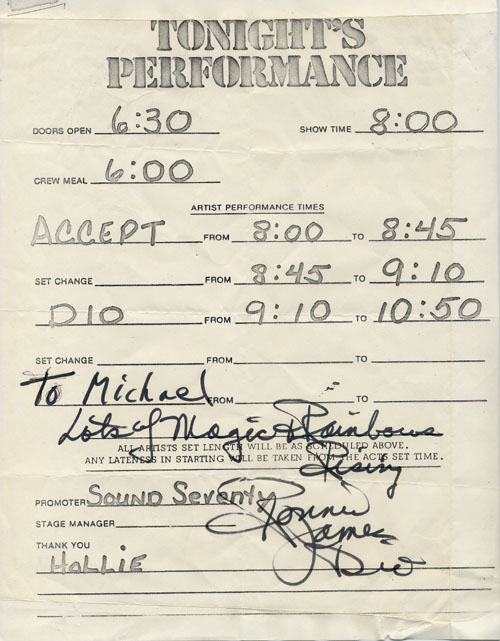 I had the opportunity of crossing paths with Ronnie in Nashville and later in L.A. He always remembered me and was always kind and the perfect gentlemen. Never an ego and never playing the swaggering rock star role. Always friendly just like one of the family or your best friend growing up. How cool, I sat at a bar and bought Ronnie a White Russian and talked for an hour about everything I ever wanted to say to the guy. I talked about Rainbow On Stage for at least 30 minutes. He had nothing but nice things to say about Ritchie Blackmore who was my guitar idol. I about choked on my beer while he talked about how beautifully Ritchie played on "Catch the Rainbow." I thought, "I can't beleive I'm talking to Ronnie Dio." It was electrifying to be near the guy on a bar stool. It was Ronnie's natural habitat.
I've seen Dio every tour since the Holy Diver Tour and was fortunant to see the original Mob Rules Tour. In 1998 we made a road trip to see Dio during the Angry Machines tour play the Toy Tiger in Louisville Kentucky before they tore it down. Seeing Ronnie outside an arena performing in a small rock club absolutley blew my shit away. The place was so packed all you could see was Ronnies head and flashing horns above the crowd. He played for almost over two hours and played everything off Holy Diver. They band ripped up Shame on the Night like it was the last song on earth. After the show we ended up in the parking lot talking to Ronnie and the band and before you know it a long line of people were starting to gather behind us like a roller coaster ride at Six Flags. For the next thirty minutes I stood there in awe and watched Ronnie greet all 200 people. He was still dripping with sweat from the show with his Bass Ale in hand and signed an autograph, took a picture and hugged every person in line. Some people were crying. It was unbeleivable to experience this and being intoxicated at the time, it was not hard to get caught up in the emotion of the moment. Just as Ronnie was saying goodbye to us getting on the bus. This guy in a jeep came flying up beside us skidding like Starsky and Hutch. He jumps out with his instant camera yelling in a Brazilian accent "Oh my God Ronnie Dio my friends back home are never going to beleive this!" Ran over picked up Ronnie in the air like a little kid and bear hugged him. Ronnie was laughing looking over like I hope you guys got my back here. This guy got his photo and fell to the ground bowing to Ronnie like he was a God. And rightly so. In one hundred years Ronnie will be looked back upon as a God as his music and voice will continue to inspire young metalheads long after the master is gone. I'm going to miss Ronnie and most of all I'm going to miss seeing him in concert. Ealier this year I designed Ronnie a silly cartoon get well card and sent it to him to cheer his spirits along with a nice hand written note. I have some closure knowing that I made him smile one more time for the road. Much like my father who passed away recently, RJD died with his boots on at the age of 67. He gave all his entire rock n roll life to his fans and most importanly he honored the music and never let it die. Dio put his pipes in 5th gear and man he always let everyone have it. It's humbling to know Ronnie's jamming with Cozy Powell, Randy Rhoads and Phil Lynott tonight!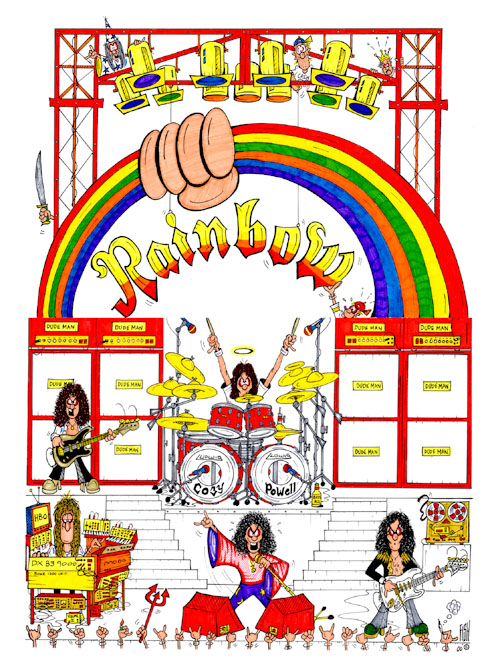 Ronnie James Dio devoted his entire life to music. He's been touring since I was a kid in junior high school and has sacrificed his life to give us music. A friend of Ronnie's told me once, "Did you know Ronnie has lost several dogs at home while he was on the road?" He would be on tour and one of his pets would pass away, they didn't want to bum him out and tell him while he was on the road, so they would wait until he got home. Imagine traveling home from Europe and can't wait to see your dog and find out he passed away while you were gone. That's sad and one of the little personal sacrifices of life on the road that Ronnie made sharing his music with the fans. I am just blown away everytime I think about this. As Ronnie would sing, "Still I'm sad!"
Roll down your car windows and crank some Dio today and remember the good times!
"We rock!"
Fish
http://www.toonsonice.com/