Triumph Greatest Hits Remixed CD-DVD 2 Disc Set


By Michael Fischer, Writer, Cartoonist
Thursday, June 17, 2010 @ 1:53 PM


| | | |
| --- | --- | --- |
| | | |
Canadian Hall of Fame Power Rockers Triumph have just released their new remixed Greatest Hits CD-DVD 2 Disc Set upon the trio's 35th anniversary. This regal deluxe box package features 14 remixed Triumph classics along with a 2nd DVD disc containing 14 videos including a bootleg home video of an early epic fan favorite "Blinding Light Show." The set contains a full color 20 page insert with concert photos, band history, lyrics, and album discography. When drummer Gil Moore and Bassist Mike Levine hooked up with Guitarist and lead vocalist Rik Emmett in 1975, none realized within 8 years they would rise from jamming at a local bowling alley in Canada to playing the California US Festival in 1983 for 500,000 screaming fans along with Judas Priest, the Scorpions, Van Halen, Motley Crue and Quiet Riot.

I first discovered Triumph in 1978. I was the teenage equivalent of the little long haired kid in the movie "Dazed and Confused," crashing backyard keg parties and riding along in the back of older friends GTO's partying and smashing neighborhood mail boxes until dawn. It was in this moment of musical discovery that I stumbled upon "Rock n Roll Machine" one afternoon at the record store. I've been a fan ever since thanks to the incredible song writing mastery of Rik Emmett. From electric to acoustic, his clean classical style mixed with a blues rock edge puts him up there as one of the most underrated guitar players of all time. In 1979 Triumph released their 3rd platinum record entitled "Just a Game" my first year in high school. Songs like "Lay it on the Line" and "Hold On" filled the local FM rock radio airwaves 24/7. (This was when radio stations like KSHE-95 in St. Louis played album rock before media morons like Clear Channel came in and mucked everything all up). I couldn't wait to see them when it was announced they were coming to town. I wore my Triumph 8 track tape out like a hockey puck morning, noon, day and night. So on September 19, 1979 I experienced my first Triumph concert at the historical Tennessee Theater in Nashville.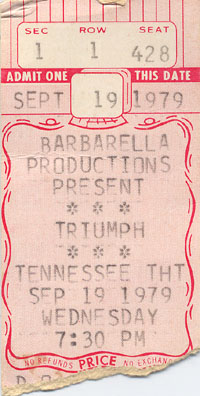 I paid a mere $6.50 for my ticket; a small price to pay for a once in a life time show. I remember before the show standing in line with my friends waiting to get in when Rik, Mike and Gil walked up out of nowhere to greet the fans and sign a few autographs. Talk about cool. On top of the anxiety we had to see the show, the fact the band was were outside acknowledging their new fans electrified the pre show ambiance even more. A few months earlier I had seen AC/DC with Bon Scott, so my expectations for Triumph to equal the kill were pretty high. I wanted the live stage image on the cover of "Rock n Roll Machine" to come out and slay. From the moment the house lights faded and the intro began. Triumph hit the stage and just took over. Power trios have proven that three guys on stage can really do some damage and these guys didn't disappoint. I was absolutely blown away by front man Rik Emmett on stage the first time I saw him. He was about ten feet away from me sporting his signature Gibson ES-137 sunburst axe, that guy looked as if he was born wearing a guitar singing. He dashed about the stage like Steve Harris connecting with the crowd. Their solid stay at home rhythm section of Mike Levine on bass and Gil Moore on drums and vocals makes this band a true original. When they played "Lay it on the Line" it sounded just like the record. Triumph have all the ingredients like volume, tone, dynamics, 12 string guitars, tasty guitar solos, and their own unique brand of vocal harmony's creating a layering wall of original color and sound. Triumph offer spiritual compositions and make beautiful magic through songs of hope. Their lyrics inspire and fuel your faith when you blast them on afternoon car rides with monster rock anthems like "Fight the Good Fight" and "Never Surrender." Between their classic sound and multimillion dollar light show, the experience of seeing Triumph in 1979 is a moment I will never forget.
Skating ahead to 2010, Triumph just reached a new milestone when they were recently inducted into the Music Industry Broadcast Hall of Fame in 2007 and again into the Canadian Music Hall of Fame in 2008 alongside other Canuck rock legends like The Guess Who, April Wine and Rush. In honor of their 35th anniversary, Triumph have just released a new remixed Greatest Hits 2 Disc Set. Whether you like the remixed versions of these songs are truly up to the listener. Some track changes are virtually unnoticeable if you're just casually listening. The new mixes are hotter, more compressed and a little odd if you listen too close. The first track "Allied Forces" comes out of the gate rocking. It almost sounds like an alternative unreleased version with added layering. There is more mustard on the mic effects on the new vocal mixes which you may or may not like if you favor the original recordings. One track like "Follow your Heart" is more bass muddled than other songs because of the way the original recording was set up. Triumph records did not have massive sub bass tones in 1980. Classic progressive bands tune in standard key and end to be more high-end than low end like modern day metal. One great noticeable thing about the new remixes is the strings. The 12 string guitars on songs like "Hold On" are total ear candy. They are bright and nice and crisp in the headphones. Rik Emmett taught me something really cool as a young guitarist, the major scale. I'm still a fan of older analog recordings. Digital recording has become processed straying away from the vintage vibe of musicians plugging straight in and recording live. I think it's important to stay as live as possible in the studio so the material doesn't come out sounding cookie cutter. Back in day, bands didn't need over produced studio trickery and pitch bending on the vocals. They all performed live in the studio. A remix release is also the reward for owning your publishing and master tapes which few major artists do. (Try finding Bob Segar and Def Leppard on iTunes). Triumph handled their business and publishing very well early in their careers which is why they became so successful in such a short amount of time. And great song writing and continuous radio airplay doesn't hurt either.
The 2nd DVD video disc is a nice offering with this package featuring individual videos dating back to MTV when they were actually Music Television. There is also a couple vids of their appearance at the US Festival along with a really killer never seen bootleg home video of "Blinding Light Show" (the only audio track on the entire CD un-dubbed and unpolished which I love.) It's tricky polishing up original mixes, but careful to never over polish an antique. There's nothing wrong with being perfect, but it's nice to hear bands like Triumph remain as they were. Certain music sounds better without the pro audio doctors and producers doing too much to something that doesn't need messing with. Regardless of what they rock on or off ice, Triumph is one hell of a band. I am magically transformed back to 16 years old when I pop on "Just a Game." You can technically remix the sound track of your life, but you can never recreate the feeling of being a kid going to your first Triumph concert.
Be sure to crank up Triumph's new Greatest Hits CD as you fly down the freeway this summer on your way to Wally World. And slap the bonus DVD on for the rug rats in the back and tell them Daddy said the letter "R" stands for "Rock n' Roll Machine!"
Triumph Greatest Hits Remixed CD Disc One...
Track 1. Allied Forces... 5:08
Track 2. Lay it on the Line... 4:06
Track 3. Follow Your Heart... 3:40
Track 4. Magic Power... 4:51
Track 5. I Live for the Weekend... 5:16
Track 6. Hold On... 6:06
Track 7. Just One Night... 3:35
Track 8. Fight the Good Fight... 6:22
Track 9. Spellbound... 5:10
Track 10. Never Surrender... 6:45
Track 11. When the Lights Go Down... 5:02
Track 12. Somebody's out There... 3:58
Track 13. Rock n Roll Machine... 6:59
Track 14. Love Hurts... 4:27
Triumph Greatest Hits DVD Disc Two...
1. Follow Your Heart
2. Lay it on the Line
3. Spellbound
4. Magic Power
5. When the Lights Go Down
6. Hold On
7. Just One Night
8. Somebody's Out There
9. Allied Forces
10. Never Surrender
11. Never Say Never
12. Child of the City
13. Blinding Light Show
14. Love Hurts
+ Music Hall of Fame Induction Footage

Purchase your copy of Triumph Greatest Hits Remixed now in the KNAC.COM More Store. Click here.




Please log in to view RANTS

If you don't have a username, click here to create an account!






BEAST IN BLACK Dark Connection

MASSACRE Resurgence

DREAM THEATER A View From The Top Of The World

JAY JAY FRENCH Twisted Business: Lessons from My Life in Rock 'N' Roll

BLACK LABEL SOCIETY, PRONG And OBITUARY In Portland, OR With Photos!

GEMINI SYNDROME 3rd Degree - The Raising

DORO/WARLOCK Triumph And Agony Live

BETWEEN WORLDS Between Worlds

ALCATRAZZ V

BEHEMOTH Sventevith (Storming Near the Baltic) Reissue

ALICE COOPER, ACE FREHLEY In Nashville, TN With Photos!

CARNIFEX Graveside Confessions

BLOOD RED THRONE Imperial Congregation

GUS G. Quantum Leap

BILLY IDOL The Roadside EP

AVATAR, MAGIC SWORD In Houston, TX With Photos!

APRIL WINE, MONKEYJUNK At The Ottawa Bluesfest

MINISTRY Moral Hygiene

CRYPTA Echoes Of The Soul

SKILLET In Houston, TX With Photos!

Immortal Axes: Guitars That Rock Book

IRON MAIDEN Senjutsu

GRINDER BLUES El Dos

GEORGE LYNCH Seamless Review #2

IN THIS MOMENT, BLACK VEIL BRIDES In Houston, TX With Photos!

WARLANDO Festival 2021 Photo Gallery

KISS In Ridgefield, WA With Photos!

LAURENNE/LOUHIMO The Reckoning

TREMONTI Marching In Time

ROCKLAHOMA 2021 Day 3 Photo Gallery

ROCKLAHOMA 2021 Day 2 Photo Gallery

ROCKLAHOMA 2021 Day 1 Photo Gallery

CARCASS Torn Arteries

SETH La Morsure de Christ