It's early on Sunday evening at Sonisphere-UK 2010, and I'm sitting at a little tree-shaded picnic table with Tony Newton - London-based Voodoo Six's founder, bassist, and chief songwriter.

There's a mammoth heavy metal festival going on behind us in the distance, of course, but for now, that's all tuned out, because I'm trying to get the low-down on the news with Tony's band, who've just played the Bohemia stage themselves at this three-day festival in Knebworth.

And, the multi-talented Mr. Newton has much to say about the goings on since I last saw him when he was but a whipper-snapper playing bass in Dirty Deeds, his first major band (which wound up releasing three albums and opening up for the likes of Iron Maiden and others in both European and U.S. tours in the late 90s and early 00s).

Since then, Tony's moved on to production both in the U.S. and U.K, but his main love is clearly still his own band, and these days that band is the rough, tough, and rocking Voodoo Six, who give us much to talk about - especially since the band is about to release it's third album, Fluke, on September 27 in the UK and Europe. With a brand new singer on board for the album, Luke Purdie, Newton couldn't be more pumped. (He joins drummer Dave "Grav" Cavill, and Matt Pearce and Chris Jones on guitars.)

Not only do we discuss the new story -- with Voodoo Six just off a tour in support of UFO, and headed into a new solo European tour to support the new album -- but we also delve into Newton's unique "back-story" - a roller coaster ride which has been intriguingly composed of equally strong portions of good luck, bad luck, and roll-your-sleeves-up hard work and gumption.

It's a classic hard rock saga - in more ways than one - and it's still a ride in progress:

KNAC.COM: Pretend I know nothing, and tell me about the history of Voodoo Six.

NEWTON: Okay! Well, I formed it a number of years ago. I actually moved to Los Angeles, and I lived there for about a year and a half … and I worked with a couple of producers there. I was always interested in recording, but then I was shown some really cool ways of recording now. And, I tried to form a band there - and I wrote some songs - but I found it really difficult because it's hard to get something formed in L.A. unless you've got money or management, or some form of guarantee. But, obviously, all I had was the songs, so I found it increasingly difficult there to get players.

KNAC.COM: Was that your objective at the time when you went to L.A.?

NEWTON: Well, at the time, I went there, because I formed a record label, and we released a Great White Live album and Jack Russell's solo album which got to #28 on Billboard, and we were the only independent in the Top 50 at the time, so we did really well with it … But then, unfortunately, that fire happened at that time - that fire! And my friend was killed in it, Ty Longley; he was lovely, and a really good friend. Then, there were problems after that and I was just finding it increasingly difficult to put a band together, and all I was able to do was play the Cat Club with a cover band on Sunday evening - and it was ridiculous!

KNAC.COM: So, when you originally went to L.A., you didn't have any finite idea about how long you'd stay?

NEWTON: No! No ..

KNAC.COM: So, you found that it was easier to get something together again back in England?

NEWTON: I think so, yeah, as far as players are concerned. Because I've got a network here; I mean I've known people for years, and I decided to bring the songs back and start with the ideas that I'd picked up recording.

KNAC.COM: Then there was something good that came out of the L.A. experience?

NEWTON: Oh , it was fantastic - It was a great time, a really, really good time, yeah!

KNAC.COM: And you probably learned some things, too, didn't you?

NEWTON: Oh, yeah! Especially about sound recording, and just putting songs together, like how to do drum loops, and write stuff, and it was just a real good way to learn it.

KNAC.COM: You hadn't been producing other people before then had you?

NEWTON: Only really young bands.

KNAC.COM: But right now you're doing production again too, aren't you?

NEWTON: Exactly, yeah. I'm doing other bands, and I'm doing Maiden as well - Live … And I just did Kiss a few weeks ago in Barcelona, and I've got a few other bands I'm working on at the moment.

KNAC.COM: I knew you had done some live recording work with Maiden in the past, and now you're going to be doing it again?

NEWTON: Yeah, I mean basically what I do is I put the live rig together, that they take on the road to record, and then Steve says to me, "Can you mix, this, this, and this one, from this show? And I'll get the files, and I'll mix 'em.

KNAC.COM: Well, he probably trusts you to do it the way he wants it done.

NEWTON: Well, yeah, because I've worked with Steve a lot, obviously, because I was signed to his label [with Dirty Deeds on Beast Records], and then he knows I'm good on the computer side of things, and that's obviously where the mixing is going towards. And when I did the first test mixes for Maiden, he loved 'em, and he knows he can trust me.

KNAC.COM: Yes, probably your taste and everything else.

NEWTON: Well, I mean, we've been good friends for 17 - 18 years.

KNAC.COM: It's really been that long!?

NEWTON: Yeah. Well, I met him playing football - soccer, you know.

KNAC.COM: Well, yes, I remember hearing about that, from him and you, and the time you were in Dirty Deeds. And I remember that it was just a coincidental thing.

NEWTON: Exactly, yeah. I was playing for a team on Sundays, and one of the guys said, "Do you play on Saturdays?" And I said, " Well, no." And he said, "Well, we're looking for some players - why don't you come over next week." And I went over the next week, and there was Steve in the dressing room, which was ridiculous, but I actually felt quite uncomfortable, because I had long hair and a leather jacket, and walked in, and I thought maybe he thought I'd joined the team to get in there, but I didn't even know he was there, and I really didn't want to say anything at all."

KNAC.COM: And that did eventually lead to a lot of things though, and you really do have two musical careers right now, which is a good thing, I'd imagine.

NEWTON: Exactly. It's quite funny, 'cause I just saw Steve the other day … and I never had any designs on mixing other bands; I loathe this stuff. I was told I could write, and obviously mix, for my own band.

KNAC.COM: So, you were never really seeking it out other than helping yourself?

NEWTON: No, exactly. And in early versions of Voodoo Six, it was early days, it was all done on drum loops, and then I got drums added, and though they liked the stuff, the songs, I was getting more attention about the actual production, and that got me work. And then obviously I was able to spend more time in the band, writing some more songs, and I developed it. So then I got some full time members in, and then we're here. We released one album with a different singer, who we knew at the time probably wasn't really fitting, but in order to just get the thing out there, we had to go with it. He was a great singer, but he just didn't really fit what we're doing.

KNAC.COM: I know it really is hard to find the exact right fit.

NEWTON: It is.

KNAC.COM: Because you don't really know for sure at first.

NEWTON: And you play live as well. I mean, obviously you can record and make it sound great, but until you actually go out and play live and tour together in the same bus, that's when you know.

KNAC.COM: You're talking about personality, and compatibility too?

NEWTON: Yes, exactly.

KNAC.COM: So, you released the first album with Voodoo Six in 2007, so tell me how the new album came about now.

NEWTON: Well, what happened, since then, we got off of two tours. And we hadn't played a show; we wrote songs, recorded, and mixed. Mike Fraser mixed it for me - who's done all the AC/DC for years in Canada - because I find it pretty difficult to mix my own band now. Because it just like … Well, I play bass, and I'm always thinking, is the bass too loud, is it not enough? And I can't seem to mix it the same as I would someone else's band when I know what I hear.

KNAC.COM: You're saying it's hard to be objective about your own stuff, right? Because everyone needs an editor, even an editor …?

NEWTON: Exactly, and I find if someone gives me something that's been mixed by a member of the band, I'll be able to tell you which member of the band mixed it. (laughs) And, I didn't want to be drawn into that. And Mike Fraser, he was an associate of our manager (Malcolm McKenzie).

KNAC.COM: Did you know him before?

NEWTON: I'd never met him before, but I went over to Vancouver, and it went well because he really like the stuff. And he mixed half the album - 'cause it was all we could afford at the time - and I mixed the other half. And then we released that, and as I say, we've done a lot over in the U.K. We also toured with Extreme in Europe a year and a half ago.

KNAC.COM: And then you toured with UFO too.

NEWTON: That was pretty recent. What happened was, we wanted to book some live shows with a new line-up. And within a day, they'd both sold out. So, we then, on the strength of that, got asked to do a band called The Union tour, which is Luke Morely - he used to have a band called Thunder. So, we supported them on a U.K. tour. Then, immediately after that, UFO - well, Phil Mogg - heard us on the radio, Planet Rock Radio, and he really liked it, and he asked us if we'd do the tour with them. So, we went straight from The Union to UFO, and we done a few dates in Europe as well - and, we were on it for about six weeks, and it was fantastic!

KNAC.COM: And your style of music is really compatible with theirs too.

NEWTON: Yeah, and I was surprised he actually he said to us, "You'll get more airplay than us."

KNAC.COM: So, was that the first tour with your new singer, Luke Purdie?

NEWTON: Yes, it was.

KNAC.COM: And I think he said he was from Kent.

NEWTON: Well, actually he lives at a place on the coast called Ramsgate, which is near Dover in Kent.

KNAC.COM: That's right on the Channel isn't it?

NEWTON: Yes, exactly right. Ferries go from there to France and Belgium.

KNAC.COM: And that's the famous area of the Dover Cliffs too, isn't it.

NEWTON: Yeah, exactly, the White Cliffs.

KNAC.COM: Well, how did you get him in the band from way out there? He does fit like a glove with the band's sound!

NEWTON: Well, we were increasingly getting fed up with our previous singer.

KNAC.COM: Was it an amicable parting?

NEWTON: Yeah, to a point. There wasn't any argument; he understood when we told him.

KNAC.COM: Well, he was charismatic, though, wasn't he?

NEWTON: Oh, yeah, and he has a great voice, but he has a high voice. He was more like a Steve Tyler, Robert Plant type of vibe … and it worked for some of the songs, and live we got on really good, but it was just that we realized, especially when we started writing the new lot, and I just thought, if we record with this guy, we're stuck again with him for at least another year.

KNAC.COM: Because you thought it was a crucial album and a crucial time for the band?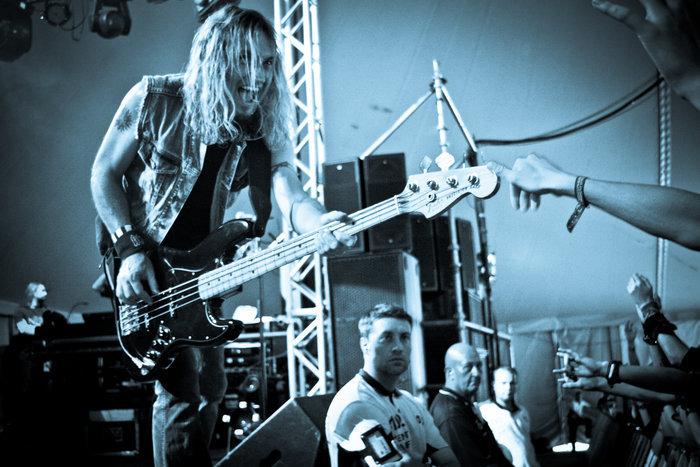 NEWTON: Yes, exactly. And he sort of upset a few of us at this point, and I just sort of said to the guys, "Look, I've written a really strong batch of songs, and I really don't want to waste them by him singing them half-heartedly, I'd rather take a break, even if it takes a year to find the right guy." And then I just went off, and I just scoured the internet, and I found a band I really liked, and then I dug into it further, and they had split up the year before. And I noticed the singer had done a solo acoustic album, and I had our manager contact his manager on his website, and put us together. We met up at little bar in Victoria Station in London, and we swapped ideas - I gave him a CD and he gave me a CD, and we said we'd take the stuff away and chat in a week. And he liked it, and we liked it, and we went into a rehearsal together to find out. We learned half of his songs, and he learned half of ours, and it just worked from the start, it was fantastic! So we just got all the songs together, and we finished it off.
KNAC.COM: How has that affected the songwriting on the new album you're releasing in September?
NEWTON: Well, it's been really easy this time, because I had help from him, whereas before I had no help, and I tried.. … And this time around I was really excited to hear what Luke was bringing in, because I loved what he did. He's someone I trust, and someone I have confidence in.
KNAC.COM: Tell me about some of the other guys in Voodoo Six. I know Gav (Dave Cavill) was also the drummer in Dirty Deeds, and that was probably the first band you were in that ever had any kind of international recognition, wasn't it?
NEWTON: Yeah, I was in bands since I was 14 myself, but it was just struggling around the pubs, and it's not even really worth mentioning. The first time we really got anywhere was with Dirty Deeds, and it was great.
KNAC.COM: And you had some European tours with them, and I know you opened for Maiden in '98 …
NEWTON: And in the U.S. as well, with Dio and Maiden.
KNAC.COM: Yes, and on that subject … what did you think when you heard the bad news about Dio?
NEWTON: Ah, I was so disappointed … He was so lovely, and I met him on almost every tour when he came over, and every single time he'd remember my name and give me a cuddle. What I'll always remember, is we did a gig in McAllen, Texas, near the border of Mexico, and it was one of the best gigs on the tour I thought. And it was his birthday, this day, and we were having a Guinness with him before he went on to sing. And I just happened to say to him, "Don't you ever play 'Kill the King'?" And Pete, the singer of Dirty Deeds, said, "What about 'The Man on the Silver Mountain'?" And he turned around to the band, and said, "Hey guys, do you remember 'Kill the King' and 'Man on the Silver Mountain'? Okay then, we're doing it tonight for these guys." And then he went on the mic and he said "This is for Tony and Pete of Dirty Deeds - great band!" And then he sung the songs for us, and I almost had a tear in me eye. He was absolutely amazing; he was so lovely! I was privileged to have met him and to have been close to him for a whole U.S. tour.
KNAC.COM: Tell me, what really happened to Dirty Deeds, what started going wrong …?
NEWTON: To be honest with you, we did that small stretch with Maiden, and Steve actually said to me it was the best reaction he'd ever seen for a Maiden support band because it's normally a really partisan crowd, and it's very difficult. He actually warned us before we went on the first gig, me first ever big gig, and it was in Italy, and he said, "If they don't like it, and anyone acts crazy, don't worry." And I'd seen it happen, and I was petrified! But actually, it went the opposite and it was fantastic. And on the strength of that is when Steve lined us up to record in his studio. [Barnyard] We mainly recorded the set that we had been playing live, and Steve really liked it, so he decided to form a label. But all of that happened really quick. It was great, but we probably hadn't done the real roots, and it was probably too big a step. And once you come off a Maiden tour, it's very difficult, because you're so used to playing.
KNAC.COM: There's a let down to it?
NEWTON: Yeah …. You go down to doing your own shows, and they're great, but, remember, '99 - 2000 weren't a great time for Rock really …And then we did our second album, and there were problems happening in the studio with the guy running it, and then we did our third album on our own. We did tour again with Maiden in Europe in 2000, and it was great, but when we got back after that, it was just difficult, and I wanted to move away, and that's when I moved to L.A. Pete went back to his old band he was in before Dirty Deeds, and he's still playing, and he's still a great friend and I see him regularly, and Barry moved Brighton on the south coast, and I still see him maybe once a year.
KNAC.COM: You've got Matt Pearce and Chris Jones on guitars with you in Voodoo Six, but Dave Cavill has stayed with you since Dirty Deeds.
NEWTON: Well, what happened was, when I formed this band, after I came back from L.A., I didn't have a drummer, but I felt bad asking Dave, because I didn't want the others to think I'd just got rid of them. But Dave came around one day, and I played him some songs, and, "I love it, I want to do it, it's great." I said, Okay then, let's talk to Pete … but, luckily, Pete didn't like the songs. We've been through a lot together, and I didn't want to upset him, and that was just a thing that happened. So, it's just been a roller-coaster, but the last year and a half since Luke came in, it's really been starting going on the upwards, and it's been great.
KNAC.COM: And now you've got a new album coming out.
NEWTON: Yeah, and we're releasing it in the UK and Europe on a label [we've licensed to] called Powerage, which is tied to Classic Rock Magazine. So, the great thing is, Classic Rock Magazine and Metal Hammer will be on board. There'll be two free songs going out on the cover mount, and, on the strength of that, we're going to tour the UK on our own in October. So, that's what we're working on now … But eventually I'd like to come back to America. I love it, you know, because it's such a great time, and I just think that this band would do really good there as well.
KNAC.COM: The Voodoo Six style is not easy to pigeonhole, so with that in mind, what band of notoriety do you think you'd be most compatible touring with? That might give people an idea of the band's style.
NEWTON: Well, the bands I love, going back, Black Sabbath was one of me favorites, that and AC/DC - they were actually the two big bands for me, and in later years, I liked Rage Against the Machine, Soundgarden, and Alice in Chains. Obviously, I still love the metal - the Maiden and the Metallica - but for me, it's more about the grooves.
KNAC.COM: We've talked about the roller coaster of the music business here - up one moment, and down the next - and your record label is actually called White Knuckle!
NEWTON: Yeah, its' a golden roller-coaster, that's what it is. Yes, I called the label I formed for the band White Knuckle, because it's a white-knuckle ride! You get really excited and get a high, when things are going super, but I never get too excited, because you just know … Well, it doesn't matter how big you are, or what level you're at, it's just that your roller coaster might be bigger.
KNAC.COM: So, when you know, you brace yourself, because you know whatever the feeling is, it may not last?
NEWTON: Exactly, and the more even you can keep it, the better!