Pure Rock Newswire 05/03/02


By Tokemaster General, Contributor
Friday, May 3, 2002 @ 12:36 AM


| | | |
| --- | --- | --- |
| | | A Summary Of News, Rumors And |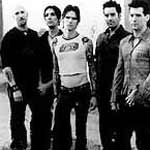 Buckcherry have been working on new material for their next album on DreamWorks Records, with whom the band recently renewed their contract, and are working under a new management firm as well, pushing for release by late summer. They contributed a cover of Willie Nelson's "On the Road Again" to be featured on an upcoming NASCAR compilation disc scheduled for release this month. Singer Josh Todd will appear on the big screen this summer in the Val Kilmer movie, The Salton Sea.

Sammy Hagar will appear on the syndicated radio show Rockline on Wednesday, May 8th. For more information, visit the official Rockline web site. Warlord, featuring their latest addition, vocalist Joacim Cans (Hammerfall), have completed mixing their long-awaited comeback CD, Rising Out Of The Ashes, tentatively scheduled for a European release in late June/early July through Drakkar Records/BMG Entertainment. Skinlab have been officially confirmed as the opening act on the forthcoming Superjoint Ritual tour, which is tentatively scheduled to kick off on June 7th in Atlanta, Georgia. Guitarist Mike Clark of Suicidal Tendencies has dislocated his shoulder in a motocross accident on Sunday, April 28th. He is expected to heal completely and fully recover soon. Suicidal will tour Europe in July. More Marilyn Manson drama: As he is already facing criminal charges for allegedly rubbing his crotch on a security guard's head last summer, he has now been hit with a civil suit by the man, alleging assault and battery, intentional infliction of emotional distress, gross negligence and wanton misconduct. In the course of this action, Manson rubbed "unknown liquids" and "bodily fluid residue" in security guards face, causing the fluid to get in and around his mouth, eyes and nose, according to the suit. He is concerned about being exposed to potential diseases and viruses, including HIV, which is part of his emotional distress claim. The security guard is seeking in excess of $75,000.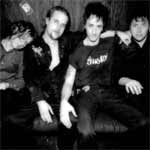 The Streetwalkin' Cheetahs, fresh off their tour with Nashville Pussy and The Reverend Horton Heat, will hop the pond and continue touring over in Europe in support of their latest release, Waiting For The Death of My Generation. The tour dates are: 05/24/02 Kontich, BEL Lintfabriek
05/25/02 Berlin, GER Wild At Heart
05/26/02 Dresden, GER Groovestation
05/27/02 Hannover, GER To Be Announced
05/28/02 Cologne, GER Underground
05/31/02 Halden, NOR DrFeelgood
06/01/02 Skien, NOR Kick
06/04/02 Erfurt, GER Engelsburg
06/06/02 Frankfurt , GER 11er
06/07/02 Seléstat, FRA Festival Lez' arts Scéniques
06/08/02 Stuttgart, GER Beat Baracke
06/09/02 Vienna, AUS Arena
06/10/02 Ljubljana, SLO Orto bar
06/12/02 Worgl, AUT Komma
06/15/02 Marseille, FRA Machine De Coudre
06/16/02 Montpellier, FRA Subsonic
06/17/02 Lazkao, SPA Torrano Bar
06/18/02 Ponferrada, SPA Tarari
06/19/02 La Coruña, SPA Mardi Gras
06/20/02 Bilbao, SPA Azkena
06/21/02 Madrid, SPA El Sol
06/22/02 Benidorm SPA LaCalla Rock
06/23/02 Barcelona, SPA Magic

Steelheart frontman Michael Matijevic is back in action and is putting together a new Steelheart lineup. To get the whole scoop, check out a chat with him hosted by AOL on May 7th at 9pm EST, keyword: Rock Chat. Queens of the Stone Age are embarking on a North American summer tour, which will kick off in Atlanta, GA on May 27th to promote their upcoming new album titled Songs for the Deaf, which is scheduled for a July release, and will feature former Screaming Trees frontman Mark Lanegan andDave Grohl of the Foo Fighters to return behind the drum kit for the tour. Both of them had contributed to the new album as well.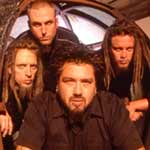 Skinlab have a few upcoming shows:

05/08/02 Huntington, WV The Zoo (w/ My Ruin, Rasclaat, Byzantine)
05/24/02 Reno, NV ARK-A-IK (w/ Existence, Hostility)
05/25/02 Sacramento, CA The Boardwalk
05/26/02 Chico, CA The Senators Theatre (w/ Existence, Hostility)
05/30/02 San Francisco, CA Slims (w/ Unjust, 40 Grit, Hostility)
06/07/02 San Jose, CA Cactus Club Napalm Death are currently working on material for their forthcoming studio album, which they hope to release in late 2002 or early 2003. A possibility also exists that the group will release a split single with Italian punk veterans Raw Power, although this remains unconfirmed at this time. A painting done by Marilyn Manson of comedian Andy Dick in a crucifix position, adorns the cover of Andy Dick & The Bitches Of The Century's self-titled debut album, which is due for an August 20th. Moonspell have some European dates lined up: 05/11/02 Braga, POR Semana Académica da Univ. do Minho
05/17/02 Leipzig, GER Wave Gottik Treffen
05/24/02 Vila Real, POR Queima das Fitas
05/25/02 Castelo Branco, POR Queima das Fitas
06/09/02 POR Festival Broken Stone 3-Barragem do Cabril
06/22/02 Beja, POR Festival da Juventude
07/05/02 Dessel, BEL Graspop Metal Meeting
07/13/02 Weert, NETH BosPop
07/26/02 Valencia, SPA Rock Machina
08/02/02 Gossnitz, GER Open Air 2002
08/25/02 Pombal, POR Golden Rock 2002
09/13/02 Açores, POR Angra Rock Ex-Led Zeppelin guitarist Jimmy Page will serve as a host of the second annual Action For Brazil's children fundraising dinner, which will be held in Fort Lauderdale. May 8, 2002, and feature an "all-star" line-up of music that will include guitarist Yngwie Malmsteen.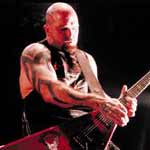 If you have seen Sum 41's video, "What We're All About," then you will have noticed the appearance of Slayer's Kerry King on the guitar solo. Slayer's own video, "Bloodline," has been added to rotation on MTV2 and the band recently won the 'Best BMX Riding Music' award at this year's ESPN Action Sports and Music Awards. Slaves On Dope have two brand new demo tracks, "Go" and "Drain Me," to download at SlavesOnDope.com. They are still seeking a new record deal following their split with Divine Recordings late last year. Superjoint Ritual have apparently done videos for "Fuck Your Enemy" and "The Alcoholik" (off their upcoming May 21st release, Use Once And Destroy) at vocalist Phil Anselmo's house in New Orleans. Flaw have parted ways with band guitarist Jason Daunt as a result of "personal and creative differences." However, despite the departure the band will not miss any of their upcoming touring plans as they plan to continue on as a four piece.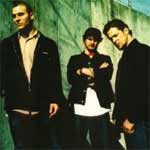 More Echobrain dates: 05/03/02 Urbana, IL Canopy Club
05/04/02 Chicago, IL Double Door
05/06/02 Grand Rapids, MI The Intersection
05/07/02 Indianapolis, IN Emerson Theatre
05/08/02 St. Louis, MO The Galaxy
05/10/02 Cleveland, OH The Odeon
05/11/02 Royal Oak, MI Royal Oak
05/13/02 New Haven, CT Toad's
05/14/02 Boston, MA Paradise
05/16/02 Washington, DC 9:30 Club
05/17/02 Philadelphia, PA TLA
05/18/02 Old Bridge, NJ Birch Hill Night Club
05/21/02 New York, NY Bowery
05/22/02 Raleigh, NC Lincoln Theater
05/24/02 Jacksonville, FL Freebird Cafe
05/25/02 Atlanta, GA Cotton Club
05/26/02 New Orleans, LA Howling Wolf
05/29/02 Houston, TX Engine Room
05/30/02 Dallas, TX Tree's
05/31/02 Austin, TX Steamboat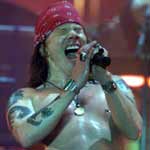 Guns N' Roses will not play the Reading festival in the UK due to "other commitments." GNR are still scheduled to co-headline the Carling Weekend at Leeds on Friday, August 23rd.

Five Pointe O, due to the filming of their video for the track, "Double X Minus," in Los Angeles, CA on Monday, May 5th, the band will miss their two previously scheduled Canadian dates on their current tour with Mushroomhead. The clip is expected to begin airing in late May.

King's X have reportedly been added to the upcoming Dream Theater/Joe Satriani co-headlining US Summer tour, which is scheduled to take place throughout August/September. So far, the following dates have been confirmed:

08/10/02 Los Angeles, CA the Greek Theater
08/13/02 Denver, CO City Lights Pavilion
08/30/02 Clarkston, MI DTE Energy Music Theater
09/06/02 Baltimore, MD Pier 6 Concert Pavilion
09/13/02 Holmdel, NJ PNC Bank Arts Center
09/14/02 Wantagh, NY Jones Beach Electric Wizard's Let Us Prey hit stores in the US this week The band will be heading on tour in Europe with Warhorse in May, and the US with Sons Of Otis and Unearthly Trance in June. Tour dates to be announced. Brant Bjork & The Operators's self-titled album hit stores this week. The former songwriting genius of Fu Manchu and Kyuss unleashed an album full of pop, funk and fuzz. The band will be doing some scattered West Coast dates before heading out for a full-blown tour this summer. Details to come. Blabbermouth.net reports Down's full set list from the group's April 28th show at Birmingham, Alabama's Five Points Music Hall: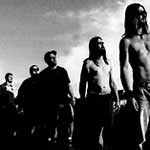 01. The Seed
02. Something On My Side
03. Temptation's Wings
04. Lifer
05. Lysergik Funeral Procession
06. Rehab
07. Ghosts Of The Mississippi
08. Learn From My Mistake
09. Beautifully Depressed
10. Lies
11. New Orleans Is A Dying Whore
12. Stone The Crow
13. Eyes Of The South
Encore:
14. Bury Me In Smoke

Swarm, featuring ex-Death Angel members, drummer Andy Galeon, guitarist Rob Cavestany, and vocalist Mark Osegueda, have lined up the following shows during the next few weeks: 05/04/02 San Francisco, CA United Nations Plaza (Cannabis Freedom Day)
05/10/02 Concord, CA Bourbon St.
05/18/02 Pacifica, CA Octopus Lounge
06/14/02 Sacramento, CA The Roadhouse Nonpoint have lined up the following European dates: 05/18/02 Nurbergring, GER Rock Am Ring
05/19/02 Nurnberg, UK Rock Im Park
05/22/02 Manchester, UK Hop And Grape
05/23/02 London, UK Underworld
05/24/02 Glasgow, UK Cathouse
05/25/02 Donington Park, UK Castle Donnington Nonpoint's new album, Development, is scheduled for a June 25th release through MCA Records.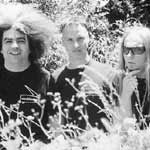 The Melvins announce a few California gigs with Dead Low Tide in support of their 18th album, Hostile Ambient Takeover: 5/21/02 Chico, CA Brick Works
5/22/02 Sacramento, CA The Boardwalk
5/23/02 Santa Cruz, CA The Catalyst
5/24/02 San Francisco, CA Slim's
5/25/02 Los Angeles, CA Troubador

Orange Goblin's Coup De Grace will release in the US on June 25th. The band starts their US tour May 2nd in NYC.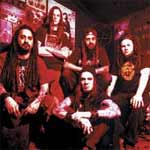 Superjoint Ritual, comprised of vocalist Phil Anselmo (Pantera, Down), guitarist Jimmy Bower (COC, Eyehategod, Down), drummer Joe Fazzio (Demonseeds) and bassist Hank Williams III (Demonseeds), will be touring the US between June 7th and June 30th in support of their upcoming album, Use Once And Destroy, due out May 21st through Sanctuary Records.

Ozzy.com says: "EXTRA! EXTRA! Must See TV! Ozzy will make a walk-on appearance on The Tonight Show with Jay Leno tonight. No idea what he's going to do so it's a must-see!" Jane's Addiction have completed work on their fourth proper studio album, Hypersonic, after less than one month of recording with legendary producer Bob Ezrin (Kiss, Pink Floyd, Alice Cooper). The current lineup of Jane's is: vocalist Perry Farrell, guitarist Dave Navarro, drummer Stephen Perkins, and replacing original bassist, Eric Avery, is Martyn Le Noble. Nevermore will reportedly be recording a cover version of Metallica's "Fight Fire With Fire" for an upcoming Metallica tribute album, due out through Nuclear Blast Records later in the year. Gwar have lined up three shows as part of their first trip to Canada in eight years: 05/01/02 Montreal, QUE Club Soda
05/02/02 Toronto, ONT Opera House
05/03/02 Guelph, ONT Bo Radley's Check out a live 1998 recording of The Gathering's Shrink, which features a duet between vocalist Anneke van Giersbergen and Lacuna Coil vocalist, Crisitna Scabbia at LacunaCoil.com. Sevendust's "Live Again" video will be out on MTV2's Rock Show, which airs Mon - Fri at 3 PM.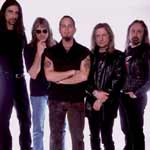 Judas Priest's forthcoming DVD, Live In London, is scheduled for release on July 1st. The track listing is: 01. Metal Gods
02. Heading Out Highway
03. Grinder
04. Touch Of Evil
05. Bloodstained
06. Victim Of Changes
07. The Sentinel
08. One On One
09. Running Wild
10. Ripper
11. Diamonds And Rust
12. Feed On Me
13. Green Manalishi
14. Beyond The Realms Of Death
15. Burn In Hell
16. Hell Is Home
17. Breaking The Law
18. Desert Plains
19. Another Thing Coming
20. Turbo Lover
21. Painkiller
22. Electric Eye
23. United
24. Living After Midnight
25. Hell Bent For Leather

In addition to the live footage, the DVD features behind-the-scenes material, rare footage, interviews, soundcheck footage and more. Godflesh have officially split up following frontman Justin Broadrick's decision to leave the group, according to a message posted at the band's web site. "Justin suffered a nervous breakdown prior to boarding his flight to the US [for the aborted US headlining run]," reads the statement. "Unable to make the trip, never mind perform a two-month long tour, Justin has decided to call it quits. Godflesh is done for. How this affects other projects, tours and recordings is not known. It seems likely that everything will be shelved until a later date. Again, this is official and confirms some of the rumors floating around." Check out pics of Sammy Hagar and The Waborita's performing live at the California Music Awards held at the Henry J. Kaiser in Oakland, CA at RedRocker.com. In other CMA news, Joe Satriani won the award for "Outstanding Guitarist." He also closed out the first half of the show with a powerful double-shot of "Satch Boogie" and "Going Down" (joined by local guitarists Ronnie Montrose of Montrose/Gamma/etc and Dave Meniketti of Y&T). Jeff Campitelli and Matt Bissonnette were holding things down on drums and bass. Suicidal Tendencies have finalized their upcoming European tour schedule: 07/12/02 BEL Dour Festival
07/13/02 Bospop, NETH Festival
07/15/02 Bochum, GER Matrix
07/16/02 Utrecht Tivoli
07/18/02 Cork, IRE The Savoy
07/19/02 Dublin, IRE Music Centre
07/20/02 Blackpool, UK Winter Gardens
07/21/02 Glasgow, UK Garage
07/23/02 UKLondon, UK Mean Fiddler
07/24/02 Colchester, UK Arts Centre
07/26/02 Montcofa, SPA Rock Machina Fest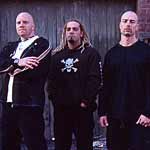 The Step Kings have lined up a handful of new dates in support of their recently released new album, 3 The Hard Way, and they are as follows (with Mushroomhead, E-Town Concrete, and Five Pointe O supporting the first two dates): 05/01/02 Worcester, MA Palladium
05/02/02 Hartford, CT Webster Theater
05/16/02 Cleveland, OH Peabody's
05/17/02 Huntington, WV Stone Monkey
05/18/02 Detroit, MI IRock
05/19/02 Travers City, MI Union St.
05/20/02 Youngstown, OH The Cellar Anthrax has posted pics of John Bush's wedding: Anthrax.com. Ronnie Dio's new album will be released in May, and will begin a US tour on June 1st in Las Vegas. Doug Aldrich (House of Lords, Hurricane) will replace guitarist Craig Goldy, who has prior family commitments.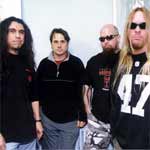 Slayer will reportedly be appearing on actor Jay Mohr's show, Mohr Sports, on ESPN on Monday, April 29th at 12:30 AM EST/9:30 PM PST. Thereafter, Slayer will play the following shows:

04/30/02 San Diego, CA 4th and Broadway
05/01/02 Anaheim, CA The Grove of Anaheim
05/02/02 Anaheim, CA The Grove of Anaheim
05/04/02 Albuquerque, NM Sunshine Theatre
05/05/02 Albuquerque, NM Sunshine Theatre
05/07/02 Lubbock, TX The Pavilion
05/08/02 Dallas, TX Bronco Bowl

It is rumored that in late August/early September, Slayer will tour with Soulfly and In Flames in the US. Clutch will play the following dates: 05/09/02 Wilmington, NC Marz
05/10/02 WinstonSalem, NC Ziggy's
05/11/02 Morgantown, WV 123 Pleasant Street
08/08/02 London, UK The Garage
08/09/02 Marston, UK Bulldog Bash Long
08/10/02 Plymouth, UK The Cooperage
08/11/02 Exeter, UK The Cavern Club Finland's Gandalf, who have been together since 1993 and have only released two full-length albums, 1998's Deadly Fairytales and 2001's Rock Hell, have split up.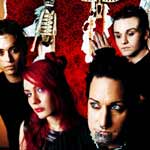 Coal Chamber will be performing live at their record release party for Dark Days on May 7th at the Key Club in Los Angeles. This special performance will be free to anyone who purchases the new album at Tower Records on Sunset Blvd. in Hollywood on the day of its release (May 7th). Doors will open at 8:00 PM, and showtime is 9:30 PM. Entwine's latest recording, Time Of Despair, will be out in North American stores on June 25th. System Of A Down have reissued their double-platinum album, Toxicity, with a DVD enhancement that includes live concert footage of the tracks "Chop Suey!" "Prison Song" and "Bounce." Also featured are the music video for the album's title track and a metallic rendering of the original cover art. The limited-edition release was made available on April 23rd. Gamma Ray's Henjo Richter has turned down the offer to join Helloween. With this decision, the long lasting speculation about the supposed change can now finally be put to rest -- Gamma Ray's current line-up is not undergoing any changes. Kai, Henjo, Dirk and Daniel will get back together in a couple of weeks time to start rehearsing for the upcoming summer festival appearances and are all looking forward to returning to the stage together! Soulbender, guitarist Michael Wilton's (Queensryche) side project, will support vocalist Geoff Tate's (Queensryche) new solo band at the latter's record release party, which is scheduled to take place at the EMP (Experience Music Project) in Seattle on June 22nd. According to Tate's official web site, the show will be followed by a "jam session" with Geoff, Michael and "friends." Tate's self-titled debut is due through Sanctuary Records on June 25th. Guns N' Roses and Slipknot have been confirmed for the UK's Reading and Leeds festivals, which are scheduled to take place between Friday, August 23rd and Sunday, August 25th.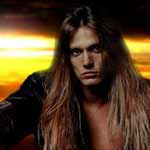 Sebastian Bach has confirmed via his official web site that VH1 has pulled the plug on his Forever Wild show following the airing of episode #13. VHl has instead "offered me a brand new show that would air at 4 PM in the afternoon, but would feature much more commercial videos than Forever Wild, so I am not sure if I am going to take them up on [it]," Sebastian writes. Make sure you check out the forum called "The Cellar" on Down's message board. There are some photos from the bands' recent rehearsals for their upcoming headlining tour. They can be seen here: Down-Nola.com (click on topic). Check out Motörhead's video clip for the track "Brave New World," taken from the group's current album, Hammered, in Real Video here: SPV.de Kelly Osbourne, of the MTV show The Osbournes, has completed work on the track "Papa Don't Preach" with Incubus and will be released this summer on the soundtrack album for The Osbourne's. While a spokesperson said there is no final track list, Kelly said the album may include a song by British rockers Starsailor. "Just songs that mean something to us and my family," she added.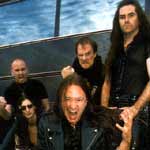 German metal band, HammerFall, is holding a contest where the winner gets to hang out with the band and sing back up on one of the songs for their new album. Check out RockRage.com for details. The Rock And Roll Hall Of Fame And Museum in Cleveland will celebrate rock and roll's 50th anniversary with a new exhibition titled Fifty Years Of Rock And Roll, which opens Wednesday (May 1) in the Ahmet M. Ertegun Exhibition Hall. The first major overhaul of the display galleries in more than two years, the new exhibit will feature a new array of instruments, stage props, and costumes, many of which have never been on display at the museum. Among the fresh items will be Alice Cooper's guillotine.




Please log in to view RANTS

If you don't have a username, click here to create an account!






Represent! Get Your KNAC.COM Bumper Sticker

Happenings This Week on KNAC.COM

CATTLE DECAPITATION Reveal Details For Rarities Album, Medium Rarities

VANDENBERG'S MOONKINGS Get Rugged And Unplugged

ROXANNE Set To Release New Album Radio Silence

LORDS OF THE TRIDENT Premiere 360 Degree VR Video "Zero Hour"

SAXON Unleash New Video For Track "Predator"

MEMPHIS MAY FIRE Announce New Album Broken

BYZANTINE Launches New Video For "The Cicada Tree"

ARCHER NATION Readies New Album Beneath The Dream

WARKINGS Release First Glorious Single, Video "Gladiator"

DECIBEL METAL & BEER FEST: LA Announces PRE-FEST With ARMORED SAINT, NIGHT DEMON, PERSEKUTOR And UADA

WRATH Streams New Track "Draw Blood" From The New Album Rage

DEVILSKIN Release "ENDO" Video With Important Message

KISS Announces The "End Of The Road" Final Tour

MADBALL Release Music Video For "Freight Train"

ICARUS WITCH Return With Goodbye Cruel World Album

TRIBULATION Release "Nightbound" Video

VIRGIN STEELE Will Release With Seven Devils Moonshine Special 5 CD Boxset For Their 35th Anniversary

KNAC-FM DJ THRASHPIE Release Head Bangin' Radio Book

DREAM CHILD Drop "Midnight Song" Video

WITHIN TEMPTATION Announce New Album Resist

BMG To Reissue DIO's Classic 1996 - 2004 Studio Albums

DEE SNIDER Is "American Made" With New Video

STEEL PANTHER Announce More "SUNSET STRIP LIVE!" Tour Dates

IMPELLITTERI Unleash "Run For Your Life" Video

THE POWER OF THE RIFF Makes Its Return To Los Angeles In November

GRAVE DIGGER Stream New Track "The Power Of Metal"

VOIVOD Release "Inconspiracy" Video, 7 Inch EP

CASTLE Unveils New Song "Can't Escape The Evil"

MEGADETH Bassist DAVID ELLEFSON Announces East Coast "BASSTORY" Dates

FIVE FINGER DEATH PUNCH Premiere "When The Seasons Change" Video

UNLEASH THE ARCHERS Stream Track "Ten Thousand Against One"

LACUNA COIL Release "Blood, Tears, Dust" Clip From The 119 Show - Live In London

ARCHITECTS Return With Holy Hell Album

STEELHEART Set To Release Rock'n Milan Live Album, DVD

'A BOWIE CELEBRATION' Announces 32-Date North American Winter Tour

BLACKTOP MOJO Reveal PledgeMusic Campaign To Fund Upcoming Album

POP EVIL Announces 2018 Canadian Headline Tour Dates

SODOM To Release New EP Partisan In November

CIRITH UNGOL Releases First New Track Since 1991 With "Witch's Game"

STRATOVARIUS To Release Enigma: Intermission 2

ENUFF Z'NUFF Release Video For Title Track of New Album Diamond Boy

ALCATRAZZ Reveal Parole Denied-Tokyo 2017 Live LP

SEPTICFLESH Announce Show With Live Orchestra

HELIX To Release A Helix Christmas Album

SUPERSUCKERS Debut "History Of Rock N' Roll" Video

LOUDER THAN LIFE Daily Music Schedule Announced

STEVE VAI Reveals First Round Of Guests Performing At "The Big Mama-Jama Jamathon"

FIFTH ANGEL Unleash 'Can You Hear Me' Lyric Video

GHOST Announces 2019 European Headline Dates

WITHERFALL Release "Ode to Despair" Single/Video

AUDIOTOPSY Reveal Grooving New Track "What Am I?"

KROKUS To Call It A Day With "Adios Amigos Tour"

Former MUSHROOMHEAD Frontman, Co-Founder JEFFREY NOTHING Returns With New Single

METAL ALLEGIANCE Unleash New Beer Visualizer Video For "The Accuser"

FOZZY Announces Full Canadian Tour

SEVENTH WONDER Debut New Song "The Everones"

MADAM X Release 'Monstrocity' Music Video

GRETA VAN FLEET Announces Its Debut Full-Length Album, Anthem of The Peaceful Army

YOB Premiere "Original Face" Video

RIVER CITY ROCKFEST Announces Band Performance Times

BEHEMOTH Launches Video For "Wolves Ov Siberia"

RED FANG Announce Late 2018 West Coast Tour Dates

AFTERSHOCK, LOUDER THAN LIFE Festivals Announce VINNIE PAUL ALL-STAR TRIBUTES

OBSCURA Announce Winter 2019 Headlining Tour Dates

OZZY OSBOURNE Partners With OMAZE To Offer Fans An Epic Concert Experience

HOLTER Set To Release Vlad The Impaler Album

KAMELOT Premiere Video For "MindFall Remedy"

VICIOUS RUMORS Kick Off the "Digital Dictator 30th Anniversary Tour" With SOLD OUT Show In Santa Rosa

SEVEN KINGDOMS Announce North American Headline Tour

ANTHRAX To Celebrate The 30th Anniversary Of State Of Euphoria With Special Edition

STRYPER Guitarist OZ FOX To Resume Touring After Medical Scare

GWAR Takes Over DC's Rick And Morty-Themed Pop-Up Bar