KISS Announce The Official KISS Kruise


By Tokemaster General, Contributor
Monday, May 16, 2011 @ 8:33 AM


The first-ever KISS Kruise has been announced. Shout it out loud!! The KISS Kruise: Wet, Wild & Rockin' is setting sail October 13th-17th from Miami, FL, to Half Moon Cay and Nassau, Bahamas on board the Carnival Destiny.
According to a press release, KISS and Sixthman are joining forces to create the wettest, wildest, most rockin' cruise in the Atlantic. WE WANT YOU, our loyal fans, to join us for this huge adventure. KISS will be hosting this ship to bring you music, krazy onboard activities, and KISS-themed nights.
If you are not a KISS ARMY Fan Club member but would like to join, click here. Everyone who signs up for the pre-sale and joins the KISS ARMY before 11:59 PM EST on May 22, 2011 will be part of the first round.KISS will be hosting this ship along with other artists to bring you nonstop music, krazy onboard activities, and rowdy theme nights.
Get ready to rock & roll all night and party every day!"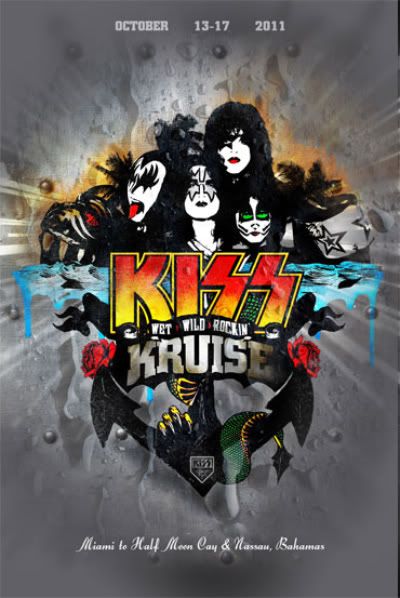 Dates and ports:
Thursday, October 13th – Monday, October 17th
Sailing out of Miami to Half Moon Cay & Nassau, Bahamas
Spend a day on the private island of Half Moon Cay enjoying its beauty and serenity, a stingray adventure, or a wild visit to the Half Moon Lagoon Aqua Park. Then we head to the idyllic white-sand beaches of Nassau for more crazy escapades.
About 1200 cabins available to sell. This ship will enhance your adventure with spacious staterooms, 2 pools, 5 hot tubs, wild riding waterslide, mini golf, seaside theater, plethora of cool bars, full-service casino, multiple music venues, world class spa and fitness center. Along with two main dining rooms, causal buffet, pizza bar, 24-hour room service, and all you can eat soft serve ice cream!
Kruise itinerary:
Thursday - October 13, 2011- Depart Miami, FL at 4:00 PM ET
Friday - October 14, 2011 - Half Moon Cay - 9:30 AM to 6:00 PM
Saturday - October 15, 2011 - Nassau, Bahamas - 7:00 AM
Sunday – October 16, 2011 – Fun Day at Sea
Monday – October 17, 2011 – Arrive in Miami, FL 8:00 AM ET
KISS shows:
- All passengers will get to see two KISS shows (one indoor & one outdoor) Passengers will only get to see 1 of the 2 indoor theatre shows, as the Palladium theatre can only hold half of the guests. Get ready for a special intimate show!
- The outdoor show will be an acoustic, Sail Away Show on the Lido Deck as the ship leaves port - no makeup.
- At time of booking you will choose your indoor show and zone preference, per availability. Exact seating assignments for the KISS indoor shows at the Palladium Theatre will be given closer to the sail date. The earlier you book your cabin the better chance you have at getting a ticket in your desired zone. This is an intimate venue, so everyone is going to have a great seat to enjoy the show!
- Handicapped or special need seating requests are also available.
- Guests will also have access to all other shows performed by some of KISS's favorite bands; to be announced soon. All shows other than the KISS main, indoor theater shows will be general admission. No tickets, just go and enjoy them as you please.
For more details visit this location.




Please log in to view RANTS

If you don't have a username, click here to create an account!