Former DREAM THEATER Drummer Mike Portnoy Pays Tribute To THE BEATLES


By Tokemaster General, Contributor
Friday, May 27, 2011 @ 3:48 PM


Former DREAM THEATER drummer Mike Portnoy, MR. BIG guitarist Paul Gilbert and ex-SPOCK'S BEARD guitarist/keyboardist Neal Morse reunited once again in February to pay tribute to their greatest influence of all - THE BEATLES - with their YELLOW MATTER CUSTARD project.
Due to a scheduling conflict (and further fueling the "Paul is dead" rumours), original YMC bassist Matt Bissonette was unable to join the band this time. In his place was UTOPIA's Kasim Sulton.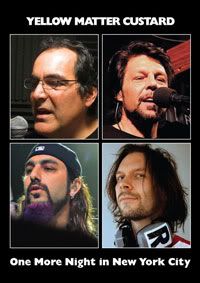 Yellow Matter Custard's One More Night In New York City DVD and CD is now available. Recorded on February 28th at B.B. King Blues Club & Grill in New York City the title features the following setlist:
'Intro'
'Back In The USSR'
'I Got A Feeling'
'And Your Bird Can Sing'
'Day Tripper'
'Getting Better'
'Taxman'
'It Won't Be Long'
'You Really Got A Hold On Me'
'Lady Madonna'
'We Can Work It Out'
'I'm A Loser'
'I Don't Want To Spoil The Party'
'Penny Lane'
'The Fool On The Hill'
'You've Got To Hide Your Love Away'
'Things We Said Today'
'If I Needed Someone'
'Its Only Love'
'Request Time/Too Many People'
'She's A Woman'
'The Word'
'Any Time At All'
'Paperback Writer'
'Don't Let Me Down'
'I'm So Tired'
'Savoy Truffle'
'Glass Onion'
'Yer Blues'
'Helter Skelter'
'Flying'
'Because'
'You Never Give Me Your Money'
'Sun King'
'Mean Mr. Mustard'
'Her Majesty'
'Polythene Pam'
'She Came In Through The Bathroom Window'
'Golden Slumbers'
'Carry That Weight'
'The End'
DVD bonus features:
- Interview with Mike Portnoy and Paul Gilbert
- Rehearsal footage
Order the DVD here, order the CD here.
Video footage from the February 28th show can be seen below:




Please log in to view RANTS

If you don't have a username, click here to create an account!