ANTHRAX Set Tentative Release Date For New Album


By Tokemaster General, Contributor
Friday, June 3, 2011 @ 10:49 AM


It's looking like we actually may see the new Joey Belladonna-reunion ANTHRAX record in September.
The national radio premier of their new album, Worship Music, will take place on Rockline on September 12th. The US syndicated radio show airs at 8:30 PM (PT) / 11:30 PM (ET). For a station near you and for information regarding how to log onto the internet for the broadcast go to RocklineRadio.com.
Worship Music is tentatively scheduled for release in North America on September 13th via Megaforce Records, and September 12th in Europe via Nuclear Blast Records.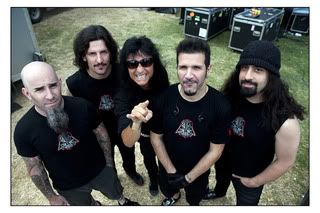 Anthrax drummer Charlie Benante recently spoke with Christina Fuoco-Karasinski at SoundSpike.com about Worship Music. "This is years in the making," he said. "It's finally at the end stages of it all. I'm very happy. This record is like a labor of love in all the different ways that it took to get here - a lot of blood, a lot of sweat, a lot of tears. It's very emotional to get to this point. Nothing's fabricated here. It's all based on truth. The Anthrax car was driving through peaks and valleys, peaks and valleys, peaks and valleys. Sometimes we just couldn't get out of the valleys. Finally, we went in for a tune-up, and now it's running really well. We're trying to stay up in the peaks. There were so many things that went into this record that made it special. There were so many other things going into it that were not special. We needed to make this record as special as possible. Certain personalities interfered. This record is probably the most emotional record that we've ever had to make."
Scott Ian tracking rhythm guitars for Worship Music can be viewed on YouTube below:




Please log in to view RANTS

If you don't have a username, click here to create an account!