LED ZEPPELIN - Live Dreams App Available


By Tokemaster General, Contributor
Tuesday, June 7, 2011 @ 6:34 AM


One of rock's most seminal live bands can now be seen in a completely new way, anywhere, anytime on the iPhone. Based on the award-winning photography book, LED ZEPPELIN: Live Dreams is now an App with interactive features and additional materials that could only be presented in an App. It is currently made available by Strategic Marketing and Management, LLC, exclusively through iTunes.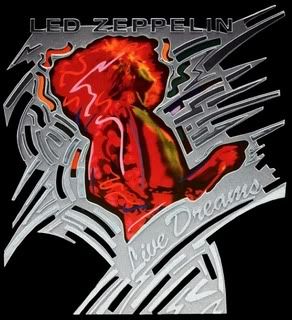 In 1993, critically acclaimed rock photographer Laurance Ratner released his lavish work, Led Zeppelin Live Dreams. Based on his personal experiences at 22 Led Zeppelin concerts, this museum-quality coffee table book was itself a work of art, with a hand-made slipcase and silver sculpture on the cover. It was released in commemoration of the 25th anniversary of the formation of Led Zeppelin in 1968. Unfortunately, the limited availability and high price tag kept it out of reach for the majority of Led Zeppelin fans worldwide. Now, almost two decades later, thanks to technology, Live Dreams is back and available to Led Zeppelin fans as an iPhone App.
The multi-media aspects of Live Dreams take the viewer/listener inside the experience of being at Led Zeppelin's legendary performances. The flow of the photography and text work together to make for a truly experiential journey all its own; the viewer/reader actually gets the feeling of Ratner's personal experience of witnessing the majesty of Zeppelin at their peak between 1972 and 1977.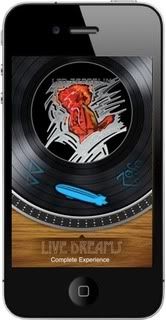 The Live Dreams App features over 14,000 words of text and over 300 images; many that have never been released before, with interactive menus that allow various ways to experience the work. 'Bookmarks' and 'Favorites' functions allow the user to create their own mini-versions of the work and enjoy them in a slideshow format or to send copies of their favorite photos to their friends. Mini-episodes, called Cornerstones, recreate special segments of a live Led Zeppelin performance as it actually hAppened, and allows the viewer to utilize their iPod music library so they can enjoy their favorite versions of Led Zeppelin songs while perusing the visual counterpart. Tales of Ratner's Led Zeppelin touring experiences, called The Journeys, are told in vivid detail via both audio clips and text. There is also direct access to the online Live Dreams Gallery where limited edition archival prints may be purchased.
The opening splash screen with the original book's silver sculpture introduces the App's Main Menu. The navigation to the various sections is designed from the true fan's perspective for maximum attention to detail of Led Zeppelin iconography.
The App begins with the Complete Experience. This section of the App basically includes everything the App offers; beginning with discussion about the App itself, the cover art, a Forward and Introduction, and then the photos, various text passages and historical details abut the actual shows.
One of the photo galleries is called the Outtakes. These are photos that weren't part of the original book but that Ratner feels still have something special to say. It includes ultra rare shots from two historical 1969 shows in Chicago. All of the photo galleries allow you to view thumbnail images for even more choices in navigation.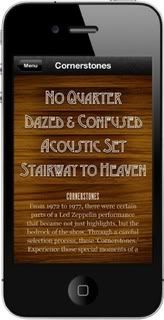 Ratner's Led Zeppelin experiences weren't limited to shooting concerts. In The Journeys, he chronicles travels and adventures that were connected in various ways to the concerts.
Live Dreams was chosen for a special display on the Miller Genuine Draft-sponsored, multi-million-dollar Led Zeppelin Memorabilia Museum Truck on the Jimmy Page & Robert Plant 1995 North American Tour.
Live Dreams is an App that provides hours of pure enjoyment for the diehard Led Zeppelin fan, as well as lovers of great rock photography. Live Dreams the App was developed by Blue Whale Apps.
Device Requirements:
- iPhone, iPod touch, and iPad
- Requires iOS 4.0 or later
- 89.8 MB
For more info visit Livedreamsgallery.com.
Check out the Led Zeppelin Live Dreams Video Demo below:




Please log in to view RANTS

If you don't have a username, click here to create an account!