VADER Invites Fans To Their Morbid Reich


By Tokemaster General, Contributor
Sunday, June 19, 2011 @ 9:10 AM


Polish death metal veterans VADER have finished work on their latest album, Welcome To The Morbid Reich, which will be released in Europe on August 13th by Nuclear Blast Records. The street date for North America is expected to be September 13th.
Artist Zbigniew Bielak (WATAIN, DESTROYER 666) comments about the new Vader album cover: "To follow closely on Lars von Trier's spectacular nazi gaffe in Cannes, I'd say that the new Vader cover artwork gives a subtle hint of what would happen if the good old Cthulhu would be contracted to erect a pyramid for Thule... Well, who knows what they were really doing in subterranean galleries of Harz? One thing is certain - propelled by the spirit of most Ancient Ones, Vader indeed stand tall as death metal's Wunderwaffe, and I hope the cover fits well in their armory of morbid imagination!"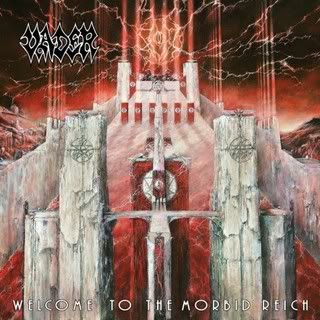 Welcome To The Morbid Reich will feature the following tracks:

'Ultima Thule'
'Return To The Morbid Reich'
'The Black Eye'
'Come And See My Sacrifice'
'Only Hell Knows'
'I Am Who Feasts Upon Your Soul'
'Don't Rip The Beast's Heart Out'
'I Had A Dream…'
'Lord Of Thorns'
'Decapitated Saints'
'They Are Coming…'
'Black Velvet And Skulls Of Steel'
Check out the live version of the new track, 'Come And See My Sacrifice' from Leiden, The Netherlands on June 12th below:




Please log in to view RANTS

If you don't have a username, click here to create an account!