BLACK TIDE Prepare To Release Post Mortem Album


By Tokemaster General, Contributor
Sunday, July 3, 2011 @ 1:08 PM


On Post Mortem, BLACK TIDE's second album for DGC/Interscope, due on August 23rd, the Miami quartet has developed and deepened its sound, creating a collection of dangerously hypnotic hard rock.
The band - Gabriel Garcia (Guitar, Vocals), Steven Spence (Drums), Austin Diaz (Guitar), Zakk Sandler (Bass) - have preserved the raw edge that made their 2008 debut, Light From Above, so impactful, while sonically sharpening everything with stronger hooks and just the right dose of melody.
In the making since October 2009, the band retreated to a Kansas studio with producer Josh Wilbur (LAMB OF GOD) to pen the demos that would eventually become Post Mortem. After intense pre-production, they hit a New York studio with Wilbur and GGGarth Richardson in May 2010 and worked towards crafting this cohesive and dynamic second outing.
The new material showcases the band's creative expansion, and the members of Black Tide collectively worked on writing the album together over the past two years, honing their skills. The first single, 'That Fire', burns with an acoustic intro and a syncopated polyrhythmic groove while 'Bury Me' breaks down with a mathematical madness as hard-hitting riffs crisscross and careen violently. Then there's 'Ashes', which packs a pummelling punch, and 'Walking Dead Man', a barn-burner of a track that Steven actually wrote on guitar. 'Let It Out' resounds with that powerful punk spirit prevalent since day one for Black Tide.
"We grew as writers, musicians, people and friends," says Garcia. "Most importantly, we became more of a family. Everything about our operation is a lot tighter, and we were all writing this time around. That made a huge difference in the vibe of the album."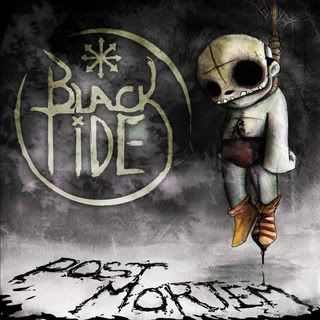 The addition of Austin Diaz also encouraged further evolution. He officially entered the fold on Mayhem 2008, but Post Mortem marks his first time writing with the band. Classically trained with years of music school under his belt, Diaz's elegant thrashing brings a calculated refinement to Post Mortem.
Zakk Sandler explains, "Given his classical influences, Austin's writing is different, but it's a huge factor of our style now. His ability to collaborate with Gabe is incredible. They've locked in great and written some of our most intricate music together."
"Studying theory helps you think about music more," Diaz divulges. "You become more mathematical; and you become more 'prog,' so to speak. You start thinking in different time signatures. I feel the music out and it makes the jam a little better."
In addition to shifting time signatures, the band has begun to experiment with Latin styles. Three of the band members - Garcia, Spence and Diaz - have Latin heritage as common ground, and that's been able to shine through in the new music. Black Tide even recorded Spanish versions of 'Let it Out' and 'Into the Sky' specifically for its Latin audience.
"It's great we share that Latin American background. We spend holidays the same way, and our families cook the same food," laughs Spence. "It's important to realize where you come from, and there's a deep bond that forms from recognizing that."
That bond also comes from the fact that Black Tide is still a pack of regular kids. Diaz spends his free time making hip hop beats, while Spence still plays soccer with his buddies and reads voraciously. At home, Sandler will go longboarding at the local college, and Garcia manages to fit in a few video games here and there.
Sandler sums up where the band is at best: "This is a new horizon for Black Tide. Nobody told us what we had to be. This is what we love, and it covers the spectrum. This album has some of the heaviest music we've ever done and some of the softest. Here are our fucking songs. We don't want to make the same record over and over again; we want to progress as musicians and writers. We're going to continue to do that. This really is Black Tide."
Garcia concludes, "We have an original sound on this record, and it's only going to get better. I want people to listen to this album forever. I want them to come to the shows and feel it. That's what I love in music—when it really moves you."
Post Mortem will move you just like any great hard rock record should.
Check out new videos for 'That Fire' and 'Walking Dead Man' below:




Please log in to view RANTS

If you don't have a username, click here to create an account!