ROCKSTAR SUPERSTAR PROJECT Scheduling School, Community Presentations


By Tokemaster General, Contributor
Monday, July 4, 2011 @ 11:39 AM


Super Star and his twin brother, Rock Star have created the ROCKSTAR SUPERSTAR PROJECT in an effort to rebrand sobriety with an emphasis on making responsible choices and dream catching! Together they have written and recorded a CD dedicated to increasing the awareness of addiction and spreading hope through recovery. The CD Serenity features guest musicians from HEART, KISS, GOO GOO DOLLS, TRANS-SIBERIAN ORCHESTRA and more. Super Star has authored a book The First 30 Days to Serenity with the Foreword written by Robert Lindsey, President/CEO of National Council on Alcoholism and Drug Dependence. Super Star's book has gained outstanding reviews from professionals in the field.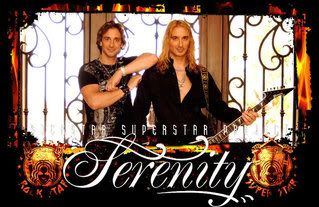 According to a new press release, "RSSS has developed assembly presentations for schools and community organizations in order to share our inspirational message of hope through rebranding sobriety and dream catching. The school presentations are appropriate for middle, high school and college students. We also offer a community forum for parents, family and interested community members in order to widen the exposure to our message. Super Star's presentation includes using multi-media to communicate his message including a video tribute to young people who have lost their lives to drugs/alcohol and a special video message from Rock Star. We also encourage schools to invite students to show their creative talents and open up the assembly with a musical performance that supports our message by means of a student performance to a song on the Serenity CD – it's an amazing way to start Super Star's presentation!
Super Star recently has been conveying his awe-inspiring message to students with recent visits to schools at Newark BOCES, Marion, Williamson and Penfield High Schools in Upstate NY and he has also been hosting evening open forum events that have included parents, kids and community members. The feedback has been very positive. We are already booking school and community presentations for the upcoming school year."
Here is a link to a video highlighting Super Star's presentation with clips from recent performances:
For more info visit Rockstarsuperstarproject.com.




Please log in to view RANTS

If you don't have a username, click here to create an account!