Hear RONNIE JAMES DIO's Rock Roots On Forthcoming And Before ELF…There Were Elves


By Tokemaster General, Contributor
Tuesday, July 19, 2011 @ 5:11 AM


Over the years, legendary singer RONNIE JAMES DIO fronted some of the most popular/enduring hard rock/heavy metal bands of all-time, including RAINBOW, BLACK SABBATH/HEAVEN & HELL and DIO.
But before all of these bands, there was Elf. Described as a "rock/honky tonk/blues band," a forthcoming release, And Before Elf…There Were Elves, will prove that Ronnie could easily handle other rock-related styles.
Released on October 11th via the Niji Entertainment Group, And Before Elf will feature twelve previously unreleased tracks (all from 1971), comprised of both live in the studio and live on stage tracks.
The album will feature a striking Lenticular/3D/Hologram cover, that when you turn it, you will see two alternating images – Ronnie from the first Elf LP, as well as a vintage group shot from 1971.
And although these recordings are 40 years old, the sonic quality still passes the test, as longtime Dio engineer Wyn Davis remastered the original tapes.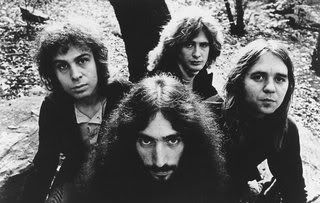 Formed in 1967 in Cortland, New York, The Elves also featured other members that would carve a niche for themselves in the hard rock world!
Guitarist David "Rock" Feinstein (Dio's cousin) would go on to front the Rods. Elf would last for a trio of albums, before Ronnie exited the group in 1975, to co-form Rainbow with ex-DEEP PURPLE guitarist Ritchie Blackmore.
Ronnie James Dio always had the golden touch as a masterful singer and frontman. And upon hearing And Before Elf…There Were Elves, you'll discover he possessed his one-of-a-kind voice from the very beginning of his career.
And Before Elf…There Were Elves tracklisting:
'You Shook Me'
'Stay With Me'
'Four Day Creep'
'Buckingham Blues'
'Wakeup Sunshine'
'Driftin''
'Smile For Me Lady'
'You Felt The Same Way'
'Simple Man'
'Drown Me In The River'
'Cold Ramona'
'Little Queenie'





Please log in to view RANTS

If you don't have a username, click here to create an account!